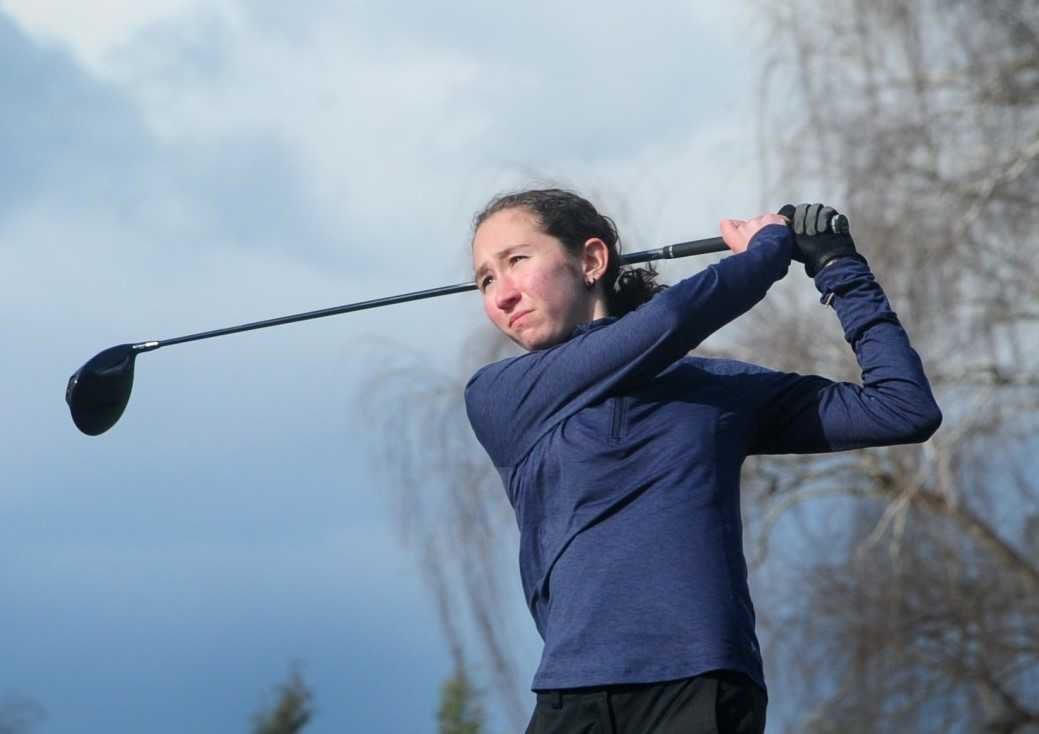 Last year, as a freshman, North Eugene's Francesca Tomp showed she could stand up under pressure when she survived a late push by Crescent Valley's Mercedes Marriott to win the 5A girls golf tournament.
This season, now carrying the weight of expectations, Tomp is dealing with a different kind of pressure. And she is facing it with her usual low-key approach.
"She's pretty confident," North Eugene coach Shawn Brandt said of Tomp, who will play in her first tournament of the season April 17. "She's pretty quiet, keeps thing real simple. She's a very humble person. She just kind of does her thing. You wouldn't know she's won a state title at all. She's got the knack to keep things pretty even keeled."
One thing seems certain -- Tomp won't shy away from the challenge. Emerald Valley Golf Club head pro Laine Wortman, who has helped mentor Tomp, said that her temperament is probably her strongest trait as a player.
"She's a person that plays competitively more than she plays just to go play," Wortman said. "Her nature is to play competitive golf and she likes to play competitive golf. She's emotionally set up to play that way."
Tomp has a chance to follow in the footsteps of one of ex-Churchill and University of Oregon player Caroline Inglis, a three-time 5A champion (2009-11) whom Tomp has called her "hero."
Inglis would have been a four-time champion had she not mistakenly signed an incorrect scorecard as a senior, handing the title to Summit's Madison Odiorne, who went on to win four titles (2012-15).
Tomp put herself in rare company by winning the 5A tournament as a freshman at Emerald Valley in Creswell, where she frequently practices. She shot a par-72 in the first round to take a six-shot lead, and still led by five strokes with nine holes remaining. She struggled on the back nine and finished with a second-round 79, good enough to beat Marriott by three strokes.
Tomp emerged as a contender for the title when she shot a 74 in the 6A/5A State Preview at Emerald Valley last year, four shots behind the winner, Kyra Ly of 6A Cleveland.
"Based on her performance during the season, we felt like she definitely had a shot to win it," Brandt said. "I think she believed that herself. But until she got out there and proved it to herself that she could get it done, she didn't really know."
Tomp is not a big hitter, but is "ultimately consistent," according to Brandt, who has taken over as head coach for Greg Burge after assisting for the past seven seasons.
"If you watch her play, there's nothing really technical about it," Brandt said. "She's just got the ability to put the ball in play. Her rhythm and tempo is the same all the time."
Brandt estimated that Tomp hits 90 percent of fairways and 60 to 70 percent of greens in regulation.
"She just keeps it simple. Not a lot of mistakes," he said.
Since last season, Tomp has been fitted for new clubs, which could help elevate her game.
"That's helping out a little bit with distance and the way the ball's spinning off the club," Brandt said.
Said Wortman: "Her body is changing, and as a competitive golfer, you've got to keep up on that. She's got a new Titleist driver that she's been hitting really well.
"She's getting a little stronger, a little bit bigger. She's hitting it farther. She's got a pretty natural golf swing, so she doesn't get out of sorts very often."
Tomp, who declined to comment until after the season, and Marriott, a senior, appear to be the clear-cut favorites in 5A. The next-highest state finisher from last year that is eligible to return is Redmond senior Elizabeth Richardson, who was 19 strokes behind Marriott.
Marriott on a roll
Crescent Valley's Marriott already has four tournament wins this season. She shot 36 in nine holes at Cross Creek Golf Course, 75 at Salem Golf Club, 69 at the OGA Course and 72 at Trysting Tree Golf Club.
The Raiders dominated a Mid-Willamette Conference match at Trysting Tree on Monday, shooting a 341 to beat runner-up Dallas by 66 strokes. After Marriott's 72, their other scorers were sophomore Toscane Tessier (78), freshman Anna Rivers (94) and senior Leah Mattson (97).
Newberg's Greller shines
Newberg junior Ray Greller has emerged as one of the top players in 6A boys.
Greller, who placed 23rd in the 6A tournament last year, opened the season March 13 by winning the 18-team Canby Invitational. On a cold, wet day at Willamette Valley Country Club, he shot a par 72 to edge Summit senior Brody Grieb and Jesuit sophomore Jack Harrington by one stroke. The Tigers finished fourth behind Jesuit, Summit and Lincoln.
Last week, Greller fired a 67 at The Reserve Vineyards and Golf Club to win a Pacific Conference tournament.
Lackershire tops MHC
Nelson senior Emily Lackershire won the last two Mt. Hood Conference girls tournaments, shooting a 75 at Gresham Golf Course on April 4 and a 72 at Columbia Edgewater Country Club on Tuesday.
Coach Aaron Hazel, who has coached multiple high school sports, said that Lackershire is among the mentally toughest athletes he has seen.
"She has an unbelievable ability to be completely aware of everything that is going on around her, and then shifting her focus completely to her next shot," Hazel said.
Notes: Grants Pass junior Messiah Gilbert finished first in tournaments at Grants Pass Country Club on April 3 and Eagle Point Golf Club on April 6, leading the Cavemen to team wins. He set a personal best with a 71 at Grants Pass, then broke it with a 70 at Eagle Point. He has a 72.7 scoring average this season. … Glencoe's boys opened the season March 13 by winning the Marshfield Invitational at Bandon Trails. The Crimson Tide outscored second-place Marshfield 252-339 behind Emmet Meiers (78) and Brody Landaker (82). In the two days before the tournament, Glencoe played the state course at Emerald Valley and the Old Macdonald course at Bandon Dunes.