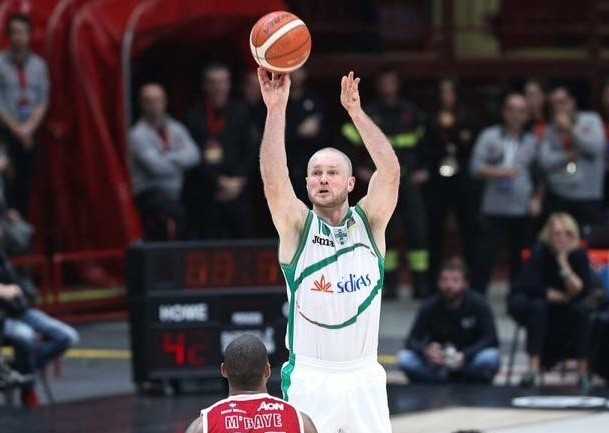 Redmond basketball runs deep for Maarty Leunen.
He led the Panthers to their only state title in 2003 and was named the state player of the year. The school retired his No. 11 jersey in 2008. He coached his three sons in Redmond's youth program. And he assisted the high school team the last two seasons.
But now the former University of Oregon standout is moving over to the other side. He has accepted the head coaching position at Ridgeview, Redmond's crosstown rival.
"When I first heard about it, I didn't think I was going to take it," Leunen said. "It was one of those things, I'm a Redmond guy. But then the more I thought about it, basketball is my passion. Toward the end of my career, I always thought about being a coach. I felt like I had a great understanding of the game."
The 6-foot-9 Leunen, 37, played 13 seasons in Europe, 11 of them in Italy. He retired in 2021 and returned to Redmond, where he and his wife Caitlin are raising four children: Gavin, 14; Preston, 12; Bryson, 8; and Channing, 3.
The last two seasons, he had a limited role in assisting Redmond coach Reagan Gilbertson. Last season, he balanced coaching with his new job at Summit Bank in Bend, where works in market development.
"I showed up to a handful of practices," Leunen said. "I'd put my two cents in every once in a while. But at the same time, it's not my program. I felt like I wasn't around enough to really put my opinion in. I was more behind the scenes."
Gilbertson said he is happy for Leunen.
"I know it was a tough decision for him," Gilbertson said. "No hard feelings at all. It's a big loss for us. It was fun to have him on the staff the last couple of years, and developing his eighth-grader. But it is what it is. I know he wants to be a head coach, and he didn't know when he was going to get another opportunity."
Gilbertson joked that he wasn't quite ready to clear the way for Leunen on the Redmond bench.
"I wish I could help him out with his storybook tale, but I'm not going anywhere anytime soon," Gilbertson said.
Leunen will become the fourth coach at Ridgeview since the program started in 2012-13. He replaces Jake Miller, who went 31-77 in five seasons, including 7-17 last season.
Leunen said part of the appeal of the Ridgeview job was the opportunity to coach his sons. They were headed to Redmond but will join their father at Ridgeview, starting next season with the 6-3 Gavin.
"That's a package deal. If I go, they're coming, too," Leunen said. "Obviously that was a tough conversation because a lot of their friends will end up going to Redmond. It was a conversation I had to have with my wife and kids. But everybody was on board."
Leunen already had planned to coach Gavin on a new Central Oregon-based Boss Sports Performance AAU team that will play from May through July.
"I kind of committed to that not even knowing I was going to be taking the Ridgeview job," Leunen said. "I thought that was going to be my coaching fix, and then all of a sudden, that job opened. Now I'm pretty committed to coaching throughout the summer."
Leunen said he sought the advice Kelly Bokn, his high school coach at Redmond who has 547 career wins, No. 14 on the state's all-time list.
"We've exchanged texts," Leunen said. "I reached out to him last week, when I was close to the end of making my decision. He's obviously had a long career in the coaching business and knows a lot more than I do. I just kind of picked his brain. He gave his full support into taking this opportunity because these opportunities don't come around a whole lot."
Gilbertson, a 2000 Redmond grad, also played for Bokn.
"It says a lot about Coach Bokn," Gilbertson said. "His coaching tree continues and grows."
Ridgeview plays in the 5A Intermountain Conference, which had four of the top nine seeds in the 5A playoffs last season. Ridgeview went 2-13 in the conference, but one of the wins came against Redmond, a state semifinalist.
The rivalry will take on a new twist next season with Leunen on the opposing bench.
"I might have to rearrange the trophy case a little bit for the Ridgeview game," Gilbertson said with a laugh. "And he's got the only jersey retired at Redmond. It could go away for a game or two. It's been up there for a while, we might have to get it dry-cleaned. It's all in fun."
Leunen said he has much to learn about the Ridgeview program.
"Obviously, we played Ridgeview and I know some of the players, but I don't know the rest of the program," he said. "Honestly, that wasn't a huge focus for me in terms of being competitive or what they have have coming back. It was all about the opportunity and my belief in myself and being able to build a program."