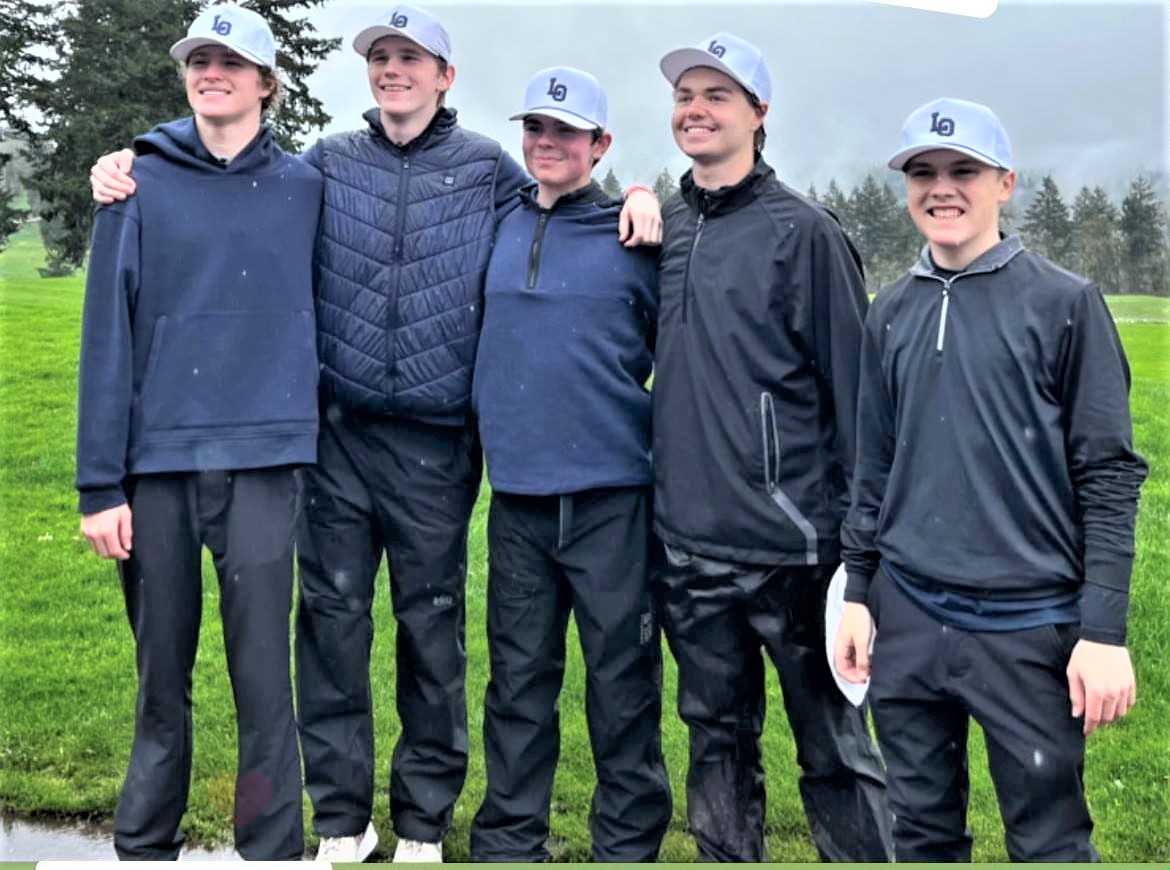 Lake Oswego boys golf coach Adam Ruben knew that once his players improved their putting, they could reach another level.
The Lakers gave a glimpse of that potential Thursday by shooting an even-par 288 to run away with the 6A State Preview tournament at Emerald Valley Golf Club in Creswell, repeating as champions of the event.
"We just told them, 'You guys are some of the best ball-strikers in the state, but if you're not going to putt well, the worst ball-striker who is putting well is going to run laps on you,'" Ruben said. "I think that kind of stuck in their brains."
Junior Adam Wrenn, freshman Drew Woolworth and senior Tanner Frinell combined for 18 birdies to hold down the top three spots in the 22-team tournament.
Wrenn shot a 69 to win the tournament for the second year in a row and Woolworth and Frinell were one shot back at 70. Junior Braden Larsen fired a 79 to round out the scoring for the Lakers, who finished comfortably ahead of Three Rivers League rival West Linn (304), Grants Pass (316) and Sunset (316).
It was a season-low round for Lake Oswego, which bounced back after finishing second to West Linn in a Three Rivers tournament at Quail Valley Golf Course on Monday.
"And Emerald is probably one of the harder golf courses we've played all year," Ruben said. "We've been harping on their putting. We've been doing a lot of short-game stuff. Things are starting to click a little bit."
Wrenn, who shot a 66 to win the State Preview at Trysting Tree Golf Club last year, had six birdies Thursday.
"It's cool to see Adam play well," Ruben said. "He's been close all year."
Woolworth had seven birdies but was undone by a triple-bogey on No. 9 and double-bogey on No. 13. A highly successful junior player, Woolworth has provided a boost for the Lakers, who placed fifth at state last year.
"He's by far one of the top players in the state," Ruben said. "It definitely pushes the other kids, gets them to start focusing more. When I was in high school, I didn't want to get beat by a freshman."
Woolworth has been the team's top player for most of the season.
"He's super consistent, manages his mistakes," Ruben said. "He's been playing for so long, winning everything, he just has really good confidence. He has the whole complete package. He'll play Division I for sure."
Lincoln sophomore Quinn Hefele (72) placed fourth. West Linn junior Kyle Tenison (73) and freshman Cade McVicker (74) were next, ahead of seven players at 75.
Koch prevails in 5A
La Salle Prep senior Will Koch, the reigning 5A champion, won the 5A State Preview on Thursday at Emerald Valley.
Koch, who had an eagle on the 463-yard par-five seventh hole, finished with a even-par 72. He edged Summit junior Jakob Hansen by one stroke.
Summit senior Brody Grieb, last year's 6A champion, tied for third with Bend senior Ben Armstrong at 76. Thurston junior Peyton Wiedenmann and Bend freshman Silas Waller tied for fifth at 77.
Summit, the 6A champion last year, won the title of the 13-team tournament. The Storm shot a 315 behind Hansen, Grieb and seniors Nik Huffman (80) and Ryan Mitchell (86).
Bend and La Salle Prep shared second place at 320. Thurston was fourth at 328.
St. Mary's turns tables
St. Mary's of Medford shot a season-low 313 to win the 3A/2A/1A State Preview boys tournament Tuesday at Tokatee Golf Club.
The Crusaders, runners-up at state last year, won by 12 strokes over reigning state champion Oregon Episcopal (325). Valley Catholic (328) was third and Bandon (329) took fourth.
The top four teams were paired together during the round.
"It was pretty nice to go head-to-head to we can get a good look a who's going to be tough at state," St. Mary's coach Brad Pederson said. "Our kids weren't nervous. They just stepped up to the tee box and knew what they were doing."
Pederson said he has high expectations for his team, which returned its entire lineup from last year.
"But you never really know until you get them up against the best teams in the state," he said. "And they just were calm and organized."
Senior Brock Drury, last year's state champion, and sophomore Josh Moran each shot 76 for St. Mary's. Sophomore Davis Jones (79) and junior Tiger Kao (82) were the team's other scorers.
Brookings-Harbor sophomore Lucas Vanderlip, third place at state in 2022, recorded a 68 to win the tournament. Oregon Episcopal junior Alex Tseng (72) was runner-up and Valley Catholic's Benny Zhu and Bandon's Peyton Simonds tied for third at 75.