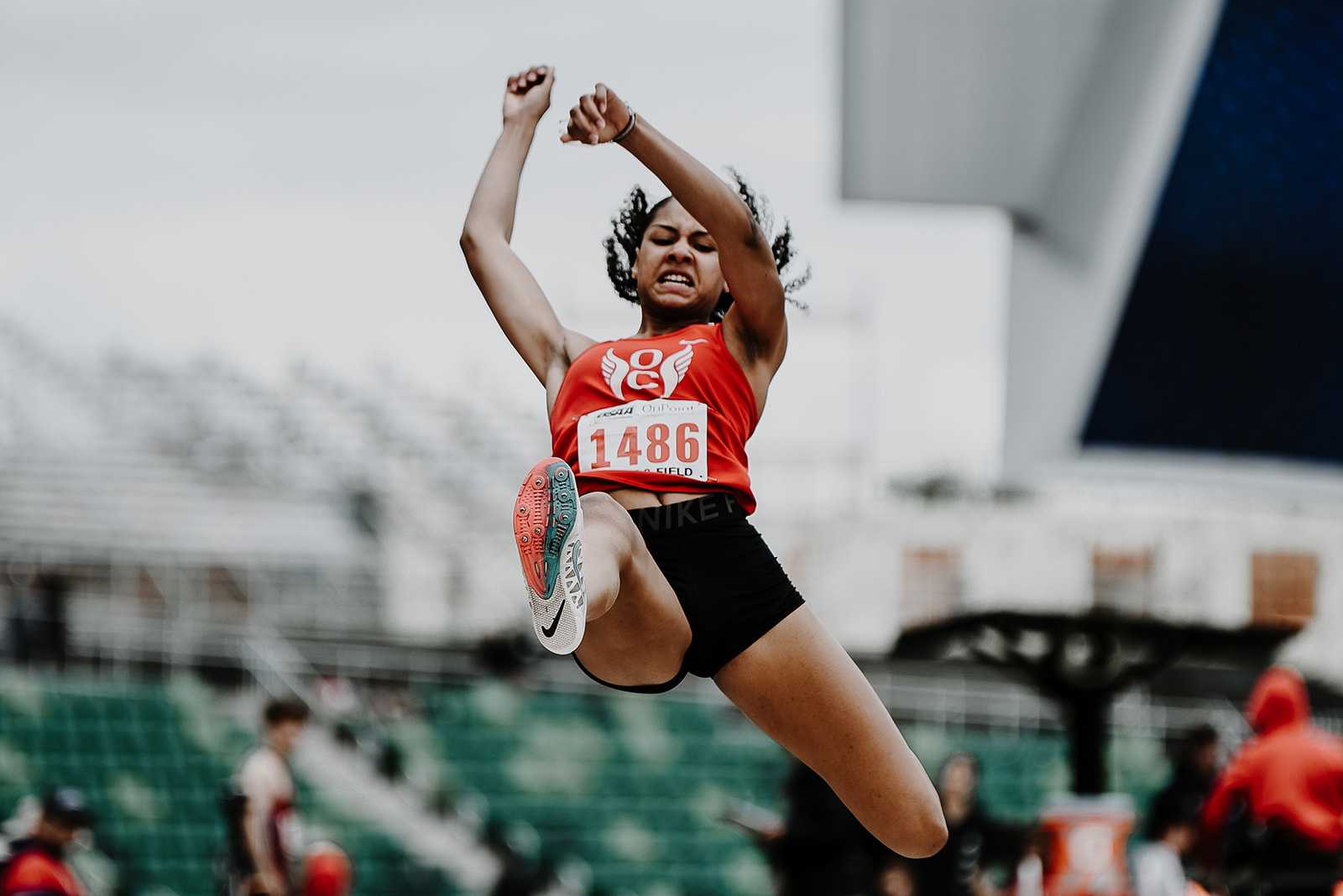 Oregon City senior Sophia Beckmon reset her state record in the long jump Saturday in the GearUp Eason Invite at Snohomish, Wash.
Beckmon won the long jump with a mark of 21 feet, 4 ¼ inches, soaring past her state mark of 20-8, on a day where she also set personal bests in winning the 100 and 200 meters.
The two-time reigning 6A long jump champion said the big jump "came out of nowhere." She beat her season goal of 21-0.
"Now it's, I don't know, high 21s," Beckmon said. "Twenty-two would be really cool, but I don't know about that."
Beckmon said her best jump of the day was her first, but she scratched. She went 20-5 on her second jump, setting the stage for the record on her third jump.
"After the first jump, I knew it was going to be a decent day," she said. "I wasn't expecting 21 and then a little bit more. The first jump, it was really far. And I felt really good today. It was finally a meet where I had warm weather instead of pouring rain and freezing. So I felt really good going into it. My mood was up today. It was an overall good day."
After the second jump, Beckmon said she "decided to have fun with it" on the third jump.
"I got the clap going. I haven't gotten the clap going in a while," she said. "I decided to do it now, and I think that really helped me."
Beckmon skipped the long jump finals to rest for the 100, 4x100 and 200 finals. She won the 100 in 11.50 and the 200 in 23.47, improving on her previous bests of 11.81 and 23.75. She now stands at No. 4 all-time in the 100 and No. 3 in the 200.
Beckmon said she was encouraged when she coasted to 11.8 in the 100 prelims. At the 65-meter mark, she said she made a conscious decision to save her energy.
"I actually didn't even try on that one," she said. "I was a little fatigued, but going into finals, I felt really good. I got a decent start, and then mid-race, I blanked, and when I realized I was ahead, I kind of pumped my arms some more and tried to keep that up."
After anchoring Oregon City's first-place finish in the 4x100, she cranked it up again for the 200.
"There wasn't a ton of time, but it was a decent amount where I could forget about being tired," she said. "After warming up, I was like, 'OK, I'm getting a little tired again, but just finish strong.' Going into that one, knowing it was my last race, I just said to myself, 'I've got to put everything out now, and I'll be done.'"
Beckmon said she not only met her season goal in the long jump, but also in the 100 and 200. She was aiming for 11.4 in the 100 and the lower 23s in the 200.
She said that getting to race Lake Oswego junior Mia Brahe-Pedersen, the state record-holder in both events, will help push her even lower.
"That'll be really good for me," she said.