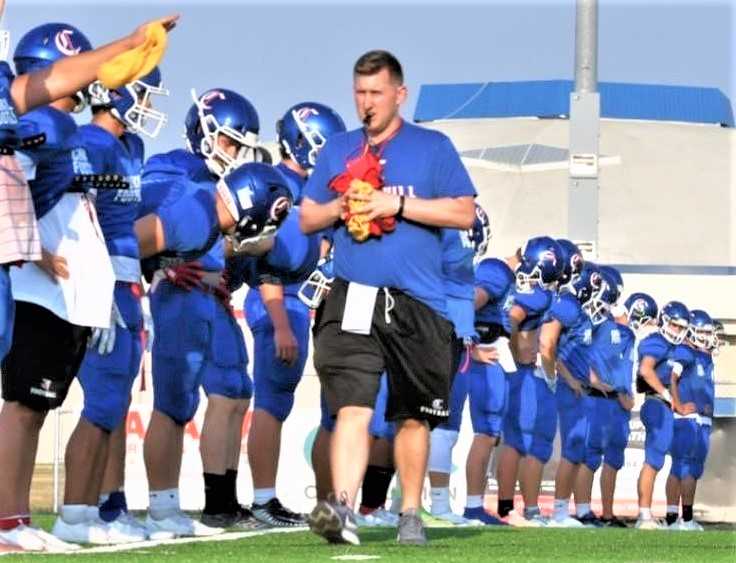 Growing up near Salem, AJ Robinson knew all about the winning tradition of Sprague football.
"Sprague was always a really big deal," Robinson said.
Now Robinson, the former coach at 5A Churchill (2016-21), will get a chance to steer the Sprague program. Last week, he was hired as coach to replace Jay Minyard, who left to become the athletic director at South Albany.
"I think it's a great fit on both sides," Robinson said. "My family lives in the Salem area, and my brother lives in Silverton. This is a long-term fit for me, so I want to build it with the right foundation."
Robinson grew up in Silverton, where his father Robby coached the Foxes (1990-96) to a state title in 1991. The family moved to central Oregon in 1997 when Robby became the coach at Redmond (1997-2003), where AJ played quarterback for the Panthers before graduating in 2006.
After a college career at Western Oregon, AJ got into coaching. He assisted Randy Nyquist at West Albany (2011-14) and Oregon City (2015), then landed the head coaching job at Churchill, going 36-21 in six seasons. In 2017, the Lancers reached the state final and finished 12-1, their most wins since 1985.
Robinson stepped down at Churchill after the 2021 season, saying he needed time to regroup after the COVID crisis. He took a year off from education, working for a tech company and as a financial representative.
"I feel like I almost took a sabbatical year, tried some other things out, because education was tough during COVID," Robinson said. "I realized that I'm an educator at heart, and I missed the interactions with kids and families, and building something in the community."
Last season, he accepted a role as the offensive coordinator at 5A Springfield. He installed his spread offense and the Millers increased their scoring to 29.8 points per game from 4.2 in 2021, making the state playoffs for the first time in seven years.
"It was really fun. It was a really good experience," Robinson said.
When the Sprague job opened up, though, it got Robinson's attention.
"Sprague is a job that doesn't come open very often," he said. "There were some opportunities that became available early in the hiring season that I didn't apply for, because I knew that when I got back in, I wanted to go somewhere that had a chance to be successful and we could build something long-term. In my opinion, Sprague is one of the top programs in the state.
"Eugene was great. I loved my time there. But I just wanted to be closer to family as I headed into a different phase in life."
Robinson becomes Sprague's sixth coach since the program started in 1972. Robin Hill put the program on the map by going 174-95 in 25 seasons (1987-2011), winning a state title in 2004. Minyard followed Hill and went 70-40 in 11 seasons (2012-22).
"I'm excited about it," Robinson said. "It's a place that we can build a great program. I don't have kids, but it's a community where I'm looking forward to starting a family, and raising kids there, and meshing myself into the community."
Sprague finished 6-5 last season, losing to Westview 41-0 in the quarterfinals of the 6A Columbia Cup. The program had more than 60 freshman last year and is expected to have a turnout of about 150 this year. At Churchill, the most Robinson had was 85.
"The kids are tough and coachable," Robinson said. "They have really good body language, based on what I've seen on film. You can go a long way with tough, coachable kids.
"I'm excited to see what we have. I'm going to sub in the building for the rest of the school year, so kids will have an opportunity to get to know me, and I'll get to know them."
Robinson said he will run some form of his spread offense at Sprague, depending on his personnel. He is intrigued by the potential of quarterback Athan Palmateer (6-2, 205), who will be a senior next season.
"He's very talented," said Robinson, who has trained many quarterbacks in the Willamette Valley, including North Salem standout TC Manumaleuna II. "He had a pretty solid year last year in a run-heavy scheme."
Robinson is in the early stages of putting together a coaching staff. He said that it's possible that his father, who helped him for one season at Churchill, could assist in some manner.
"I don't know if he'll be an everyday guy, but he has a lot of experience, so I plan on using him as a resource," Robinson said.