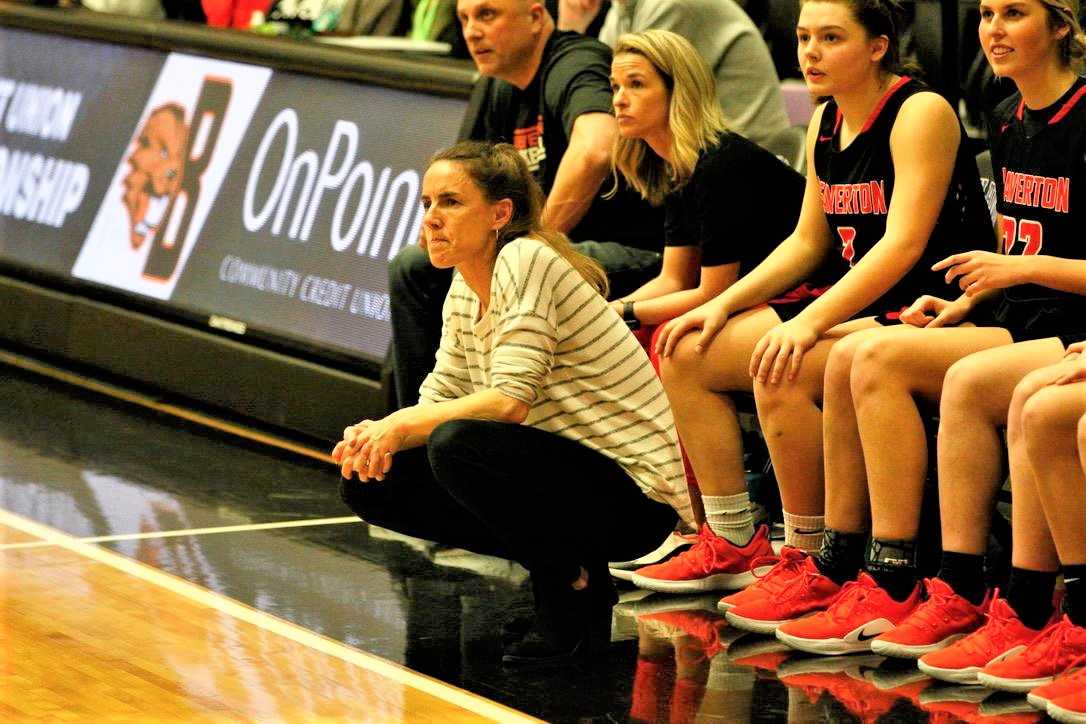 Kathy Naro has had a highly successful run as Beaverton's girls basketball coach since 2017, going 124-34 in six seasons and leading the Beavers to their first state championship.
But next season, with all three of her daughters playing in college, Naro will take a step back.
Naro has informed the school that she plans to take a "temporary break from coaching." In the meantime, her husband John, who has assisted her with the team, will become the head coach.
"I'm going to take a year and see how I feel," she said. "It's so in my blood. I just love being a part of a group, and being a part of the girls' journeys. So I feel like it's not a permanent step away, just a time to kind of re-evaluate. It was a tough decision but I feel like it was the right one."
Beaverton will graduate four starters from a team that went 19-10 and lost in the 6A quarterfinals. Those same four players – including the Naros' daughter, point guard Madison Naro – were starters on the 6A title team in 2022.
Madison Naro has signed to play at Santa Clara. Her sisters, Mary Kay and Mackenzie, are coming off their junior and sophomore seasons, respectively, at Boise State.
"This past year I was really feeling conflicted," Kathy Naro said. "My oldest daughter is entering her fourth year at Boise State and I've hardly seen her play.
"I've been teaching and coaching for a long time, so I was feeling like it was time to take a break, take a deep breath, and kind of spend more time with my family. I'll have more time to spend with my parents and be able to watch my own girls, just as a fan, and as a mom."
John Naro, who played at Aloha and Southern California College (now Vanguard University), first began assisting Kathy during her tenure as the coach at Jesuit, where she went 305-76 in 14 seasons (1995-2009). He also has assisted with the Aloha boys and Sunset girls.
It will be his first head coaching job.
"I've got some big shoes to fill, that's for sure," John said. "Moving from one seat to another, I'm going to be learning with the girls. When I was playing in college, I thought I was going to be a coach. That's always what I wanted to do."
Kathy said she will be available to help John, but wants him to feel free to make his own decisions.
"He's always had a desire to have his own team," Kathy said. "Whatever role he might need, even if it's just filming up at the top of the gym, or cheering from the sidelines. I really don't know how that will play out. I think it's good if he starts it the way he wants to start it, and does it the way he wants.
"It's something new for him, and I can just fill the gaps where he wants help. I want to be very respectful of just supporting him. He has been such a huge supporter of mine, so I want to do the same for him, and just kind of be in the background."
John said it will be difficult for Kathy to stay away.
"The great thing is I can bounce ideas off her," he said. "I've learned so much from her, just watching her do practices. I know I'm biased, but I think she is by far one of the best coaches I've been around. If people ever came and watch her run a practice, they'd be like, 'Holy cow.' I always tell her she should be coaching in college or higher."
Beaverton must retool after losing three Division I college recruits in Madison Naro, Lainey Spear (Portland) and Zoe Borter (UC Santa Barbara).
"I've got to figure out how to score," John said. "I'm losing probably 85 percent of our scoring. No one's going to have any expectations, but I think we can surprise some people. We've got a good group of kids coming back. I have three freshmen coming in that I think will get a lot of playing time on varsity."
Kathy said that she and John have "fallen in love" with the Beaverton community.
"It's just an amazing group of people to be a part of," she said. "And he loves these kids. So it's natural for him to just take over and finish with this group of seniors."