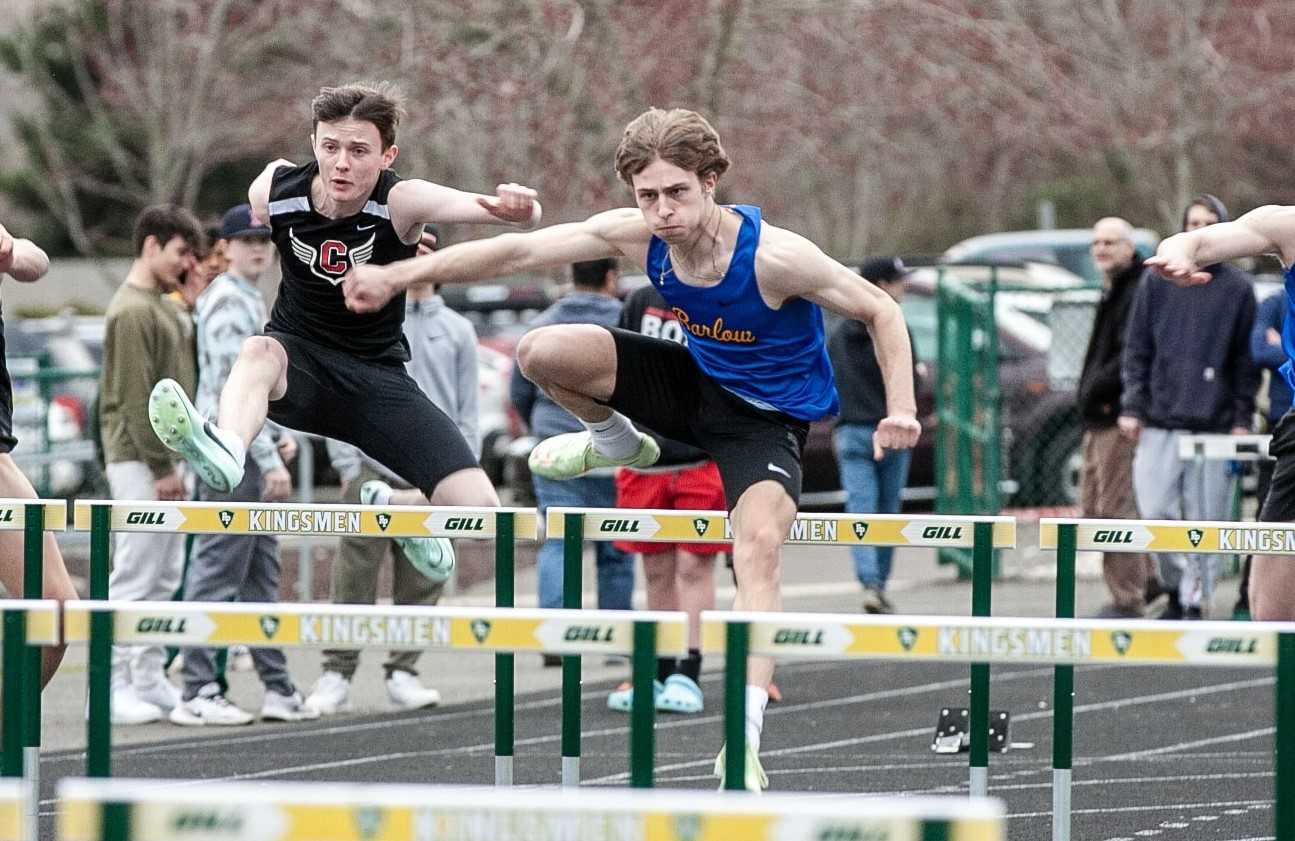 As dominant as Barlow's Micah Perry was in the 110-meter hurdles last year – when he had the No. 1 time in the state by 0.33 seconds – it revealed only a sliver of his potential.
Slowed by a partially torn labrum in his left hip that he suffered during the indoor season, Perry spent his junior year managing the pain. He was never a full-go in competition.
"I never trained in the hurdles last year. I would just run it at meets," Perry said. "And then the next few days, I could barely walk afterwards. But I knew I wanted to win state, so I figured it was worth it just to run on it, fight through the pain, and try to go for a state championship."
In the 6A championships at Hayward Field, Perry ran a personal-best 14.08 seconds in prelims, the No. 4 time in state history. In finals, he won despite slowing to 14.34.
"State was hard because it was a two-day meet," Perry said. "The second day, I woke up in my hotel room struggling to walk and in a ton of pain, and I had to run finals. The thought of winning state just pushed me through."
A year later, Perry is in a much better place. He underwent surgery in July, began jogging about four months later and returned to the hurdles this spring. Pain free, he is ready to test his limits before heading off to a college career at Boston University, where he plans to study business law.
"At the start of my season, it was still a little bit rough, dealing with some pain and some uncomfortableness," he said. "But over the past month or so, my times have been improving, and I haven't really noticed it."
Barlow coach Scott Jones is happy to see Perry thriving again.
"Micah struggled through, and he's come out the other side, and he feels fast, and he's having fun," Jones said. "He's smiling. There's no pain. He's completely healed. He's been completely let loose. We're all gas, no brakes with him."
Perry was encouraged by his performance Friday in the Nike/Jesuit Twilight Relays. He ran the 110 hurdles in 14.11 seconds (wind-aided) and clocked a personal-best 10.85 to place fourth in the elite 100.
"That was a really good feeling for me," Perry said. "It shows that overall I'm getting faster, which means the hurdle time will fall, too. It's kind of proving to myself that I'm not just a hurdler, I'm also a sprinter, too, and I can keep up with the top sprinters in the state."
Perry believes he can challenge the state record in the 110 hurdles of 13.73, set by David Douglas' Bob Gray in 1988. It is the third-longest held record in Oregon boys track.
"That's definitely a pretty crazy feat for me, but that's kind of what I'm going for, that 13.73," he said. "It's a little bit lofty, but we'll see if I can get there."
If not for the injury, Perry said he believes he would have been in the 13s at state last year.
"It hindered me a lot," he said. "I found myself running with mainly my right leg, so I was overusing my right hip, causing my right hip to start hurting. So I was just in pain on both sides towards the end of the season. It really affected my general overall speed and my overall effectiveness on the hurdle."
Since last year, Perry grew about one inch to 5-foot-11. With improved length and better overall health, he said it's just a matter of putting the pieces together.
"Right now, with recently coming back to running only in February, I don't have a ton of off-season training," he said. "So I'm getting a little bit tired on those final three to four hurdles. So I think a few more weeks of building a little bit more endurance, and going all-out pushing, and having someone sort of close to me will also help out a lot."
The lack of elite competition in the state could hurt Perry in his quest for the record. South Eugene senior Boden Hanley has the next-best 6A time in the 110 hurdles at 14.80.
"You need heat through at least hurdle five or six to run that fast," Jones said. "If Micah has the perfect conditions, and starts like he did Friday in the 100, and can be beautiful over every hurdle, I think he can run between 13.68 and 13.75."
Perry said he plans to start running the 300 hurdles soon. He will run the 110 hurdles and 4x100 relay in the Mt. Hood Conference district meet, but is unsure of his other events. He also leads the conference in the 100 and 200.
Jones marvels at the versatility of Perry, who also has competed in the long jump and high jump in his career.
"I don't think he really knows what he's capable of," Jones said. "He knows he's a capable hurdler and sprinter, but if he just trained to be a 200, 400 guy, I think he'd be a mid-21, mid-48 guy. He's got that capacity. But we spend all our time hurdling because that's what he wants to do."