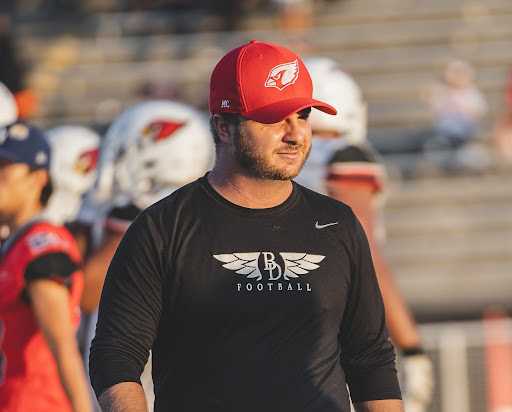 Oregon City has hired former Marist Catholic and West Linn assistant Aaron Skinner as football coach.
He replaces Shane Hedrick, who resigned to become the coach at 4A Cascade.
Skinner coached at West Linn from 2014 to 2019 before leaving to become the athletic director at Bishop Diego in Santa Barbara, Calif., his alma mater. He spent the last three seasons assisting in the football program, last year as the defensive coordinator.
He said he and his wife, Genaveve, had been considering a return to Oregon when he learned of the job opening at Oregon City.
"I've talked with my wife about Oregon City in the past," he said. "It's always been one of those places that we thought could consistently be a good program. It just takes stability and keeping kids from Oregon City in Oregon City.
"It was just like the light bulb went off, like, 'I'm going to go for this because we're going to do this anyways, and this is a place that I think I can build something and turn it into my own.' This is what I want to do."
After two seasons as an undergraduate assistant at Oregon under Chip Kelly, Skinner assisted at Marist Catholic (2010-11). He joined the staff at Bishop Diego for two seasons (2012-13) before spending the next six seasons assisting at West Linn (2014-19).
Skinner said he considered pursuing the West Linn job when Chris Miller stepped down as coach following the 2019 season, but that is when Bishop Diego called to gauge his interest in the athletic director position.
"Those kind of happened quickly back-to-back, so there wasn't a ton of time to look into it," Skinner said. "But I was absolutely interested in the West Linn job. If I had stayed and made the decision not to move, I was definitely going to put my name in the hat."
Now Skinner finds himself as West Linn's longtime rival in the "Battle for the Bridge" series.
"I'm a little familiar with them," Skinner said of the Lions, the reigning 6A champions. "I'm very much looking forward to it. All the coaches there, I've got great relationships with all of them. It's going to be really fun."
Skinner will jump back into the rugged Three Rivers League at Oregon City. The Pioneers went 5-6 last season, losing in the quarterfinals of the 6A Columbia Cup.
"Being in the TRL is what's really exciting," said Skinner, who met with the players by video call Friday morning. "Every week you've got good coaching happening, you've got good athletes on the field. You know if you can contend in that league, you've got a chance at the state level. I love that challenge."
The Skinners have two children, Noelle, 4, and Jaylen, 1.
***
Oregon City School District news release:
Oregon City, OR – Starting this fall, Oregon City High School will see a new face on the football field. Oregon City School District welcomes Coach Aaron Skinner, who will be joining the Oregon City High School football team as the head coach after serving as the athletic director for Bishop Diego HS in Santa Barbara, CA for the past three years. In addition to his role as athletic director, Coach Skinner was also the defensive coordinator and assistant head coach for the football program. His team had a 22-6 record and advanced to the CIF-SS Division 3 Semifinals. He also served as coach to the wide receivers and the defensive backs.
"We are thrilled to welcome Coach Skinner and his family to Oregon City," says Oregon City's new Athletic Director Trinity Gibbons. "He is a proven winner with notable success at every stop along his career. More importantly, he will serve as a great mentor and teacher for the young men in our program. The future is bright for Pioneers Football."
A native of Carpinteria, CA, Coach Skinner received All-CIF-SS recognition as a running back, Defensive League MVP, and Santa Barbara County MVP while helping lead Bishop Diego HS to its second ever CIF-SS Finals game in school history. In 2008, he became an Undergraduate Assistant Coach for the University of Oregon football team. He spent his first year on offense assisting with the quarterbacks, under Chip Kelly, and his second year on defense assisting with linebackers under Nick Aliotti.
Following his time at Oregon, he coached the wide receivers at Marist HS in Eugene, OR in 2010, and then returned to his alma mater to coach the running backs and linebackers at Bishop Diego HS for the 2012 season. The two teams had a combined record of 24-2, with an Oregon State Finals appearance and a CIF-SS Semifinals appearance respectively.
In 2014, Coach Skinner started coaching at West Linn HS in West Linn, OR, where over the course of 6 years, the team had a combined record of 60-16. In 2015, West Linn finished as the State Runner-Up in Division 6A, and the following year, went undefeated, resulting in an Oregon 6A State Championship. During his time at West Linn, Coach Skinner served as the assistant head coach, defensive coordinator, linebackers coach, and running backs coach at various times.
"I would like to thank the Oregon City Superintendent, Dr. Dayle Spitzer, Principal, Marjorie Ruzicka and Athletic Director, Trinity Gibbons for this amazing opportunity." Skinner said. "I am honored to be entrusted with running this program, which competes in, by far, the most competitive league in the State of Oregon, and includes some of the most accomplished coaches in the state. I have known for a long time that this program has the potential to be a consistent contender in the TRL and I am excited to get up to Oregon City and to get to work!"