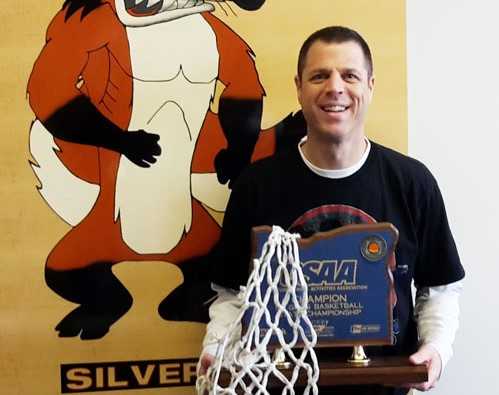 Tal Wold said he could have put off his return to coaching girls basketball for at least one more year.
But the way the stars aligned, the former Silverton coach couldn't resist an opportunity at 4A Stayton, where he has been hired to replace Wendi Nyquist as coach.
Wold, whose nine-year run at Silverton included a 5A title in 2016, waited to see if his family needed to relocate while wife Taryn pursued a school administrative position. He got clarity this spring when Taryn was hired as an elementary school principal in the Silverton district.
"That opened some doors for me to say, 'Maybe I can look now and see what's out there,'" said Wold, who compiled a 180-46 record during his tenure at Silverton.
The Stayton job was right up his alley. He was Stayton's boys coach for four seasons, going 51-51 from 2007 to 2011. He lived for 11 years in Stayton, where his two daughters were born. And he has a connection with Stayton athletic director Darren Shryock, the former boys coach at Silverton.
"He's kind of the reason I came to Silverton," Wold said. "He certainly had a huge hand in it. We thought that his was a pretty good option, working for Darren."
He plans to continue teaching middle school math in the Silver Falls School District. Stayton is a 20-minute drive from his home in Silverton, where he has lived since 2019.
"A year from now, who knows what jobs are open, and maybe it's a 35- or 40-minute drive," he said. " We kind of wanted it to be one more year, where she could be principal for a year, but we feel like we can get it done."
Wold said he relished spending more time with his daughters, Harper, 10, and Henley, 6. He admitted, though, that sitting out the basketball season was "difficult."
"I missed the camaraderie with coaches and the girls, the team," he said. "I missed that pursuit of something, where you're building and you're working together, trying to accomplish something. I've been coaching since 1997. I've never had a break. It was kind of nice, but I missed it."
Wold, who played at Philomath, is the son of Bill Wold, the former boys coach at Harrisburg (1962-64), Silverton (1964-66), Douglas (1968-71) and Crescent Valley (1977-85). He noted how his father was affected by retiring from coaching.
"A part of that fire, that light that burns inside you, that shines on others, was missing," he said. "I think it was hard for him. And I don't want that light to burn out on me."
Nyquist went 53-29 in four seasons as the coach at Stayton, including 13-11 last season.
McCarty back with Foxes
Jamie McCarty also is returning to coaching after a one-year hiatus.
McCarty is back as the coach at Silverton, where he went 112-13 in five seasons (2017-22), leading the Foxes to a 5A runner-up finish in his final year.
McCarty said he didn't think he would return so soon, but last year "nearly killed me."
"I didn't realize that I really don't have a lot of hobbies, especially in the winter," he said. "Basketball has been it for me. I was going stir crazy and I knew something needed to change for me personally."
McCarty replaces Tyler Allen. The Foxes went 11-14 last season after graduating all five starters from the state runner-up team.
McCarty said he stepped down last year to better focus on his duties as a principal at three K-8 buildings in the Silver Falls School District and to spend time following the college football career of his son, Jordan, a freshman quarterback at Air Force.
Since that time, McCarty's principal duties were cut back to one school and Jordan has left Air Force to join the team at Western Oregon.
"It is amazing how things work out," McCarty said. "Before all of this, I was saying a lot of prayers and making decisions about my future. All of it really fell into place for me perfectly.
"Being a principal and being a coach are really the two things that complete me besides my amazing family. Having the opportunity to do them both and impact elementary students by day and high school boys by night is a dream come true."
McCarty also went 173-66 in nine seasons at Stayton (1998-2007), leading the Eagles to second place at state in 2007.
Bend goes with Aubin
Bend has hired Ted Aubin as boys coach to replace Aaron Johnson.
Aubin has a career record of 131-215 in 14 seasons at Vernonia (2006-11), Burns (2011-14) and Reynolds (2014-20), where he coached former Oregon State standout Drew Eubanks.
Aubin assisted at Summit in 2021-22 and at Bend last season. Athletic director Lowell Norby said the school liked the job he did with an inexperienced JV team.
"They struggled, but it wasn't because they weren't prepared or didn't play hard." Norby said. "I thought he was really positive with the kids, was constantly teaching in a very soft-spoken way. He was very respectful of the kids and their growth as people."
Johnson went 44-47 in four seasons with the Lava Bears, including 13-12 last season.
Note: Among the 6A boys coaching vacancies that are yet to be filled are Lake Oswego, Roosevelt, Nelson and McDaniel.