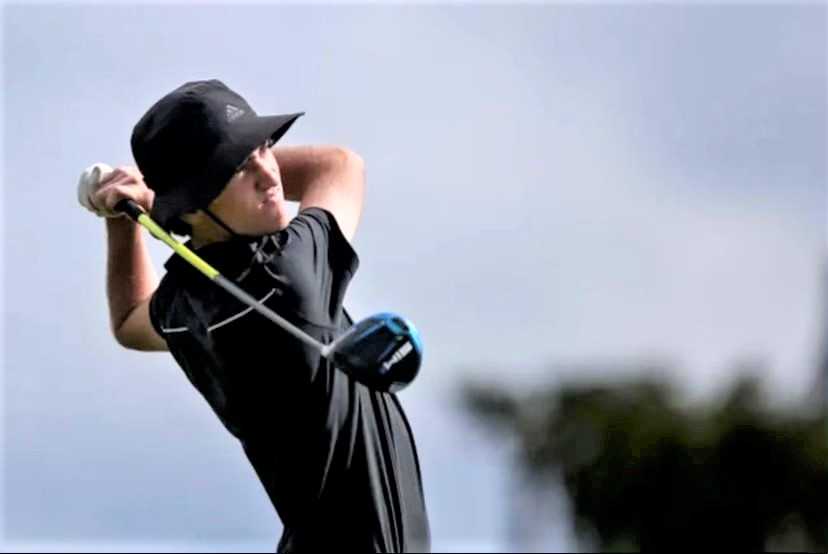 When Colby Sullivan moved to Oregon from Virginia in 2020, he was eager to establish himself on the state's high school golf scene.
Sullivan was the 1A player of the year as a freshman in Virginia, where he took fourth in the state tournament, and he had high aspirations for his career at McNary of Keizer.
"His goal when he got here was to win a state title in the state of Oregon," McNary coach Brad Lomax said of Sullivan, the son of former PGA Tour member Chip Sullivan.
So far, though, that title has eluded Sullivan. He didn't get a chance in 2021, when the 6A tournament was wiped out by the COVID crisis. And last year, after a promising first round at state, he tied for fourth place, four strokes behind the winner.
But now, before heading off to a college career at Southeastern Louisiana, Sullivan has one more shot. And he will be riding a wave of momentum when he plays in the 6A tournament Monday and Tuesday at Emerald Valley Golf Club in Creswell.
During the regular season, Sullivan won four of five tournaments in the Central Valley Conference and three of four invitationals. He enters state off wins in district and regional tournaments, shooting 3-under and 1-under par, respectively.
"Winning districts and regionals is really nice. It's a really good way to finish the year off for me," Sullivan said. "But now with state coming up, the competition is going to be really, really good. I'm looking forward to it. Hopefully I can capitalize and win that tournament. That would be the cherry on top."
Lomax said Sullivan has elevated his game this season.
"He's on a heater right now," Lomax said. "He's having a great season. We're excited. We'd love for him to bring home a title to McNary."
Since starting his season with a disappointing 79 at McNary Golf Club, Sullivan has been dialed in. He bounced back in conference matches to shoot 68, 68, 72 and 65, the latter a 7-under round at Salem Golf Club that Lomax said was "incredible."
"I definitely used that 79," Sullivan said. "I bounced back from that pretty well. Some people would get all mad about it, but I used it as motivation to go out and win the rest of them, and that's what I did. I had a little bit of a chip on my shoulder."
So what turned it for Sullivan?
"I was having some putter issues," he said. "I changed my putter, and ever since, I've been on a roll. I've been making a lot of putts. That's the big thing."
Lomax attributed part of Sullivan's outstanding season to the college commitment he made in February.
"He's not pressing as much," Lomax said. "These young men, trying to play well in their junior tournaments and trying to find a college, it can be overwhelming. I think his mindset right now is better than it's been since he's been here. If anything, it's his mind is right for this."
Sullivan concurred that committing to a college allowed him to "put all my attention on high school golf." His familarity with the South – he lived in Mississippi and his father grew up about 30 minutes from the Southeastern Louisiana campus – was a key factor in his decision.
"There are a lot of connections for me, a lot of family friends," he said.
In last year's state tournament at Trysting Tree Golf Club in Corvallis, Sullivan shot a first-round 66, one of his best rounds of the season, and was one stroke off the lead. But he wasn't able to sustain his play in the second round.
"I was really happy I gave myself a chance," he said. "Then I shot a 72 the second day, which wasn't quite good enough to keep up with the competition. I really wanted to win state. I played well, but at the same time, it hurt a little bit because I was trying to win. I'm trying to use it as motivation to go and win this year."
Sullivan didn't get much satisfaction last summer, contending for titles in several Oregon Junior Golf tournaments but coming up short.
"I've never won practically anything," he said. "So this year it's kind of nice to be on a winning spree. I've had decent tournaments, but I haven't won anything big. That's kind of what I want to do at state this year."
Sullivan is bidding to become McNary's second boys champion, joining Jeff McRae, who shared the title in 1970.
"Out of all the other tournaments, state just means so much more because I'm not just out there for myself, I'm also representing my teammates and my high school," Sullivan said.
Sullivan is confident in playing at Emerald Valley, where he won a tournament last winter by shooting 4-under.
"Off the tee, there are some trees, but it's kind of forgiving if you're not too far off line," he said. "Around the greens, they can get really fast, back to front, so you want to position yourself well with course knowledge. I've learned a few things out there, which I'm hoping I can use to may advantage."
A look at the boys state championships, Monday and Tuesday:
6A, Emerald Valley Golf Club, Creswell
No. 1 district individuals: Rowan Eddie, Grant, sr.; Kamal Singh, Sunset, sr.; Ray Greller, Newberg, jr.; Mason Ho, Reynolds, soph.; Drew Woolworth, Lake Oswego, fr.; Colby Sullivan, McNary, sr.; Carson Krauss, Grants Pass, fr.
District qualifying teams: Grant, Jesuit, Sherwood, Central Catholic, Lake Oswego, West Salem, Grants Pass
At-large regional qualifying teams: Sunset, Westview, Lincoln, Tigard, West Linn, South Medford, Sheldon
2022 state tournament: Summit 552, Tigard 591, Sunset 595, Lincoln 606
Top returning state placers: T4. Colby Sullivan, McNary, sr.; T4. Andrew Yang, Westview, jr.; T10. Quinn Hefele, Lincoln, soph.; T10. Douglas Bailey, Tigard, sr.
Notes: Lake Oswego, which hasn't won a title since a five-peat from 2012 to 2016, appears to be the favorite. In the 6A State Preview tournament at Emerald Valley, the Lakers shot an even-par 288 to win by 16 strokes over district rival West Linn. Junior Adam Wrenn won the 22-team tournament for the second year in a row, and freshman Drew Woolworth and senior Tanner Fridell were second and third, respectively. Lake Oswego won the State Preview last year, too, but placed fifth at state. Woolworth has been the team's No. 1 player for much of the year. … Summit, which ended Jesuit's three-year reign last year, has dropped back to 5A. … Newberg junior Ray Greller, 23rd at state last year, won the first big tournament of the season by shooting a par-72 in the Canby Invitational at Willamette Valley Country Club. Jesuit won the tournament by 16 strokes over Summit, with Lincoln and Newberg next.
5A, Emerald Valley Golf Club, Creswell
No. 1 district individuals: William Koch, La Salle Prep, sr., Marcus Idiart, Crater, sr.; Ryland Carroll, Lebanon, soph.; Brody Grieb, Summit, sr.
District qualifying teams: Wilsonville, Thurston, Corvallis, Summit
At-large regional qualifying teams: Mountain View, La Salle Prep, Crescent Valley, Woodburn
2022 state tournament: Corvallis 633, Crater 654, La Salle Prep 664, Thurston 665
Top returning state placers: 1. William Koch, La Salle Prep, sr.; 5. Nick Anderson, West Albany, sr.; T6. Ryland Carroll, Lebanon, soph.; T8. Peyton Wiedenmann, Thurston, jr.
Notes: Last year, William Koch became La Salle Prep's first champion since 1991 (Bill Hart), but this year the competition will be tougher. The field includes Summit senior Brody Grieb, who shot 8-under to win the 6A title last year, and Woodburn senior Ty Beyer, the 4A runner-up a year ago. … Koch won the 5A State Preview at Emerald Valley with an even-par 72, beating Summit junior Jakob Hansen by one stroke. Summit shot 315 to win the tournament, beating La Salle Prep and Bend by five strokes. … Summit won 5A titles in 2015, 2016 and 2017 and was runner-up in 2018 before moving up to 6A, where it won the title last season. The Storm shot a state-tournament record 16-under to win by 39 strokes, but graduated three players who are at Division I college programs. Grieb, senior Nick Huffman and Hansen still make the Storm a formidable contender.
4A, Trysting Tree Golf Club, Corvallis
No. 1 district individuals: Elliot Lee, Tillamook, sr.; Owen Bascom, North Bend, soph.; Colton Putnam, Henley, soph.; Tyce Helmick, Ontario, sr.
Top district qualifying teams: Crook County, North Bend, Mazama, Pendleton/Griswold
Other qualifying teams: Molalla, The Dalles, Cascade, Marshfield, Henley, Baker/Powder Valley
2022 state tournament: Banks 661, Valley Catholic 664, Baker/Powder Valley 664, Marist Catholic 674
Top returning state placers: 1. Elliot Lee, Tillamook, sr.; T4. Isaiah Jones, Baker/Powder Valley, soph.; T6. Massimo Cereghino, Molalla, soph; T9. Tyce Helmick, Ontario, sr.; T9. Kyler Hemelstrand, Cascade, jr.
Notes: Tillamook senior Elliot Lee, who became the Cheesemakers' first state champion last year, has his eyes on a repeat. In the District 1 tournament at Quail Valley Golf Course on Tuesday, he fired a district record 4-under (71-69). Last year, he won the state title by two strokes over Woodburn's Ty Beyer, who has moved up to 5A. … The top two teams in last year's tournament, Banks and Valley Catholic, moved down to 3A this season. … Marist Catholic was the top 4A team in the 4A State Preview at Trysting Tree, shooting 326 to finish third to Camas, Wash. (319) and Valley Catholic (325). Close behind were Cascade (331) and The Dalles (334). Cascade junior Kyler Hemelstrand was the leading 4A individual, placing second at 72. Molalla sophomore Massimo Cereghino (75) and Marist Catholic sophomore Nick Hudson (78) were next.
3A/2A/1A, Tokatee Golf Course, McKenzie
No. 1 district individuals: Alex Tseng, Oregon Episcopal, jr.; Benjamin Tieu, Oregon Episcopal, jr.; Ryan Klampe, Siuslaw, soph.; Brock Drury, St. Mary's, sr.; Sawyer Quinton, Prairie City, fr.
Top district qualifying teams: Oregon Episcopal, Siuslaw, St. Mary's, Burns
Other qualifying teams: Valley Catholic, Catlin Gabel, La Pine, Blanchet Catholic, Bandon, Crosspoint Christian, Vale, Echo/Stanfield
2022 state tournament: Oregon Episcopal 615, St. Mary's 629, Bandon 674, Catlin Gabel 693
Top returning state placers: 1. Brock Drury, St. Mary's, sr.; 3. Lucas Vanderlip, Brookings-Harbor, soph.; 4. Harrison Bell, Catlin Gabel, sr.; T6. Alex Tseng, Oregon Episcopal, jr.; T9. Mathew Chan, Oregon Episcopal, sr.; T9. Josh Moran, St. Mary's, soph.
Notes: Oregon Episcopal, which won its first title in 2019, waited three years to complete a repeat in 2022. To win a third title, the Aardvarks must contend with St. Mary's and Valley Catholic, last year's runner-up teams in 3A/2A/1A and 4A, respectively. Oregon Episcopal is led by juniors Alex Tseng and Benjamin Tieu, who tied for first at 150 in the Special District 1 tournament at Glendoveer Golf Course in Portland. … St. Mary's returned its entire lineup from last season, including the reigning state champion in senior Brock Drury. In the Special District 3 tournament at Tokatee on Tuesday, Drury shot 145 to beat Brookings-Harbor sophomore Lucas Vanderlip by one stroke for the title. … St. Mary's won the 3A/2A/1A State Preview at Tokatee, shooting 313 to finish ahead of Oregon Episcopal (325), Valley Catholic (328) and Bandon (329). Vanderlip shot 68 to win the tournament by four strokes over Tseng.