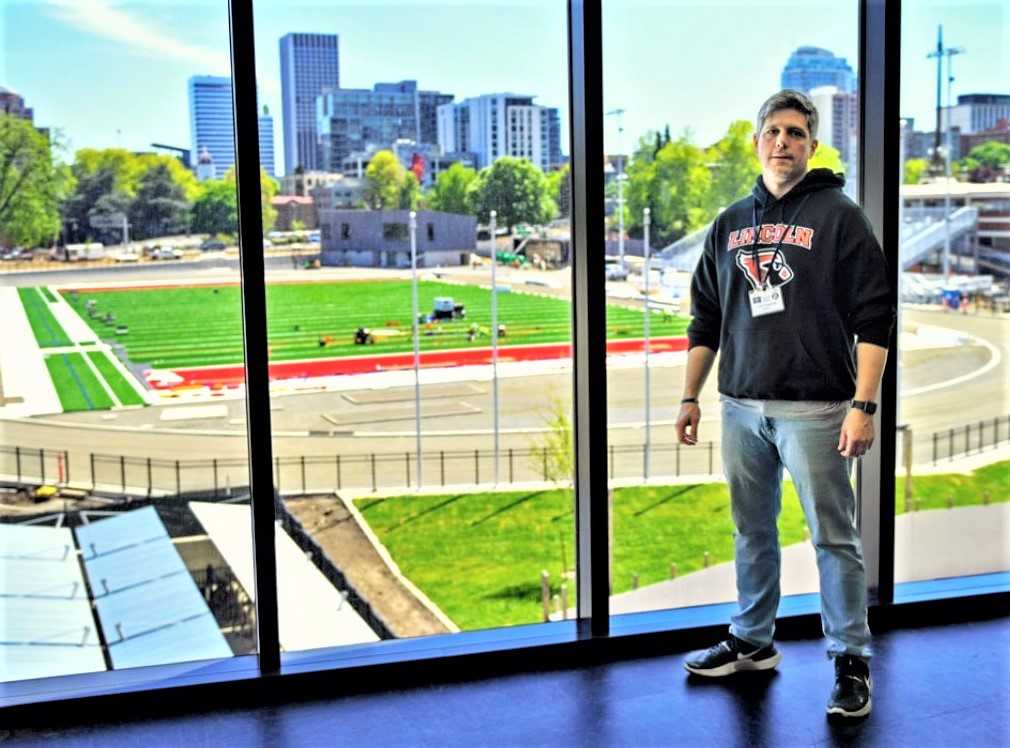 As a product of one of the nation's all-time great high school football dynasties, Cody Schnaufer has a blueprint he can follow as a first-time head coach.
And even though his alma mater, Southern Columbia, is in rural Pennsylvania, he believes many of the same principles will apply as he takes over in a much different environment at Lincoln, located in downtown Portland.
"It's a chance to bring the community together," Schnaufer said. "You're in a major metropolitan city, and this school gets the opportunity to be the face of that community, and football gets the opportunity to be the face of that school."
Schnaufer, who spent the last three seasons as an assistant at Mountainside, will succeed Matt Caruso at Lincoln. Caruso resigned in March after going 5-13 in two seasons and has landed on the staff at Roosevelt.
Schnaufer graduated from Southern Columbia in 2003. He assisted at St. Mary's Ryken in Maryland for eight seasons (2007-14) and in Washington at Hazen (2015) and Tahoma (2016-18) before spending the 2019 season at Wilson, now Wells.
At Mountainside, he coached primarily linebackers and running backs. When coach John Mannion stepped down after the season, he began to evaluate his options.
"I was really lucky to get offered a spot at Mountainside three years ago, and that kind of changed the trajectory of things," he said. "If Coach Mannion's not retiring, I don't know that I'm even leaving Mountainside. I loved coaching with that guy. But new opportunity for him, new opportunity for me.
"There were several schools I was interested in, but Lincoln definitely stands out. There are so many things going for it."
Schnaufer is tasked with rejuvenating the Cardinals. Since 2000, Lincoln has had only five losing records, but three have come in the last four seasons, including 3-6 in 2021 and 2-7 last year.
The Cardinals haven't played a game on their campus since 2019 due to construction of a new school and athletic facilities, forcing them to practice and play home games at Wells.
Athletic director Jessica Russell said it's no coincidence that turnout declined during that period, but she is hopeful that the program will build momentum from playing at its new on-campus stadium this season.
"We're really excited to open the new field and track," Russell said. "We think it will be done just in time for dead week. Having the new stadium done, and a new coach, it's a good transition time. It lines up nicely."
The new facility is a big reason why Schaufer calls Lincoln "a dream job."
"I can't think of anywhere else in the state that's going to have the opportunity to christen a new field, a new facility, like this," said Schnaufer, the team's ninth coach since 2000. "This is way nicer than the college I went to."
Schnaufer noted that Lincoln has plenty of company in the state in declining turnout during COVID. He said the new facility gives the Cardinals "a unique opportunity" to reverse the trend.
"It's something to rally the community around, get excited about," he said. "It's an opportunity to build off the legacy of this school and this community, and also be able to bring our own unique culture into it. This is what we want the next generation of Lincoln to look like."
Schnaufer is a branch manager for the Federal Aviation Administration. He lives in Tigard with his wife and two children, ages 7 and 3.
"He's a really interesting person," Russell said. "He's super smart and really kind. I'm really excited about him. I think he's going to be awesome. I'm excited for our kids to learn from another really great person. John Mannion just sang his praises. Anybody who knows him has really great things to say about him."