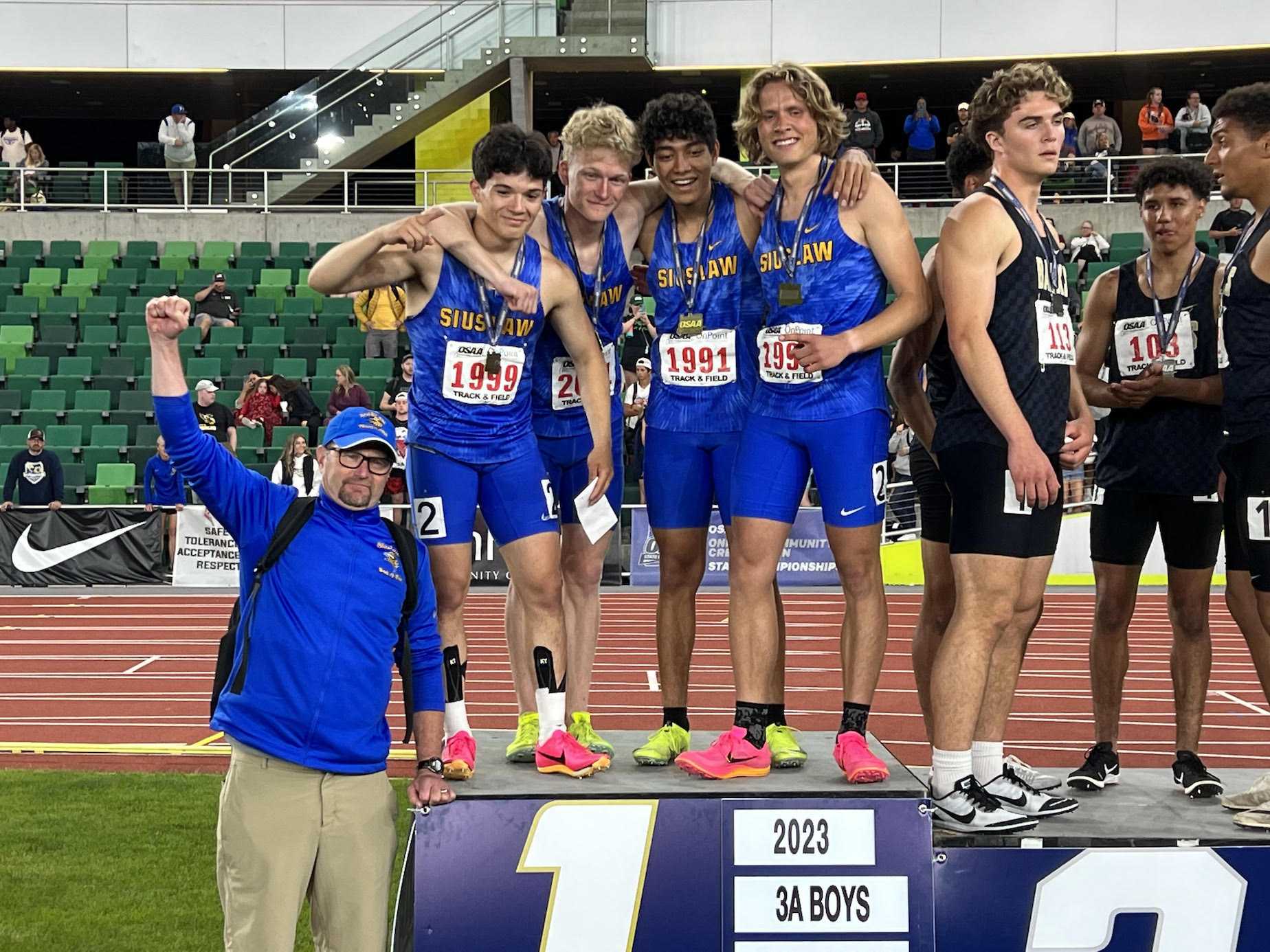 EUGENE — Siuslaw's Hunter Petterson grabbed the baton from Jacob Blankenship and did what a senior running the anchor leg of the 4x400-meter really is expected to do.
He ran faster than everybody else still running on the track.
Petterson pulled away from Banks' Daevon Vereen and Vale's Charlie Lamb over the final 200 and was first to cross the finish line, putting the finishing touch on Siuslaw's run to the 3A boys' team title at Friday's OSAA/OnPoint Community Credit Union Track and Field Championships at Hayward Field.
"It was an eventful one," Petterson said. "Jake and I didn't have the best of handoffs. But once I had the baton, I just sat on the Banks' kid and I knew what I needed to do.
"I hit the 200 mark and I was like, 'This is where my race comes in. I'm a 200 runner and … this is it. I've got to finish it off now.'"
Siuslaw clocked a winning time of 3 minutes, 26 seconds to another 10 team points, pushing the final team total to 90 points as the Vikings of Florence to their fifth state championship and first since 2013.
Santiam Christian finished second in the team race with 73.5 points, Catlin Gabel was third with 64 points, and Valley Catholic was fourth with 50 points.
"We kind of came here with the mentality that we could win a few events," Siuslaw coach Chris Johnson said. "We just had so many people in so many places to score, that we were trying to just take it one event at a time.
"We had a few stumbles on Thursday and a couple of more today, but then we had kids who just stepped up. Santiam Christian put up a heckuva fight, but we didnt' want to back into this. We wanted to come out and make a statement.
"Today was just one of those magical days and it's not a bad formula to have a lot of kids who make it through."
Siuslaw scored points in 11 of 17 events.
If there was one event that stood out as a swing event for the Vikings, it was the 800 where Sam Ulrich won in a time of 1:55.2, Dylan Jensen finished fourth, and Blankenship was seventh. That was good for 17 team points.
In the pole vault, Siuslaw's Kyle Hughes cleared 15 feet to take top honors, Will Johnson finished sixth, and Justin Allen was seventh. That was good for another 15 team points.
Throw in Jonathan Rose's first-place finish in the discus and sixth in the shot put, Ulrich's second in the 1,500, Noel Hernandez's third in the 110 hurdles, Johnson's third in the triple jump, Peterson's fourth in the 200, a fifth-place finish in the short relay, Hughes' seventh in the 1,500, and Lucian Murphy's eighth in the 110 hurdles, and the Vikings had more than enough points to outdistance Santiam Christian.
All that was left after that was for Raymundo Brito Xilot, Ulrich, Blankenship, and Petterson to provide an exclamation point in the 4x400 relay.
"It's unbelievable," Petterson said. "There are no words to describe it, honestly. It's one of those things you see some pie cry, you see some people happy … it's an indescribable moment. I can only thank my teammates, my coaches, and my friends around me who helped us get through this."
3A GIRLS: Coquille freshman Reagan Krantz cleared a personal-best 10 feet, 9 inches to win the pole vault to help the Red Devils clinch a second consecutive team championship and first since moving up from the 2A level.
After racking up 41 team points in three field events during Thursday's finals, the Red Devils had five athletes score points in four finals on Friday to edge Cascade Christian 66-59 in the team race.
In addition to Krantz's victory in the pole vault, Emelia Wirebaugh finished third in the triple jump, Callie Millet was fifth in the pole vault, Trinidy Blanton was fifth in the 200, and Ada Millet finished eighth in the 800.
"I would say we overachieved today," Coquille coach Jake Cochran said. "We had a lot of girls who picked today to have their best meets.
"Last year was the first championship that a Coquille girls team had won. Then to go from 2A to 3A was a huge step. We were in a brutal league with Cascade christian and St. Mary's, and just to come out of that with girls who could make it to state was a victory in itself.
"Then to come here and battle against Cascade Christian, Oregon Episcopal, Nyssa, and all the other schools was awesome. We're really starting to build a top-tier program in small-school Oregon for girls' track. We're really proud of what we've accomplished and we're hoping to keep it going."
2A BOYS: East Linn Christian seniors Aidan Morgan and Kaleo Wellman provided a solid one-two punch that helped lead the Eagles of Lebanon to their second team championship in five years.
Wellman, in only his first season running track, won Thursday's triple jump with a mark of 44-8.75, and then came back in Friday's long jump and placed first at 22-0.25.
Morgan added a win in the 110 high hurdles with a time of 15.43, to go with a fourth-place finish in the 200. He also anchored the Eagle's 4x100 relay team with Josh Cowart, Elliot Nofziger and Kaleo Wellman to a third-place finish in 44.68.
East Linn Christian finished with 53 team points, followed by Weston-McEwen (47), Delphian (44), and Blanchet Catholic 43.5.
"On paper, I had us finishing third behind Weston-McEwen and Delphian," Eagles coach Kellen Peters said. "I thought first place might be a reach, but not highly likely. I thought Weston-McEwen and Delphian would have to come back to us.
"Kaleo winning the triple jump when he was ranked third, and Elliott Nofziger getting third in the high jump with he was ranked eighth — he got a PR by two inches and went over 6 feet for the first time — was a big difference-maker.
"We were just talking and I think this is the first meet we've won this year. We were trying to think if we'd won any other meets this year, but this is the first one, because we're really top-heavy. We didn't have a lot of depth this year, but we had a lot of top athletes — a different team than when we've won in the past."
2A GIRLS: Bandon freshman Marley Petrey followed up Thursday's victory in the long jump with another victory Friday in the 300 hurdles, a second-place finish in the 100, and a second in the triple jump, leading the Tigers to their first team championship.
"It's pretty incredible to be here in the first place," Petrey said. "The team, oh, my gosh … we knew we were going to have to work to get it, but straight from the get-go we were up there, so it was pretty exciting to watch it just stay."
Bandon's Caitlyn Michalek and Katelyn Senn both posted personal bests in the javelin and finished third and fifth, respectively, providing another key to the Tigers' run to 61 team points. Heppner was second with 58, and Enterprise-Wallowa was third with 51.
"All of the girls stepped up, made it to the finals, and performed well," Bandon coach Brett Hutton said. "Even the one point we scored in the 4x400 relay was just a nice cushion. And what was neat about that, with that eight-place finish, every girl scored points for the team."
Yes, all seven girls.
"Our goal was to score 60 points," Hutton said. "I said, 'If everything goes well and we get 60 points, we've got an outside shot.' And we got 61 with the 4x4, so it was pretty cool."
Bandon senior Danielle McLain rebounded from a third-place finish in Thursday's 3,000 with a personal best of 4:59.84 to place third in the 1,500. She also is the only senior among Bandon's seven state qualifiers, which means the Tigers have a solid group to build around next season.
"The girls have always kind of played second fiddle to the guys in track, so this was big for them to show that they could do it," Hutton said. "Bandon has had any powerhouse teams or anything like that.
"A few years ago, we won the first state title since 1964 in boys' cross country and then boys' track. Then the girls did it in cross country and now they did it in track. So, we got the grand slam — two in cross country, one for the girls and one for the boys, and two in track. It's really, really neat to see.
"It's tough to build momentum and this will really help."
1A BOYS: Adrian senior Jace Martin won the 100, 200, and 400, and then anchored the winning 4x400 relay team as the Antelopes won a second consecutive state championship and their fifth team title since 2014.
After setting state meet records of 10.6 in the 100, 21.88 in the 200, and 49.8 in the 400 during Thursday's preliminaries, Martin was less aggressive in Friday's finals. He still dominated all three races, not only winning the 100 in 10.95, the 200 in 22.02, and the 400 in 50.94, but he also won all three races by comfortable margins.
The Antelope's Air Force Academy-bound sprinter capped Friday's performance by anchoring the long relay team of Jesse Walker, Carter Bayes, and Chase Franklin to a winning time of 3:32.25.
"That was awesome," Martin said. "To end on a win and to end my high school career with a team championship, that's pretty cool. Overall, it was everything I wanted.
"We were a little short on events this year, so we weren't sure if it was all going to come together. But we had some big contributions from our underclassmen and everyone pulled through when we needed them and we ended up with the win. So, we couldn't be happier."
Adrian added a second-place finish by Bayes in the triple jump, a fifth by Walker in the 200, and seventh by Walker in the 400, and an eighth by Silvestre Rico in the triple jump to finish with 57 points to runner-up Imbler's 47. Union finished third with 39.
1A GIRLS: Damascus Christian's 4x400-meter relay team went into Friday's final race needing at least a fifth-place finish to lock up a second consecutive team championship.
That may have seemed a stretch for a team that was seeded seventh, but the Eagles proved they were up to the challenge.
They finished fourth.
Damascus Christian's Julia Mitchell, Tay Balensifer, Abbey Atkins, and Ayla Pontius knocked more than five seconds off their previous season best and clocked in at 4:22.36, finishing fourth behind Joseph, Adrian, and Powder Valley, respectively. That was good for five team points, which pushed the Eagles' team total to 67 and left Adrian and Crane tied for second with 64 each.
"Everyone had to pass someone," Atkins said. "Julia set us up well off the start and put us in a good spot, and then each of us just passed someone."
The Eagles went from seventh to sixth on Balensifer's leg, and then from sixth to fifth on Atkins' leg.
"When I got the baton, I was like, 'I want to give it my all. This is my last race,'" said Pontius, the senior anchor. "I sprinted as fast as I could and I think I passed the Southwest Christian girl. I just gave everything I had left in me to the very end.
"And we could have only done that with God.
Balensifer seconded that emotion.
"I don't think that was us at all," she said. "I mean, we prayed before the race and I know our bodies were physically running the race, but it's not us running. That was the Holy Spirit in us pushing us."
Earlier, it looked as if Damascus Christian's title hopes had taken a serious hit earlier when Balensifer cleared no height in the pole vault. But given time to reflect, Balensifer said that, too, was God testing the Eagles' resolve under pressure.
"I came in hoping to win the pole vault today and I no-heighted," she said. "I did nothing and that cost our team points. I mean, I know that's not what I wanted, but I think God was telling me, 'I know you worked for this, but I need you somewhere else today.'"
Said Mitchell: "I think God had a plan and He was pushing us all the way through."
Damascus Christian sophomore Ava Mai also played a key role in the Eagles' title push, placing second in the long jump, second in the 300 hurdles, and sixth in the 100. She also ran the anchor leg on the long relay team with Sierra Hale, Lucy McAllister, and Balensifer that finished second.
"All I can say is at the end of the day it was God," Mai said. "We have performed for God and all we've been trying to do is glorify God in what we do, and it really pushes us to do our best in everything. It really does.
"Today, we were very stressed out earlier in the day. But we realized that all we can do is go out and compete and do our best. We can't be afraid and back down, and whatever happens, is what happens, and it's God's plan."