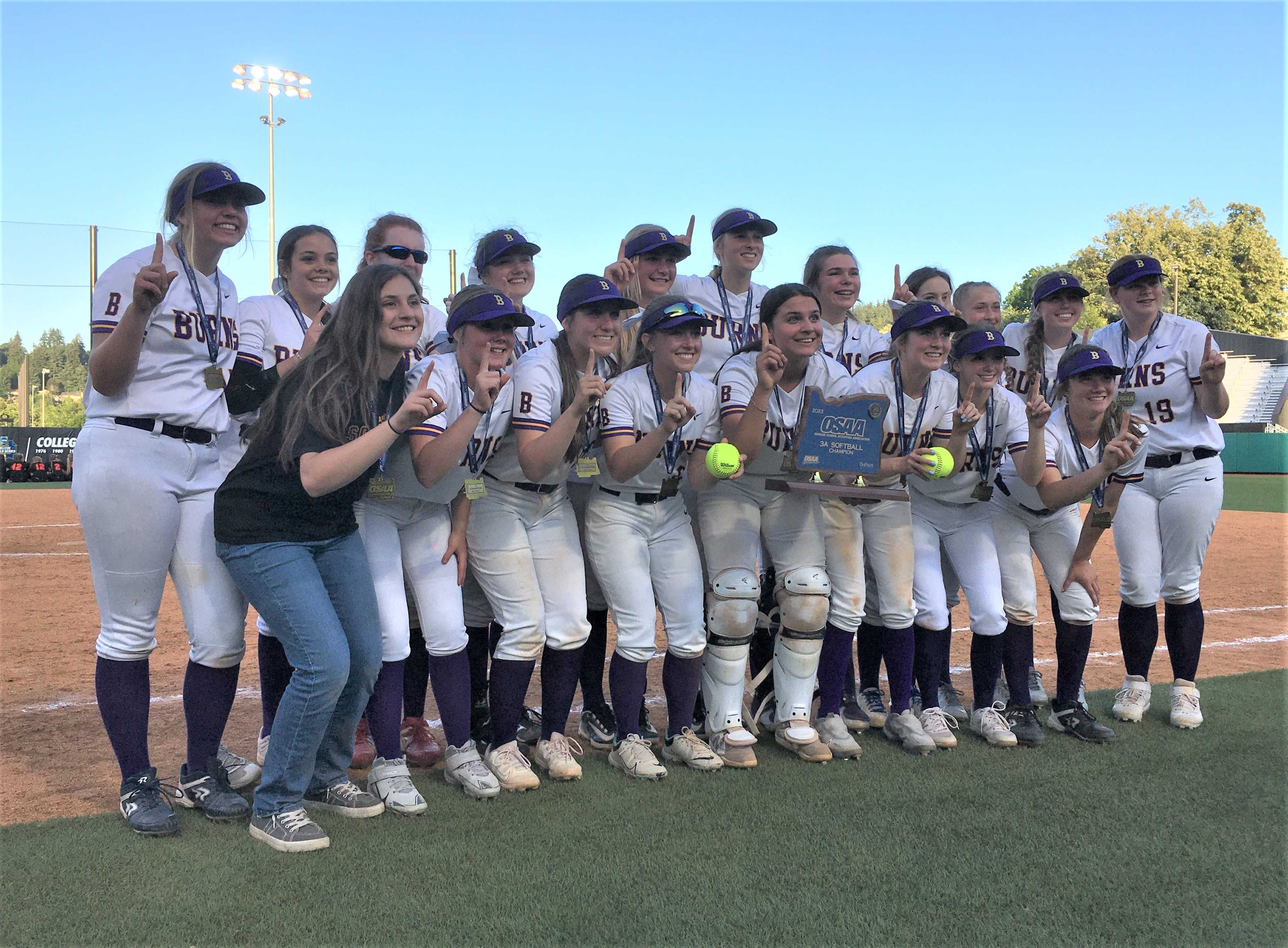 EUGENE – Riding a state-record 58-game winning streak, the Burns/Crane softball team wasn't short on confidence going into the OSAA/OnPoint Community Credit Union 3A final against Scio on Friday.
But the third-seeded Hilanders had a lump in their throat for much of their 12-inning staredown with top-seeded Scio at the University of Oregon.
"It was insane," Burns junior pitcher Ayla Davies said. "The pressure, my legs were constantly shaking. My fingers were quaking."
Davies and Scio sophomore pitcher Myleigh Cooper engaged in a scoreless duel for 11 innings before the Hilanders (29-0) made a run in the top of the 12th stand up for a 1-0 win, giving them a repeat title and extending their winning streak to 59.
"That was an extremely exciting game," Burns coach Robert Medley said. "My heart's still beating a little bit fast. Both teams poured their hearts out. Both pitchers battled through everything."
Davies was sensational, pitching a three-hitter with 23 strikeouts and three walks. She broke the state championship game record of 21 strikeouts, set by Tigard's Makenna Reid in last year's 10-inning win over Oregon City in the 6A final.
"She's just incredible. She's a beast," Burns senior Macy Temple said of Davies, who finished the season with 389 strikeouts, No. 4 on the state's all-time list.
Davies had to be on top of her game in going toe-to-toe with Cooper, who threw a three-hitter with16 strikeouts and two walks.
"She's a great pitcher," Davies said of Cooper. "I'm so happy to play her. I very much admire her talent."
Burns had better scoring chances early, and Scio had them late, but Davies and Cooper repeatedly squelched them, even after the game went to international tiebreaker rules in the 10th inning.
Finally, in the top of the 12th, the Hilanders struck. Temple, who started the inning on second base, raced to third base on a wild pitch and scored when a throw from Scio freshman catcher Cam Dalke got past third base and went into left field.
In the bottom of the 12th, the Loggers had a chance to equalize when Cooper stole third base with one out. But Davies fanned sophomore Meagan Trissel and got freshman Skylur Brown to line out to senior second baseman Mattie Woodbury to end the game.
"I knew something was going to happen, we just didn't know when yet," Burns senior catcher Merissa Medley said. "I'm not going to say we wanted it more, but I know we wanted it enough that we were going to battle until the end. Our girls have enough determination to hold our ground."
Scio (24-2), appearing in its first final, seemed ready to win in the bottom of the 11th when a wild pitch allowed junior Khloe Free to take third base with no outs. Freshman shortstop Macy Johnson ripped a liner over the third-base bag, barely foul.
"It was two inches maybe outside," said Scio coach Jim Mask, who had a good view from the coach's box. "It was a good call by the umpire."
Merissa Medley held her breath on the play.
"As soon as I saw it go past, I was like, 'That's foul, that's foul,'" she said. "Thank goodness."
It was the fourth one-run win of the season for Burns, which also survived close calls against Pendleton, 2A/1A champion Grant Union and Lakeview. After going 30-1 last season, the Hilanders ran the table this season.
"It was really hard," Temple said. "I felt like we had a target on our back the whole time, especially with no losses. It was pretty scary every game. It does make us confident, but everyone is superstitious on this team. They're just like, 'OK, what did I wear that last game?'"
Robert Medley marveled at the competitive will of his team.
"They've had it for two years," he said. "They want to win, but they want to do it the right way. They're going to play the game the correct way."
Medley tipped his cap to Mask and the Loggers, who started four freshmen and three sophomores in Friday's game.
"Great program he's building over there," Robert Medley said. "They're very young."
The loss was crushing, but Scio could take some solace in knowing that its future is bright.
"We're going to get better," Mask said. "Burns isn't going to be any less next year. Their pitcher is coming back, so we've got to get a lot better. This will help them a bunch. The kids will get better and learn from this."