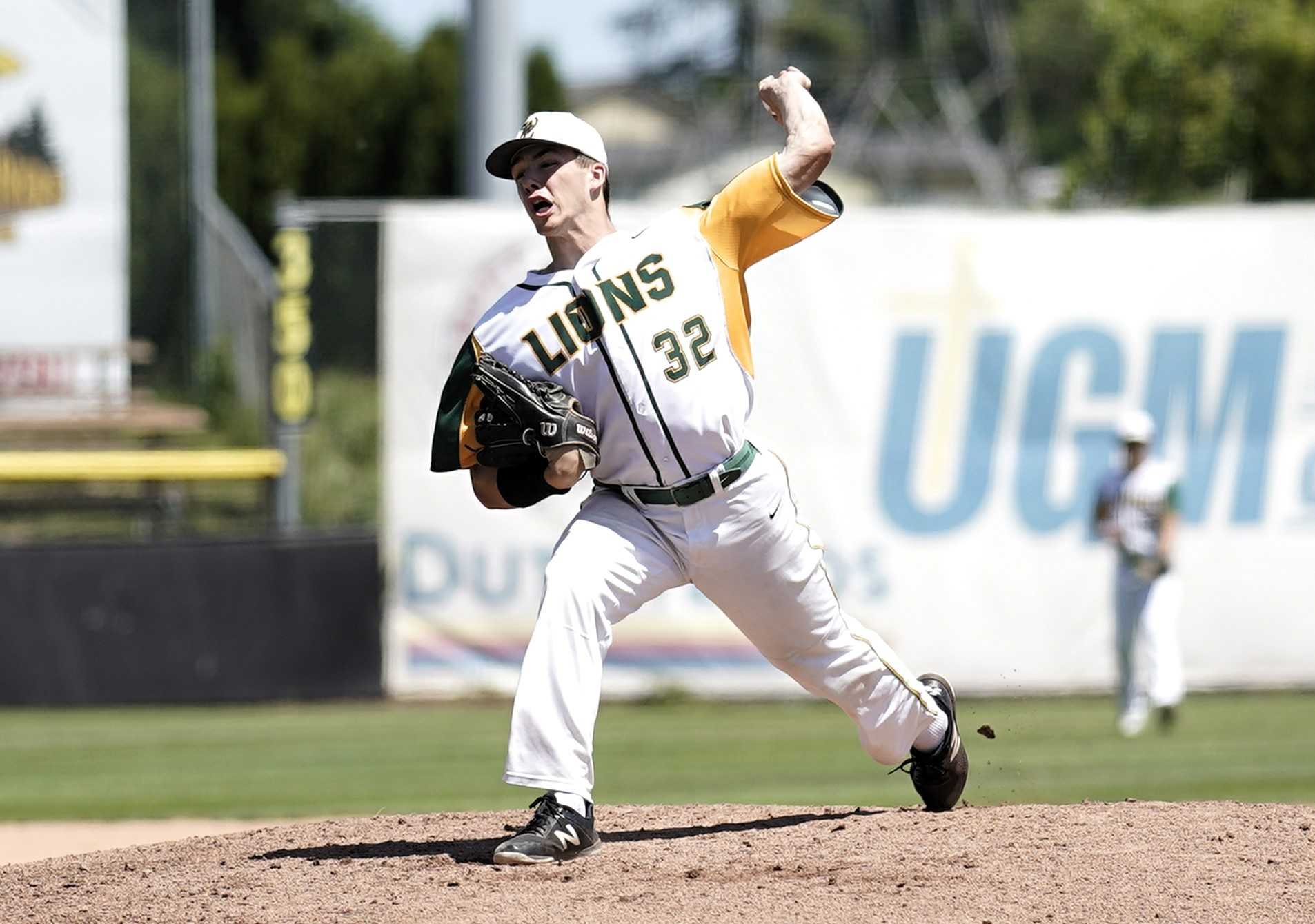 Over 60 innings pitched in 2023, senior lefthander Drake Gabel had yielded just one earned run.
He did not add to that total on a warm Saturday afternoon at Volcanoes Stadium in Keizer.
Scattering six hits, the Seattle University commit went the distance in West Linn's 2-0 win over potent Jesuit, propelling the Lions to a state championship repeat at the OSAA / OnPoint Community Credit Union 6A baseball state championships.
Gabel's counterpart, Jesuit senior righthander Noble Meyer, was every bit as dominant in the loss. Meyer, a flamethrower projected to go in the first 10 picks of the Major League baseball draft in July, gave up just two hits and one earned run over six innings while striking out 14. West Linn benefited from four uncharacteristic errors by Jesuit's senior infield.
"It was a well-pitched game," noted Jesuit coach Colin Griffin. "Two competitors on the mound doing what they do best. We made some uncharacteristic mistakes that West Linn took advantage of. That was the ball game."
West Linn jumped on Meyer for its earned run in the bottom of the first. Sophomore righty stick Danny Wideman turned on an outer half fastball and sent it down the third base line for a one-out double.
"I know I have fast hands," Wideman said. "I wanted to settle down, not try to do too much and put a good swing on the ball. I got a pitch I wanted and turned on it. It felt great. Just trying to get the energy up, get the crowd hyped, the dugout hyped. Against a very talented team, it helped us believe we could do it."
After a second strike out in the inning put Meyer within one out of escaping unharmed, senior Jake Holmes hit a fly ball to straightaway center that dropped, driving in the game's first run. The ball would have been a routine out had the Crusaders been playing straight up, but the center fielder was positioned deep into right field and could not get back in time.
"I knew I could get it done," Holmes said. "I saw first pitch slider high. We're not supposed to swing at first pitch slider. I decided to myself, 'That's the pitch I want. If he throws it to me again, I'm going to hit it.' Luckily enough the very next pitch he threw it to me, I swung, it hung in the air and it dropped. The first punch in the mouth. It was huge. It felt great to be able to come out hot."
"We've been challenging our guys with velo in practices all week," said West Linn coach Joe Monahan. "Jake Holmes and Danny Wideman were the two leaders that were pushing hard to make sure everyone was competing. Even when they were failing in practice, Jake told them, 'You have to find some success in order for us to win the game.' For those two guys to come through with the double and then a clutch single to give us a 1-0 lead was huge. It took a lot of pressure off of us and turned a lot of players into believers."
Holmes' hit was redemption for a dropped foul pop up near the Jesuit dugout on the game's second pitch. The error gave Ty Alleman a second life and he banged the next pitch to left for a hit.
"After that drop, all of them were chirping at me," Holmes said. "To be able to bounce back and make up for it was huge."
Jesuit threatened to tie the score or more in the top of the second, but Gabel was able to make his pitches when needed and got the first of three stupendous defensive plays behind him to keep the Crusaders at bay.
Meyer started the top of the frame at the plate and flied out to right, but he extended Gabel to nine pitches before the tenacious lefty got the best of him. Alleman followed with a single up the middle for Jesuit, which tried to sacrifice him to second. The attempted bunt was popped up behind junior catcher Ryan VandenBrink, and he made an unbelievable defensive play, sprinting full on towards the stands before laying out, superman style, for the catch.
"It's a quick reaction thing," VandenBrink said of that play. "In the moment you're not thinking and then you look in your glove [for the ball] and you find it. 'Oh my gosh! I just did that!' It gets the crowd pumped up. The whole team, the mojo goes up, too. It was a really fun moment."
VandenBrink's play proved huge, because the next batter, Brock Leitgeb, singled through the hole between third and short, a hit that surely would have scored Alleman with the tying run. Gabel was able to extricate himself from the trouble with a terrific straight change that the ensuing Jesuit hitter could only flail at for strike three.
The game remained 1-0 through four innings, as Gabel kept Jesuit hitters off balance with a four-pitch mix and Meyer overpowered West Linn with heat and a hard-breaking slider. West Linn had a chance to tack on a run in the fourth, when Holmes opened the inning with a chopper to third that the third baseman backed up on and then threw high to first. But Meyer was able to strike out the side for the third time in four innings to quell the threat.
West Linn's second jaw-dropping defensive play came in the top of the fifth. Leitgeb, leading off, sent a towering shot to left-center field 400 feet from home plate. West Linn center fielder Gabe Howard, playing to the left of second base, chased down the ball and made a stunning backhanded catch at the wall that dumbfounded Crusader faithful.
"It was a deep ball," Howard said. "I saw it coming. I kept tracking back on it. Never gave up. Stuck my glove out there at the end.
"Routine catch almost."
Yeah, right.
Gabel said he felt Howard's catch was the most important moment of the game.
"It was in the air for so long," Gabel explained. "When he catches that the whole crowd over there goes quiet while our crowd goes crazy. It shifted the momentum of the game so much and gave us so much more confidence."
Noah Hayes followed Leitgeb's loud out with another hot shot to the shortstop Mitchell Rowe, but Rowe was able to handle the fortuitous hop and throw him out.
"Our defense was a little rocky earlier in the year," Monahan explained. "Mitch Rowe came on at shortstop and really anchored the infield and we were able to put Danny in the outfield – he's spectacular wherever he plays – and Tyson Smith has been terrific at second. We went over to Oregon City and practiced on their dirt infield this week. On a field like this there are going to be a lot of tough plays if you put the ball in play. We made them today and Jesuit had a tough time. That helped us."
West Linn scored its insurance run in the bottom of the frame. Rowe reached with one out on another two-base throwing error from the Jesuit third baseman. He went to third on a ground ball off the bat of Gabel to shortstop Ryan Cooney and was able to score when the Jesuit first baseman sailed his throw to third trying to catch Rowe off base.
Gabel needed just six outs for the win heading to the bump for the top of the sixth and immediately yielded a leadoff double off the right field wall to Charlie Sturm, the senior catcher's second hit of the day. That brought up Oregon State signee Levi Jones, one of the state's leading home run hitters. Jones laced a line drive to right that looked like a sure hit, and might have been had Wideman not been in right. The athletic sophomore attacked the ball and made a diving catch for the out, holding pinch runner Caleb Ruchaber at second. Gabel then got Cooney and Meyer on balls in the air to end the threat.
"I got a good jump on it," said Wideman about his diving catch. "I had Gabe in center field talking and helping me out.I trust my speed and feel like I can get to most balls out there."
One inning later, Gabel again was in a spot of bother. He got two quick outs on balls in the air and then walked Leitgeb. Pinch hitter Dustin Doherty found the hole for a single, putting two on. But, as he had all game long, Gabel proved able. He induced Kainoa Santiago to hit a 1-0 foul pop. West Linn 3B Jackson Curdy battled the sun and made the catch, which started the celebration.
"I think I was both a little fatigued and a little too excited," said Gabel about his seventh inning struggles. "I had to work through it and, thankfully, Jackson made that last play and we got the win."
Gabel was a game-time decision over Howard and proved to be an exceptional choice. The southpaw threw 92 pitches in going the distance, gave up just six hits and one walk while striking out four. And he got out after out in the air as his fastball with late cut and change up kept Crusader hitters off balance all game long.
"We felt Drake would be more fresh," Monahan said. "Jesuit had seen Gabe before [a 9-6 Jesuit win early in the season]. We thought we'd have more of an advantage with our lefty on the mound."
"I needed to hit my spots and dominate the zone to put the pressure on them as hitters," Gabel said. "They're a really good hitting team. I knew they were going to put the ball in play. I have guys behind me I can depend on."
West Linn (26-6) had so many stars in its win. Besides Gabel, VandenBrink made major contributions behind the dish, framing effectively, throwing out a base stealer and making that amazing defensive play. Wideman had the double, scored a run and was outstanding in right. Holmes put the ball in play all three times, getting one to drop, and drove in the only run West Linn would need. Howard made the amazing play in center, and Rowe and Smith were steady in the middle of the infield.
"That team absolutely deserved that win," said Meyer of West Linn. "They played amazing. Drake had an incredible performance. He's a monster competitor."
Sturm and Alleman had two hits apiece to lead Jesuit (26-6). Leitgeb had a hit and a walk and that deep shot to center. The 2-3-4 trio of Jones, Cooney and Meyer, one of the best hitting trios in the history of the state, went 0-for-9, though Meyer hit two balls to right that were an inch on the barrel from going out.
"We hit some deep balls that got knocked down [by the wind]," Griffin said. "When we got people on base, I feel like we still hit some balls but West Linn made great plays."
Meyer was special on the mound in the loss. He did give up an earned run, but yielded just two hits and 14 of West Linn's 18 outs came via Meyer strike outs. For a team focused on hitting velocity, the Lions were not able to solve Meyer in this game.
"I wanted to go out and throw strikes," Meyer said of his pitching plan. "They got some timely hits and took advantage of the breaks we gave them."
The loss ends the high school careers of a large, impactful Jesuit senior class.
"This was a group…nobody will ever have a high school career like this group has," said an emotional Griffin. "Jesuit is a special place. We ask seniors to do a lot. To lead, be examples to others and create a legacy, and these 16 seniors stepped up to the occasion and did it for us. They made Jesuit a better place."
With the win, West Linn becomes the first large-school champion to repeat since Madison did it more than 50 years ago and the first school of any size since Henley went back-to-back in 2013 and 2014.
"This is the one that's toughest to get, when you go back to back," Monahan said. "It is very special. I don't think we were the favorites to win this game. But the way the guys practiced this week, their heart check was top notch."
VandenBrink added that playing Jesuit for the title was so much fun and made winning that much more special.
"This is what championship games are supposed to be," he said. "We knew that was a great team and it would be a grinder of a game. All year I've been looking forward to this matchup. Coming out here and getting the job done is really fun."