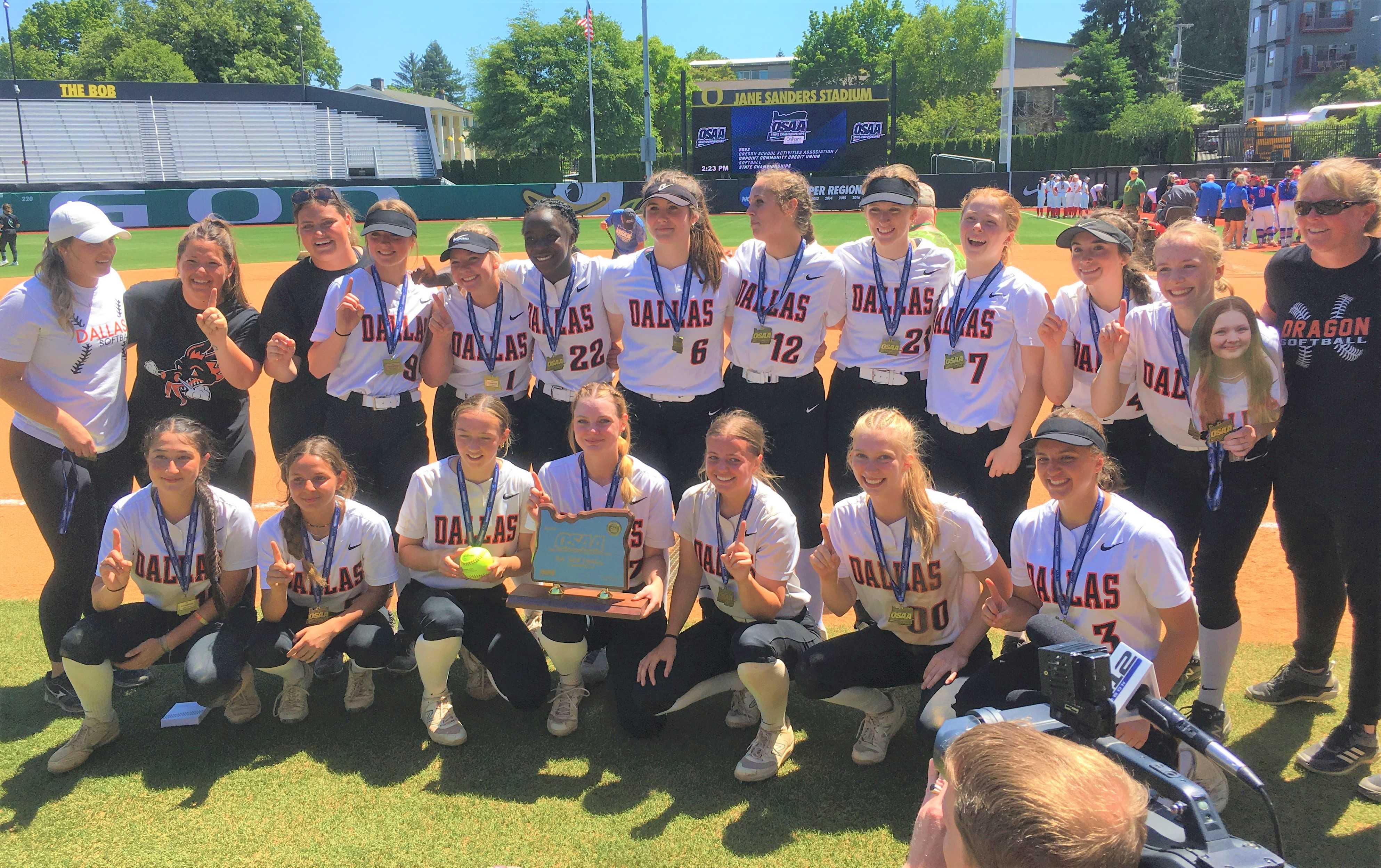 EUGENE – Trailing by four runs in the fifth inning, and without a base hit, Dallas/Perrydale's magical softball season appeared to be in serious peril Saturday.
The Dragons needed to find some kind of spark to rally against Lebanon senior pitcher Alivia Holden in the OSAA/OnPoint Community Credit Union 5A final at the University of Oregon.
That's when sophomore Madi Ruman and junior Clara Woolsey lit the fuse, getting back-to-back singles to start a five-run rally and leading to a 6-5, eight-inning victory, giving Dallas its first state championship.
"It just starts the momentum, sparks the flame," Woolsey said. "If one person can get it going, then it's amazing what your teammates can do after you."
Dallas junior Jordan Cresswell said the top-seeded Dragons (26-3), who fell behind 3-0 in the first inning, were "stressing" as the game progressed against the No 3 Warriors (21-6), a team they defeated twice in Mid-Willamette Conference games.
"We needed to relax and play our game," Cresswell said. "We got a little scrappy and we pulled it out in the end."
Dallas began to put pressure on Lebanon's defense, taking advantage of three errors in the five-run inning. And the Dragons won the game in the eighth when Cresswell scored from third base on an infield error off the bat of Woolsey.
"They were making errors here and there when we were putting the ball in play," Dallas junior pitcher Kadence Morrison said. "That's all we really needed to do it. It's good that we did it, but it would've been a little bit better if we would've done it a little bit earlier."
Down 4-0, Dallas got off the deck in the fifth inning. With one out, Ruman and Woolsey singled and scored when senior Chloe Zajac's ground ball was thrown past first base by junior shortstop Alexis Mulligan, making it 4-2.
Sophomore Ava Woods reached on an error by senior third baseman Tori Viellieux, and two more runs scored when Morrison's hard ground ball went under the glove of senior second baseman Christine Berg and rolled all the way to the outfield wall.
Berg took third on the play and scored on a bunt single by junior Kaelyn Golden, giving the Dragons a 5-4 lead.
Lebanon bounced back in the top of the sixth, getting singles from Berg and junior Emma Sheets and a two-out, bloop RBI double to right field by freshman Tatum Cole to tie it 5-5.
Morrison – who allowed nine hits, struck out 12, walked five and hit a batter – held the Warriors in the seventh and eighth, giving her offense a chance to win the game.
Cresswell led off the bottom of the eighth with a single to right-center and moved to third on a two-out single by Ruman. Woolsey hit a ground ball to Mulligan, who was unable to field it cleanly, allowing Cresswell to score the winning run.
It is the first title for Dallas, which was runner-up in 2017 and 2019.
"It didn't hit me until this morning that we were playing in the championship game," Cresswell said. "But I'm happy with the way it ended and we were able to pull it off."
Said Morrison: "It's such a great feeling, especially being part of the team that does it."
To do it, the Dragons had to defeat Lebanon, a team it beat 7-1 and 8-5 this season, for a third time. The Warriors were coming off an impressive 4-3 semifinal win over Bend.
"It was nerve-racking, but I think because we knew we've done it, we could do it again," Woolsey said.
Lebanon seized the momentum early, getting to Morrison for three runs in the first inning. Holden ripped a two-run double to left-center and sophomore Genevieve Osburg brought home another run when she was hit by a pitch with the bases loaded.
The Warriors had chances to add on, but Morrison worked out of a bases-loaded jam in the first inning with two strikeouts, and with the bases full and two outs in the third, Cole was thrown out trying to score after a pitch went to the backstop.
Lebanon made it 4-0 in the fifth inning when Cole singled and scored on a two-out double to center field by Osburg.
Dallas finished with seven hits against Holden, who struck out 10 and walked one. Ruman went 3 for 4.