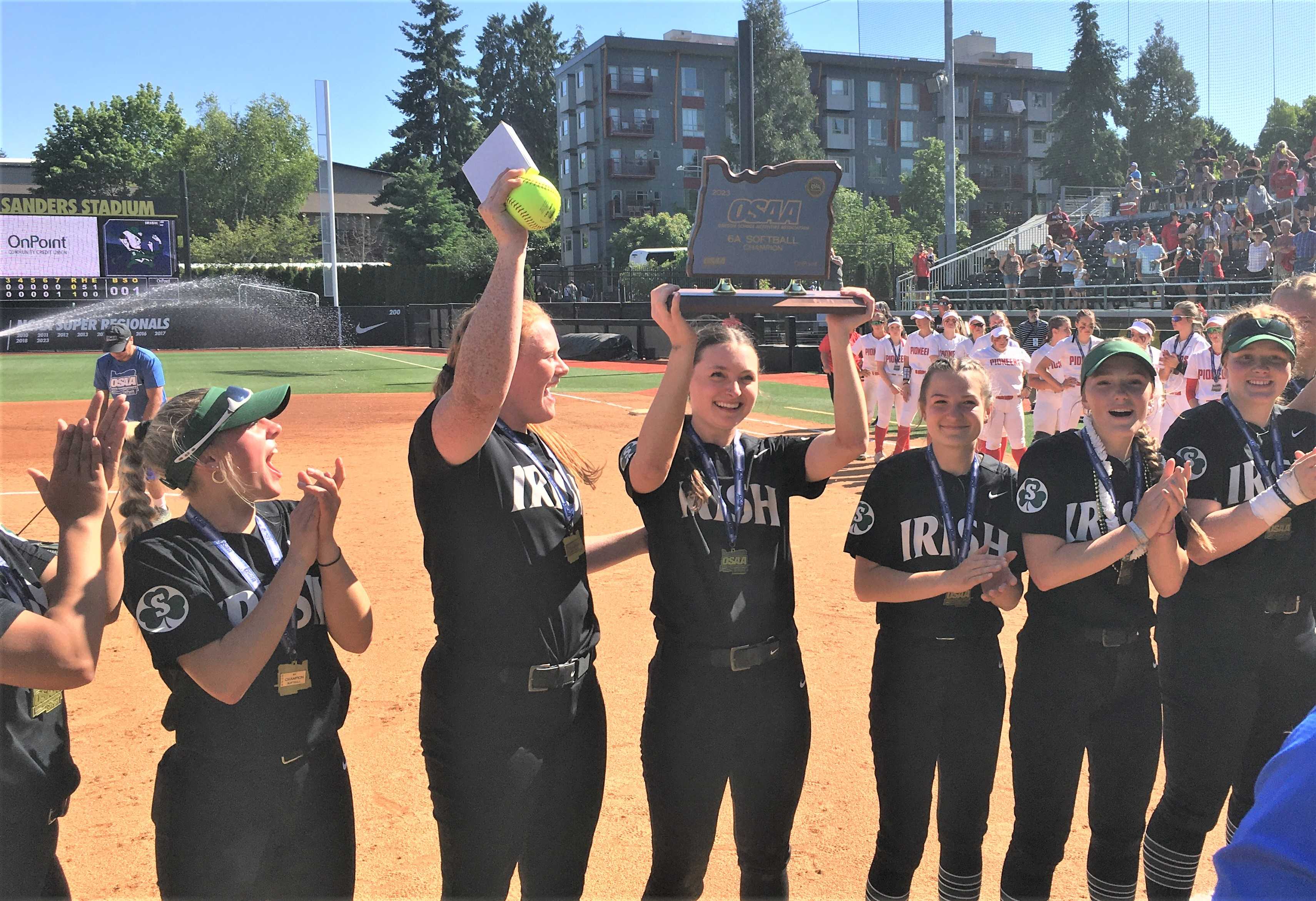 EUGENE – No hits, no problem for Sheldon's softball team.
The top-seeded Irish were unable to get a hit off of Oregon City junior Lily Riley on Saturday, but still found a way to win 1-0 in the OSAA/OnPoint Community Credit Union 6A final at the University of Oregon.
Junior Brooke Peterson, who broke up Riley's perfect game with one out in the bottom of the seventh inning by getting hit with a pitch, scored the game's only run on an obstruction call to give Sheldon (30-1) its second title in four years.
With Peterson at first base, Sheldon senior Meara Sain bunted to Pioneers sophomore third baseman Chloe Stromme, who threw low to first base, allowing Sain to reach safely.
Peterson raced to third base, where Riley had rotated and was ruled for obstructing her as she rounded the bag. Peterson dashed toward home and was easily thrown out, but was declared safe due to the obstruction call.
"I just knew that if I got my obstruction call at third, if I attempted to steal home, even if I was out, I would've been safe," Peterson said. "I know that he saw the obstruction. It was a full hit, it wasn't like a clip. She was directly in the way."
Peterson initially was called out at home, and Oregon City completed a double play by erasing Sain in her attempt to take second base. But after the umpires met, Peterson was declared safe, giving the Irish the title.
"I was like, 'There's no way,' because that umpire was standing right there and I go, 'He saw.' And he goes, 'I saw,'" Peterson said.
Sheldon coach Mike Faulconer beamed about Peterson's heady play.
"She is one of the smartest players out there," Faulconer said. "There's no one we'd rather have in that situation to recognize that and take advantage of that.
"There was obstruction, and she was aware of it personally, and she was looking for the umpire's arm out. As soon as she saw that, she went. She knows the rules."
It was a crushing defeat for second-seeded Oregon City (27-4), which lost in the final for the second year in a row. The Pioneers were left dazed after the call.
"It's devastating," Oregon City coach Mackenzie Washington said. "I didn't really get an explanation. … I just think that at the end of a game like that, to go out like that, it's hard."
It foiled a dazzling performance by Riley, who struck out nine but lost a one-run decision in the championship game for the second year in a row.
"It all happened so fast," Riley said of the final play. "I'm not really sure what they called it on. But I know that me and my team, we did the best we could in the moment. I just wish it would've gone our way.
"We know how to play in extra innings, so we were hoping that would be the outcome."
Oregon State-bound junior pitcher Payton Burnham got the win for Sheldon, throwing a five-hitter with 17 strikeouts and no walks. She finished the season with 375 strikeouts in 186 innings.
"Just an amazing season," Faulconer said of Burnham. "Couldn't ask for a better kid for this to happen for. She just works her tail off. Honestly, it's historic, the kind of numbers she put up."
Burnham took her game up a notch from last season, when Sheldon lost in the quarterfinals. She entered the final with a 0.20 ERA.
"I finally got into the weight room," Burnham said. "I got a pitching coach, so that helped. I was able to put in the work, and I'm glad it showed."
Sheldon won its last 12 games after a 3-2 loss to South Medford. Burnham and the Irish allowed only one run in their last 11 games as they set their sets on a state championship.
"It was always the goal," Burnham said. "We thought about it a lot, talked about it a lot. I felt like I threw pretty good today, but ultimately my defense made the plays that I needed them to behind me."
Oregon City's best threat came in the sixth inning when seniors Lily Castor and Gina Allen singled with two outs, putting runners at first and third. But Burnham got senior Allyson Nordling to ground out to second base to end the inning.
The Irish made solid contact several times against Riley, but Oregon City's defense – led by Allen at shortstop and junior Chloe Grimmer in center field – was up to the task.
"We kept hitting it but couldn't find a hole," Faulconer said. "She was a clutch pitcher, just really, really good. We felt really good about the top of the order coming up in the seventh. We knew we were going to make it happen."
It was Sheldon's second dramatic win over Oregon City this season. During spring break in Medford, the Irish scored twice with two outs in the bottom of the seventh to win 2-1.
Despite the painful loss, Washington said the Pioneers -- minus their three seniors -- will "put our heads down and go back to work" for 2024.
"We lose three pretty good ones, but we've still got a lot of young people on this team," she said. "So I wouldn't put it past them next year. I'd watch out."