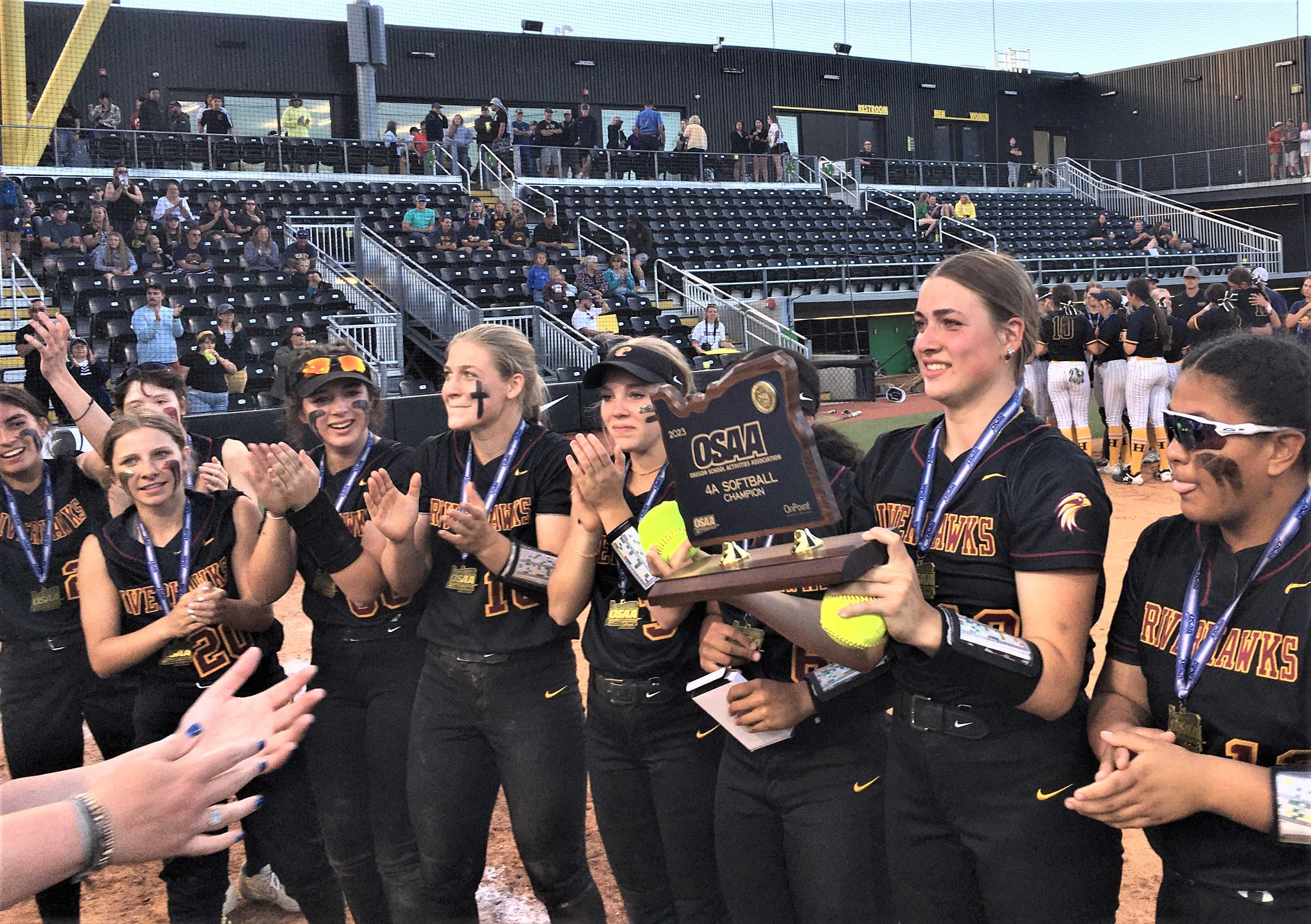 EUGENE – It didn't take long for Lindy Macnab to realize she inherited a good situation when she returned to her alma mater as the softball coach at The Dalles before this season.
The talent in the program was vividly apparent to Macnab, who played center field on the school's last state title team in 1994.
"I told them during tryouts, 'This is a state championship team,'" Macnab said.
Saturday, the second-seeded Riverhawks (26-3) delivered on that potential in a big way, overpowering top-seeded Henley 16-0 in five innings in the OSAA/OnPoint Community Credit Union 4A final at the University of Oregon. Junior Jeilane Stewart added to their state record by hitting the team's 70th home run and senior Kennedy Abbas pitched a one-hitter as they capped the season with their 21st consecutive win.
"It's a dream come true. I had this goal since the beginning of the season," said Abbas, one of the team's two senior starters. "I think we put The Dalles on the map. I think we showed our capability. I knew we could, it was just up to us whether we wanted it enough, more than anybody else, and we did."
Stewart, junior shortstop Zoe LeBreton and sophomore Despina Seufalemua each drove in three runs for The Dalles, which turned 11 hits, four walks, five errors and eight wild pitches into an onslaught of runs against Henley junior pitcher Annie Campos.
"Lindy was like, 'Today at the state championship, just show everyone who you are. Show them who The Dalles is,'" Stewart said. "In the beginning, we were all nervous, but once we started, with one, it just kept going and going."
Said Seufalemua, who had three hits, including two doubles: "We've come a long way. Once somebody gets a hit, it all connects."
The Dalles scored seven runs on three hits in the third inning to open an 8-0 lead. Stewart got the rally started by hitting a towering three-run homer over the center-field fence to make it 4-0.
"It felt so nice," Stewart said. "I honestly didn't think it was even going to go out. It was so high. And then it went out. And I'm like, 'I just hit a home run on a college field.' I was just so in awe."
The Riverhawks added three runs in the fourth inning and five more in the fifth for the 16-0 lead. Abbas put the final touches on the win in the bottom of the fifth against the Hornets (22-4)., who were shut out for the second time this season.
"Phenomenal," Macnab said of Abbas, who struck out five and hit two batters. "She was hitting her spots. She just has that presence on the mound. She just dominates. They follow her. She's intense. She's a competitor. I'm really going to miss her."
The Riverhawks, who lost in the 5A quarterfinals last year, played in their first final since finishing second in 2004. Macnab was clear in offering historical perspective on what the team accomplished.
"I hesitate to say because I love my teammates that I played with, but this team is far superior to the team I played on," Macnab said. "We were good, but all around, this lineup is unmatched. It's kind of insane. To be a first-year coach, getting that level of talent, it's something special.
"My goal was to make them grow all together, teach them how to be good teammates, and push through adversity. And they've done that."
The players rallied around Macnab.
"She meant everything," Abbas said. "She came in and she did her job and she earned all of our respect. I think she was the perfect coach for this. All of the coaches together were perfect for us."
The Riverhawks blew away the previous home run record of 53, set by Marist Catholic in 2017. Four of them reached double figures: freshman Madalynn Sagapolutele (14), Seufalemua (13), Stewart (12) and LeBreton (11).
Considering all of them are eligible to return next season, they could reset the record.
"I feel like we can, definitely," Stewart said.
The future is bright for The Dalles.
"I believe that this program is going to be exceptional for a long time," Macnab said. "It's really exciting to see the program at The Dalles. The girls are excited to play softball."
Abbas, who plans on continuing her softball career in college next year, will keep an eye on the Riverhawks.
"I cannot wait to see what they do," Abbas said. "It's going to be amazing. I can't wait to watch."