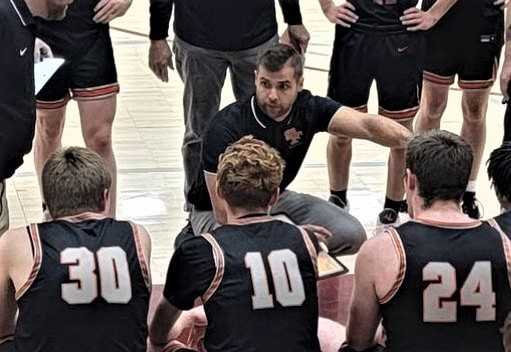 Coming off a three-year absence from coaching boys basketball, Tyler Allen inherited a rebuilding project last season at Silverton, which turned over nearly its entire roster from a 5A runner-up team in 2022.
Allen, who guided South Salem to three 6A semifinal appearances during an eight-year run (2011-19), was encouraged after the Foxes went 11-14 overall and 9-9 in the tough Mid-Willamette Conference last season.
But he was stunned when Silverton's new athletic director, Andrew Jones, informed him last month that the school had decided to replace him.
"It kind of threw me back a little bit," Allen said. "It definitely did catch me off-guard."
Fortunately for Allen, as that door closed, another one opened. Within a few weeks, he was hired as the coach at Central. He will succeed Dean Sanderson, who went 29-33 in three seasons.
"Timing on this one was almost too good," Allen said. "I reached out to Dean with really no intention to apply for it. I'm not going to say he convinced me to apply for it, but he really spoke highly of Central. At the end of our conversation, I went downstairs and told my wife, 'I think I want to do it.' It just seemed right."
Allen, who commuted about 35 minutes to Silverton, said that Silverton told him it was looking for a coach who was closer to the school. The Foxes ended up rehiring the previous coach, Jamie McCarty, an elementary school principal in the district, who went 112-13 in five seasons (2017-22).
Allen said his commute to Central is about 20 minutes. He is well acquainted with the school from his playing days at Dallas, where he graduated in 2003, and his college days at nearby Western Oregon University.
"Central's always been something that's been intriguing to me," Allen said. "Beautiful campus, facilities are awesome. They've had their ebbs and flows, but each year they seem to be competitive."
Allen said that friends asked him if he would apply for the opening at 6A Lake Oswego, but ultimately, he decided that Central would be a better fit for him. He will remain in the Mid-Willamette.
"I'm really liking this league we're in, being introduced to it last year," he said. "It's a good brand of basketball. It's kind of fun to go to the smaller towns like Lebanon and Albany to play those games.
"Being in it for a year, and playing the same teams, I know the returners quite well. Being able to come in with better knowledge of the players, their strengths and weaknesses, it's huge."
Allen, who went 152-70 during his tenure at South Salem, said he felt good about the impact he made at Silverton last season.
"It was apparent it was going to be a tough year," he said. "I don't think many people gave the team a chance to win even a couple games. The team did well beyond what was expected of them. I was pleased with it. I definitely was hoping to be able to see that through."
Central finished 15-10 last year, 12-6 in the Mid-Willamette, and lost in the 5A playoff round of 16. The Panthers graduated seven players and three starters, including a first-team all-conference pick in 6-foot-5 Chase Nelson.
Allen can build around 5-5 point guard Esteban Chavez, a full-time starter last season, and two other rotation pieces in 6-2 Kai Bennett and 6-7 Matthew Quinn. All will be seniors next season.
"I'm super excited," Allen said. "Dean did an amazing job establishing a program. They were competitive last year."
Allen's lead assistant will be Gary Burks, his former coach at Dallas. Seth Erickson, one of Allen's former players at South Salem, also will assist the varsity in a limited role. Allen said he hopes to lean on Bob McBeth, who coached Central to state titles in 2010 and 2012 and still works at the school, as a resource.
Hull returns
South Wasco County guard Jason Hull, whose historic freshman year was cut short by a non-contact knee dislocation last season, returned to the court last week.
Hull set a state freshman record with a 54-point game and was averaging 28.7 points when he was injured in the 1A Redsides' 20th game of the season against Sherman on Jan. 28.
Hull tore the medial patellofemoral ligament in his knee. He did not tear any other ligaments or cartilage and did not have surgery, recovering through immobilizing the knee.
"It was a tough time for him. He had never been that inactive in his life," said his father, South Wasco County coach Jim Hull.
He wore a knee brace until March 31 and began rehabilitation without limitations on June 1. He played two games June 1 and two more games Tuesday, scoring 41 points in one game.
"There is some hesitancy, but the more he keeps playing, the better it gets," Jim Hull said. "We have a full slate of basketball this summer, two tournaments with his South Wasco team along with the Team Jones schedule. He is looking forward to next season for sure. I would say he is very grateful just to be back on the court."
Hull has sprouted to 6-3 after playing last season at 6-1. As a freshman, he shot 54 percent from the field, including 32 percent from three-point range (58 for 178), and 83 percent on free throws (64 for 77).
Hill back to Roosevelt
Terrence Hill, a 6A second-team selection as a sophomore at Roosevelt before spending his junior year in Arizona, has announced that he will rejoin the Roughriders for his senior season.
The 6-3 point guard averaged 19.5 points as a freshman and 19.8 points, 3.9 rebounds and 3.7 assists as a sophomore for Roosevelt. He helped the Roughriders take sixth place in the 6A tournament in 2022.
He spent his junior year playing at AZ Compass Prep, where he teamed with former Jefferson standout Mookie Cook. He averaged 3.1 points and 2.1 assists in 12 games in the National Interscholastic Basketball Conference.
Without Hill, Roosevelt lost at eventual 6A champion Tualatin 71-65 in the first round of the 6A playoffs. He will join a team that also has senior guards Chance White and Utrillo Morris, who were named to the Portland Interscholastic League first and second teams, respectively.