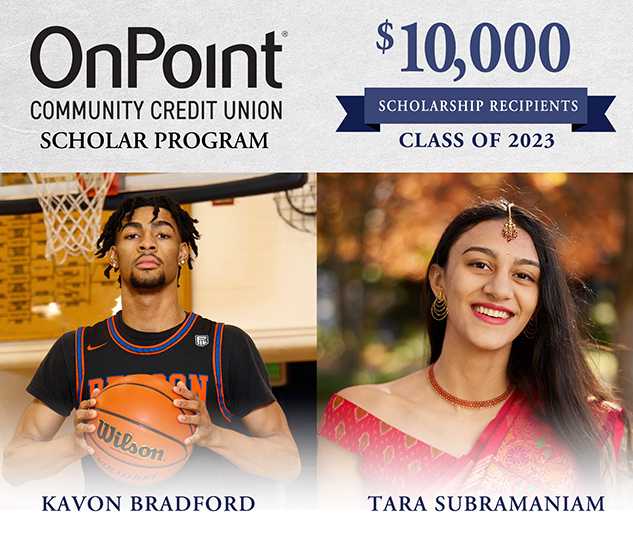 PORTLAND — OnPoint Community Credit Union and the OSAA today announced six graduating seniors have won scholarships worth up to $10,000. The awards are part of the 2023 OnPoint Community Credit Union Scholar Program and are double the amount of previous years' scholarships.
The program recognizes graduating Scholar Athletes and Activity Scholars from OSAA member schools with two $10,000 scholarships and four $5,000 scholarships. The two winners of the $10,000 scholarships are Kavon Bradford of Benson High School and Tara Subramaniam of Lincoln High School.
The four winners of the $5,000 scholarships are Austin Baker of Bend Senior High, Charles Black of Central Catholic High School, Camila Garibay of Sheldon High School and Lane Shaffer of McDaniel High School. OnPoint received more than 350 applications from 146 OSAA member schools.
"We are proud to partner with the OSAA to honor exceptional students who have already achieved much success academically and within their sport or activity, all while making a significant impact on their communities," said Rob Stuart, President and Chief Executive Officer of OnPoint Community Credit Union. "Take a few minutes to read about this inspiring group of future leaders and I believe you'll agree that we are in very good hands."
OnPoint's Scholar Program honors graduating Oregon high school seniors who have earned a 3.50 or higher unweighted cumulative grade point average and have earned a varsity letter in an OSAA-sanctioned sport or competed in an OSAA-sanctioned activity.
"I commend our 2023 scholars for their excellence in the classroom and their communities," said Peter Weber, OSAA Executive Director. "We're excited to honor their achievements and grateful to OnPoint for partnering with us to recognize some of our state's top high school seniors."
Winners of the 2023 OnPoint Community Credit Union Scholar Program:
$10,000 Scholarship Winners
Kavon Bradford of Benson High School, Portland Public Schools, honed his leadership skills as a tutor, coach and mentor with organizations and programs that help underserved young people reach their full potential. The captain of his varsity basketball team, Bradford applied his basketball skills and math prowess to serve as a role model to Black middle school boys. During COVID, Bradford helped raise $15,000 for Raphael House and Rose Haven, non-profits that support survivors of domestic violence, when they needed it most. He spoke up for the cause in his role as a host for KPBS Radio. Bradford earned a 3.83 GPA while pursuing challenging Advanced Placement courses and will study pre-law to become an attorney.
Tara Subramaniam of Lincoln High School, Portland Public Schools, is a nationally competitive congressional debater. She helped rebuild Lincoln's debate team and coached Beaverton High School debaters at a time when the discipline's popularity was waning. Subramanian created the Oregon Red Cross Youth Council, where she recruited and led more than 600 volunteers and coordinated statewide service events. Her international humanitarian law presentations educated thousands of students about foreign policy and war crimes. Subramanian also organized the Oregon Youth Neuroscience Conferences. After taking 17 college-level classes as an International Baccalaureate student, Subramanian will graduate with a 4.0 and attend New York University.
$5,000 Scholarship Winners
Austin Baker of Bend Senior High School, Bend-LaPine Schools, captained his basketball, football and lacrosse teams and helped students with disabilities compete in sports through the Unified Sports Program. His Unified Sports Program teammates played in the gold medal match in their division. Baker earned a 4.35 GPA while taking college-level classes through the International Baccalaureate program and is a member of the National Honor Society. Austin will continue his education at Wesleyan University.
Charles Black of Central Catholic High School in Portland led his school's chapter of CommuniCare, a student-powered social justice and community service organization. A leader in Central's campus ministry and student body vice president, Black played five sports and co-captained his varsity cross country and track teams and junior varsity basketball team. He earned a 4.0 GPA and is a National Merit Scholar finalist. Black will attend the Massachusetts Institute of Technology and plans to become a physician.
Camila Garibay of Sheldon High School, Springfield Public Schools, played trumpet in the school's concert band, wind ensemble and marching band and swam competitively. A student in the Spanish immersion and International Baccalaureate programs, Garibay earned a 3.74 GPA. She also participated in Oregon Young Scholars, a four-year college preparatory program. Garibay will be the first in her family to attend college and plans to become a nurse to honor her grandmother, who was a midwife.
Lane Shaffer of McDaniel High School, Portland Public Schools, campaigned for better transportation infrastructure as co-chair of the Transportation Equity and Environmental Advocacy committee of the Multnomah Youth Commission. Shaffer earned a 4.0, took college-level classes, and participated in football, cross country, wrestling, and the student newspaper. He also served as president of McDaniel's Youth Action Council. Shaffer will major in public health and public policy on a pre-law track.
All graduating seniors who participate in OSAA activities were eligible to apply for a scholarship. The Scholar Program is part of OnPoint's partnership with OSAA as the title sponsor of the Oregon high school state championships.
OnPoint selected winners based on letters of recommendation and personal essays about their community leadership, classroom success, and how participating in OSAA activities has helped them achieve their goals.
Visit onpointcu.com/community-giving to learn more about OnPoint's support of local organizations like OSAA.
ABOUT ONPOINT COMMUNITY CREDIT UNION
OnPoint Community Credit Union is the largest credit union in Oregon, serving over 516,000 members and with assets of $8.9 billion. Founded in 1932, OnPoint Community Credit Union's membership is available to anyone who lives or works in one of 28 Oregon counties (Benton, Clackamas, Clatsop, Columbia, Coos, Crook, Curry, Deschutes, Douglas, Gilliam, Hood River, Jackson, Jefferson, Josephine, Klamath, Lane, Lincoln, Linn, Marion, Morrow, Multnomah, Polk, Sherman, Tillamook, Wasco, Washington, Wheeler, and Yamhill) and two Washington counties (Skamania and Clark) and their immediate family members. More information is available at www.onpointcu.com or 503-228-7077 or 800-527-3932.
ABOUT THE OREGON SCHOOL ACTIVITIES ASSOCIATION
The Oregon School Activities Association (OSAA) is a private non-profit, board-governed association comprised of 295 member high schools. A member of the National Federation of State High School Associations, the OSAA annually sponsors 113 teams and 426 individual state championships for students competing in 19 interscholastic activities. For more information, www.osaa.org or follow @OSAASports on social media.