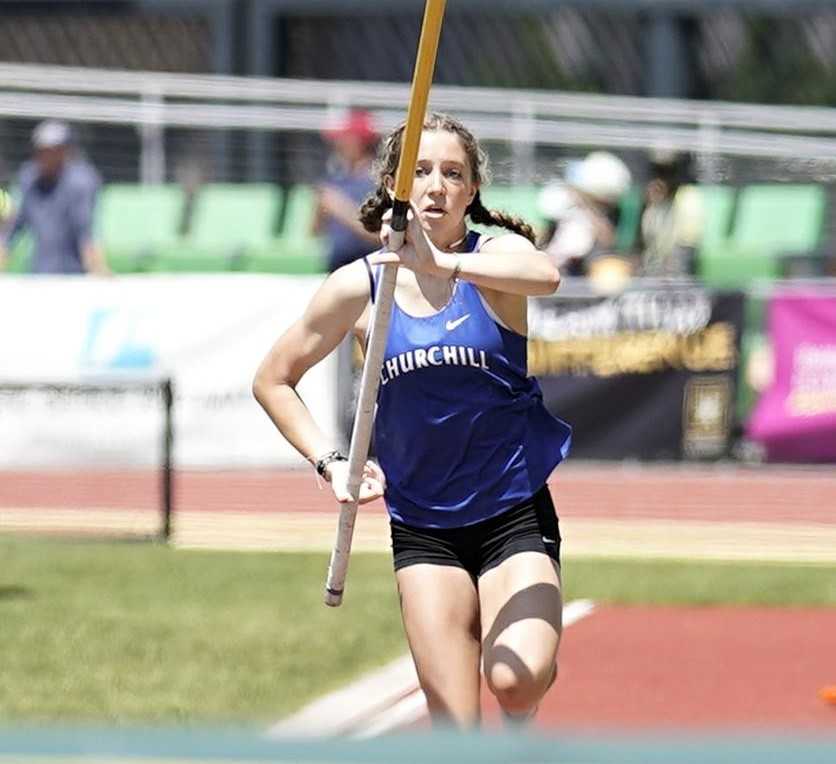 Churchill freshman pole vaulter Addison Kleinke added to her late-season momentum with a record-breaking performance in the Nike Outdoor Nationals on Friday at Hayward Field.
By clearing 13 feet, 6 ¼ inches, Kleinke not only improved on her state record of 13-4 ½ – set in the 5A championships – but she broke the national freshman record.
Kleinke finished fourth behind three older vaulters. The winner was Hana Moll (14-6), a senior from Olympia, Wash., who holds the high school national outdoor record at 15-0.
"I was super excited to go up against those girls," Kleinke said. "I felt like it was going to be an amazing competition. The energy was so great. Going in, I really did expect to do something bigger than my last meet. I feel like I did, and I lived up to that. I'm happy about it."
Kleinke made it over 13-6 ¼ on her second attempt. She failed on three tries at 13-10.
"I had two great attempts at 13-10. I was super excited about that," Kleinke said.
It was the first time Kleinke had surpassed 13-6 since she was an eighth-grader. She posted a winning mark of 13-7 ½ in the USATF Oregon High School Invitational at Putnam High School on June 10, but the validity of the measurement remains in question.
"I know personally that the bar was not at the right spot," Kleinke said. "Everybody there knew."
During her freshman season, Kleinke did not reach 13-0 until hitting 13-1 in the Grants Pass Rotary Invitational on May 6. She believes she has turned a corner late in the season.
"I feel like I'm finally starting to come back, starting to pull myself out of the rut," she said. "I wasn't making any heights over 12-8 for a really long time. I'm super proud of myself for being able to pull it out. It's amazing to feel this way after being in that rut for so long."
Breaking the national freshman record was a bonus.
"As soon as they said it was a national freshman record, I was like, 'No way,'" she said. "I really didn't know. I was super excited about it."
Kleinke said Friday's meet was "definitely a lot more pressure" than the state meet.
"I feel like state was more like to showcase what we've been working on, to have fun, that kind of thing," she said. "This meet was like, you've got this crazy competition, and it's not just going to be about you at the end. All the little misses count toward where you're going to place."
Kleinke was thrilled to compete against Moll, whose twin sister, Amanda, owns the national high school indoor record at 15-1 ½.
"I look up to them so much," Kleinke said. "It's awesome to compete with them. I feel like every time I compete with them, we just get a little bit closer."
Kleinke will compete in the USATF Junior Olympic state meet in Springfield on June 24-25, the USATF U20 Outdoor Championships at Hayward Field on July 6-9 and the USATF National Junior Olympic meet at Hayward Field on July 24-30.
"I really want to get 14 feet by the end of the season," said Kleinke, an online school student who competes for Churchill.
Add Outdoor Nationals: Kleinke helped lead a strong showing for Oregon athletes at Nike Outdoor Nationals.
Lake Oswego junior Mia Brahe-Pedersen repeated as national champion in the 200 meters in 22.43, beating her state record of 22.61, and took the 100 in 11.11. She is No. 2 in national prep history in the 200, trailing only Allyson Felix (22.11).
Brahe-Pedersen also teamed with junior Rley Ha, sophomore Marina Turpen and junior Josie Donelson as Lake Oswego finished first in the 4x400. Their time of 3:48.49 improved on their state record of 3:48.78.
Oregon City senior Sophia Beckmon successfully defended her national title in the long jump (21-7). Beckmon was runner-up to Brahe-Pedersen in the 100 (11.35) and 200 (22.99).
Central Catholic senior Kyeese Hollands finished first in the javelin, throwing 164-5 ¼. The effort blew away her previous PR of 154-5 and moved her to No. 6 on the state's all-time list.
Crescent Valley sophomore Emily Wisniewski and West Linn senior Anika Sukumar were runners-up in the 5,000 (16:10.16) and triple jump (39-4), respectively. Wisniewski's time set a sophomore national record.
Barlow senior Micah Perry became the second Oregon boy ever to break 14 seconds in the 110 hurdles when he finished third in 13.95, taking .13 seconds off his PR. The state record of 13.73 was set by Bob Gray of David Douglas in 1988.
Crater's boys won the 4,000 distance medley relay in 10:09.79 behind senior Tyrone Gorze, senior Aidan Chenoweth, junior Caleb Doddington and sophomore Josiah Tostenson.
Central Catholic senior Garrett Mackey placed second in the 2,000 steeplechase (6:03.05).
Pre-empted: Crater's Gorze passed up Steve Prefontaine with his performance in the Brooks PR Invitational in Renton, Wash., last week.
Gorze completed the two-mile run in 8:39.61, breaking the state record of 8:41.5 that Marshfield's Prefontaine set in 1969.
Gorze assumed the lead after one mile but was overtaken by Simeon Birnbaum of South Dakota with about a half mile to go. Birnbuam pulled away to win in 8:34.10, the No. 2 time in U.S. high school history.
Lake Oswego's Brahe-Pedersen also competed in the meet, renewing a 100 rivalry with Shawnti Jackson, a North Carolina senior who defeated Brahe-Pedersen twice last summer.
Coming off setting the national record (10.89) on June 3, Jackson edged Brahe-Pedersen 11.00 to 11.09.