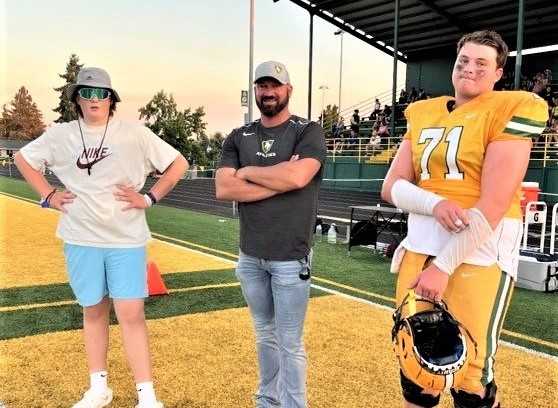 As Putnam's athletic director, Jesse Eveland spent much of the past decade helping the school with a sweeping renovation of its sports facilities.
Now Eveland is ready to take on a similar challenge at Redmond, where he has been hired as vice principal and athletic director.
"Some of the things I did at Putnam, I think with all the community support at Redmond, I would just hope to do the same over there," Eveland said.
Eveland said the Redmond job has great appeal, but he also is excited about the recreational opportunities in central Oregon for his family. His sons, Jace and Peyton, will be a junior and freshman, respectively, at Redmond this year.
"It's everything we do for fun. We're outdoorsmen," Eveland said. "We love to hunt and fish. That's closer to what we do over there in central Oregon."
A 1997 Putnam graduate, Jesse Eveland spent nine years as a teacher and coach at Putnam before becoming Milwaukie's athletic director in 2011. He returned to Putnam in 2014 to replace Dan Barendse, who retired.
Putnam and Milwaukie, both part of the North Clackamas School District, began making facility improvements after the district passed a bond in 2008. Eveland was instrumental in projects at both schools.
At Putnam, Eveland helped drive fundraising that complemented the bond. On his watch, Putnam replaced the artificial turf on its football field, installed artificial turf on its baseball and softball fields, built a 100x50-foot artificial turf indoor hitting facility and revamped the hitting facility in its upper gym.
The school also replaced its gym floor in 2020, installed new scoreboards for both of its gyms and the football, baseball and softball fields, added a $140,000 weight room and regraded and irrigated a grass football and soccer field.
Eveland will be involved in similar projects at Redmond, which has a grass field at its football stadium. He said he will be looking to facilitate partnerships with the community and local businesses as Redmond looks to get up to speed with district rival Ridgeview.
"The facilities are Ridgeview are just amazing. We're hoping to bring Redmond up to that level," Eveland said. "I think turf will be in the future, especially with a big push on saving water. It's a no-brainer."
Eveland said he is encouraged by what he has learned about Redmond's administration, including the principal, Dr. Audrey Haugan.
"She's just awesome," he said. "From what it sounds like, she supports all the programs and wants kids to have great opportunities in school and after school. I'm just thoroughly impressed so far."
The addition of Eveland's sons will be a boon to Redmond's football program. The 6-foot-7, 320-pound Jace was a standout offensive lineman at Putnam and is drawing attention from colleges such as Oregon, Oregon State, Brigham Young and UCLA, according to his father.
"No offers yet, but definitely everyone is showing plenty of interest," Jesse said of Jace, who will play right tackle in the Les Schwab Bowl on Saturday. "He has the prototypical size. He's been working hard lately. I think he's going to show up good in the Les Schwab Bowl. He'll be a lean, mean fighting machine come fall."
The 6-6, 280-pound Peyton, who recently turned 14, has been at least an inch taller than Jace at each stage.
"I think everyone is expecting Peyton to be taller and better than Jace," Jesse said. "He'll definitely be all of 6-8. Hopefully he stops there. Peyton has the same wingspan as Jace, and he has bigger hands already."
Peyton also plays basketball.
"He's not super skilled. He spends all of his time on football," Jesse said. "But he's a big, long frame, a big kid who can move."
Eveland's wife Amanda (formerly Wiedeman) is stepping down as Putnam's volleyball coach, a position she has held since 2014. According to Jesse, Amanda will look to return to coaching "when the time is right."
"She's hoping to get involved in volleyball over there in some way," he said. "She doesn't want to get out of coaching."
The family will be shopping for a house near Redmond in the near future. Eveland said he will look for a home with up to five acres.
"The boys have always dreamed of that," he said.
Jesuit's Hughes changes roles
Mike Hughes, Jesuit's athletic director for the past 18 years, is moving to a different position at the school. He is returning to campus ministry, where he started at the school in 1985.
Under Hughes' direction, Jesuit was named the nation's No. 1 high school athletic program by MaxPreps four times. The Crusaders won the Oregon Athletic Coaches Association all-sports award in each of his 18 years. They also won the OSAA Cup in 11 of the last 12 years.
"In terms of wins and losses, I think we did really well," Hughes said. "But my focus the entire time has been inspiring our coaches to be intentional about coaching for character."
Hughes, who holds a master's degree in theology, directed the school's campus ministry in his early years on the staff. He also served as a theology teacher.
"No. 1, I really missed the interaction with the students," said Hughes, 1979 Jesuit graduate. "As the athletic director, you're the coach to the coaches. I was always training them, working with them, evaluating them, trying to motivate them. But I wasn't spending a lot of time with the students.
"And secondly, quite honestly, it's just the hours as athletic director. I did it with joy and great enthusiasm for 18 straight years, but it's 60 to 65 hours a week, season after season. It's almost year-round at that pace. I just needed a change."
Jesuit has yet to name his replacement.
Crater's Heard retires
Crater athletic director Dave Heard is retiring after a 31-year career in the Central Point School District.
Heard had a highly successful run as Crater's girls basketball coach, compiling a 257-87 record in three stints covering 13 seasons, before stepping down in 2017. Under Heard, the Comets won seven league titles and finished as state runners-up in 1998, 2000 and 2001.
Heard spent 21 years at Scenic Middle School, teaching health/PE and serving as dean and vice principal, prior to becoming Crater's athletic director in 2013.
"I was lucky as an athletic director to be in the community I was in because we have control of our youth sports," he said. "I was really able to do some amazing stuff because of the support from the community and the district."
Heard said he decided to retire now because "I was just able to."
"I could work longer, but you get to may age and you go, 'You know what, my best years are right now,'" he said. "I'm a big outdoors guy. I hunt and fish. I want to do that stuff while I'm able."
Heard graduated from Ashland in 1985 and played basketball at Southern Oregon before beginning his career in education. His daughters, Monica and Mallory, played on his teams at Crater, graduating in 2014 and 2017, respectively.
Heard said that his wife Pam, a secretary at Scenic Middle School, plans to retire Dec. 1.
Brad Eaton, a football assistant coach at Crater and the principal at Scenic, has been hired to replace Heard as athletic director.