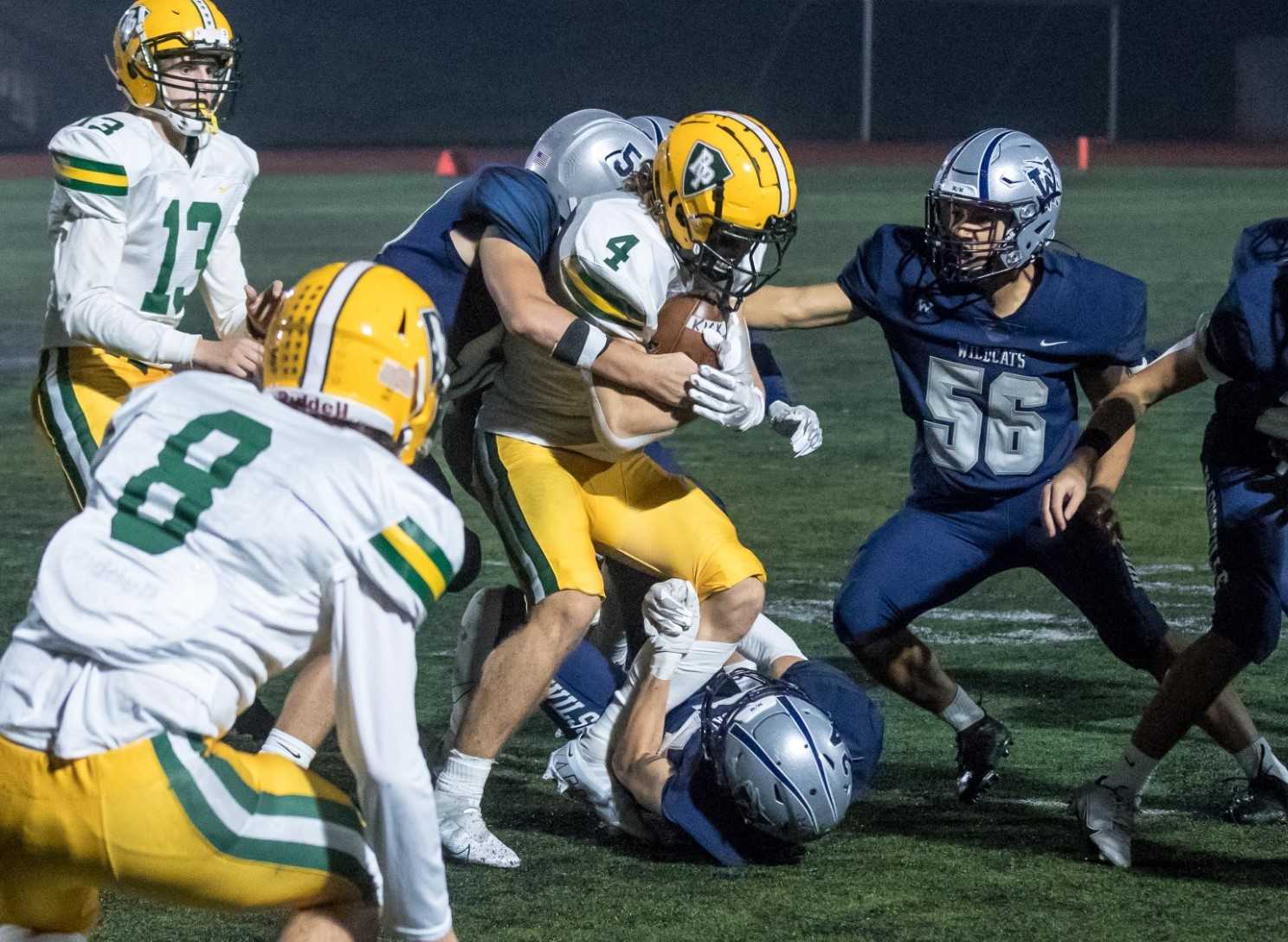 Everything seemed to be trending in the right direction for Putnam football last season, when the Kingsmen started the season 8-0 for the first time in 36 years and finished 8-2.
With many of those players eligible to return in 2023, Putnam looked like a surefire contender in the 5A Northwest Oregon Conference.
But as the season approached, the coaches and players questioned whether they could field a viable varsity team. The Kingsmen lost a handful of all-league caliber players to transfers and were left with about a dozen juniors and seniors, roughly half of what they expected.
"If it wasn't happening, I couldn't make it up," coach Tim Jacobs said. "We had that tremendous season, and we had such a special senior class. It kind of all came out of left field."
The Kingsmen lost their best lineman when junior Jace Eveland (6-7, 320), who has received major-college interest, moved to central Oregon when his father, Jesse, stepped down as Putnam's athletic director to take the same position at Redmond. It was a double-blow considering Jace's promising freshman brother, Peyton (6-6, 280), also landed at Redmond.
Two of Putnam's most explosive players from last season, senior receivers and defensive backs James Bauman and Tyler Creswick, transferred to Lake Oswego and Nelson, respectively.
"It's been ramping up in the Metro area, and we couldn't avoid it this year," Jacobs said of transfers.
The Kingsmen reached a pivot point on having a varsity team. Much hinged on whether enough of the 16 sophomores, who helped the frosh/soph team to a 7-2 record last year, were ready to play varsity.
"We sat down with every sophomore and asked him, point blank, 'Do you want a crack at playing varsity or do you want to play lower-level?'" Jacobs said. "Some of those guys said, 'Absolutely, I want to play varsity, and I want to do that this year so we can do this.'"
Putnam will start the season with about 20 players on varsity, including five juniors and nine seniors. Considering the possibility of injuries, the Kingsmen will walk a fine line.
"The goal from the outset was to find ways that we can get a varsity team, as long as it was safe for everybody involved," Jacobs said. "I don't think anybody was in a spot where it was a concrete, 'No, we don't want to do this.'
"We've got enough to give seniors an experience. I can't give enough credit to the seniors that are out here right now. Their character, their loyalty, what they're doing, it's what you dream of."
If they can weather the storm, the Kingsmen believe their future is shaping up nicely. They have 19 freshmen, many of whom played on an eighth-grade playoff team, to go with the strong crop of sophomores on the frosh/soph team.
"We just have a little hiccup going on at the moment," Jacobs said. "But if you look at what's coming up the pipeline, I think we're going to recover from it pretty quick."
Putnam opens its season Aug. 31 at rival Milwaukie. The Kingsmen were scheduled to play Beaverton in their second game, but switched it for a game at McDaniel.
Rague to Panthers
Running back Kameron Rague took 3A by storm as a sophomore last season, earning state player of the year honors in helping lead Cascade Christian to the state title.
Now the 6-foot-1, 185-pound Rague is taking on the challenge of 6A after transferring to South Medford.
"He brings good size and athleticism to the backfield," South Medford coach Bill Singler told Rogue Valley Times.
Rague rushed for 1,331 yards and 20 touchdowns last season, averaging 12.1 yards per carry. On defense, he racked up 61 tackles (second on the team) and four interceptions.
With the Panthers, Rague will be part of a deep backfield that includes senior Ryder Scheid and junior Bridger Foss. They will run behind a line that features three seniors who received all-conference honors last year in Diego Luna, Anthony DelPizzo and Li Moala.
"We have a good group of senior linemen that have been through the wars a little bit as juniors," Singler said.
Manumaleuna commits
North Salem senior quarterback TC Manumaleuna II has committed to Oregon.
The 6-0, 210-pound Manumaleuna is a three-star recruit, according to 247Sports. The website ranks him as the No. 266 athlete in the nation and the No. 27 senior recruit in Oregon.
The Ducks were the first college program to offer Manumaleuna, They offered him before he entered high school.
"I think it was always the Oregon Ducks for me," Manumaleuna told the Statesman-Journal. "I was born and raised in Salem and like a lot of other kids, I started going to Duck games as far back as I could remember.
"I had so many relatives that came out here to play and a few of the best that played at Oregon were Samoan like me, like Marcus Mariota and Penei Sewell. So many of the Polynesian players treated me great growing up because of our island culture, I loved it."
He plans to go on a Mormon mission before joining the Ducks.
Last season, Manumaleuna led North Salem to an 8-5 record and a runner-up finish in the inaugural Columbia Cup.