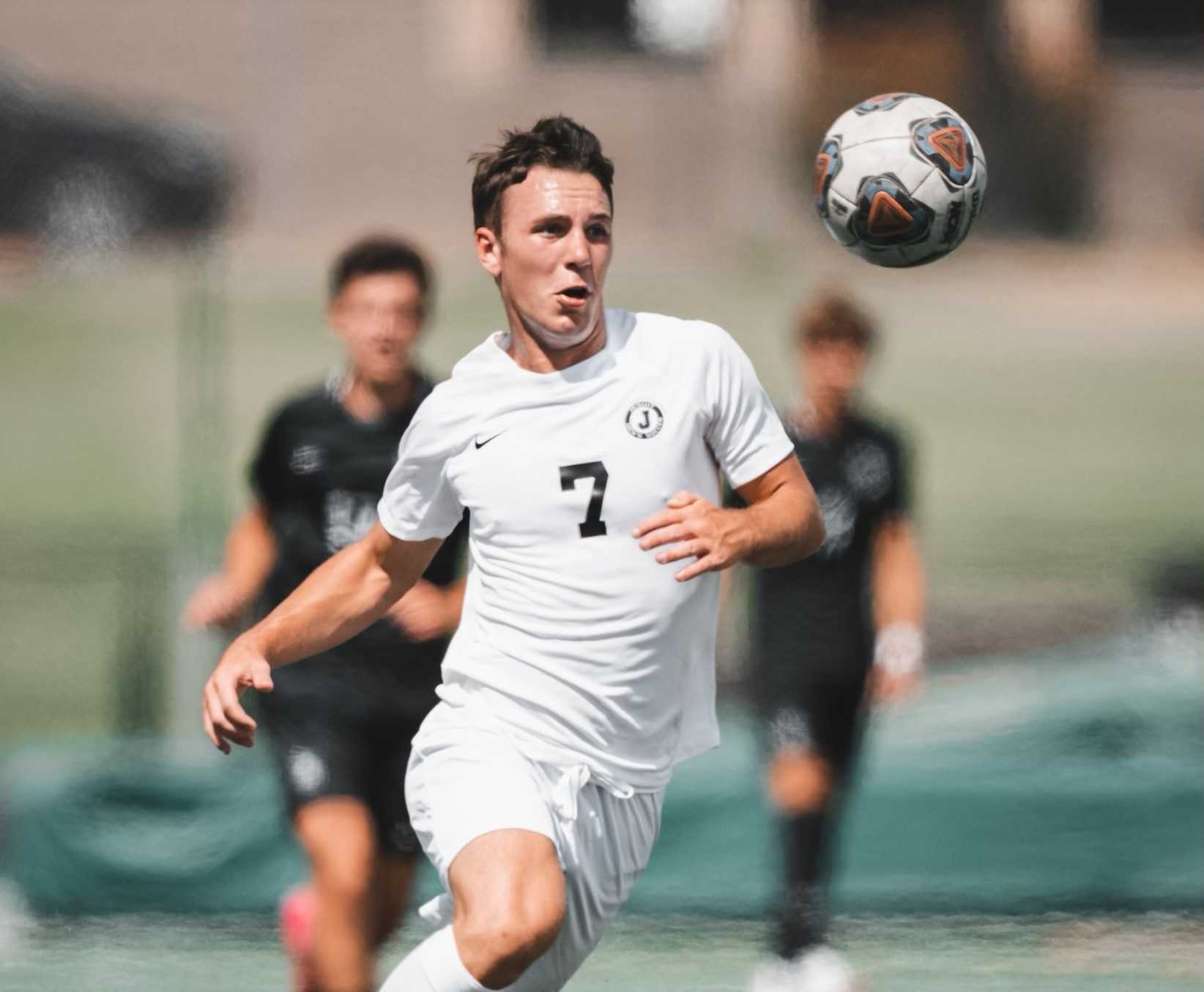 Minus seven starters from last year's 6A champion, Jesuit's boys soccer team sent an early message Friday.
The Crusaders, No. 1 in the OSAAtoday preseason 6A coaches poll, opened the season by going on the road for an impressive 1-0 victory over Summit, ranked No. 2 in 5A.
Junior Caden Hoppes scored off an assist from senior Angel Salazar-Valenzuela early in the second half and senior Elliot Parelius and sophomore Fox Mason combined for the shutout in goal for Jesuit.
Hoppes, a JV player last season, emerged from a mix of players to convert a cross.
"He's a very aggressive player. He'll get a lot of goals like that this year," Crusaders coach Geoff Skipper said. "He just threw his body in there and gave it up for the team and stuck one in the back of the net."
Play was relatively even between the Crusaders and Storm, with both teams missing several good scoring opportunities. Parelius and Mason made point-blank saves for Jesuit.
"We were laughing that it could've been a 4-4 or 5-5 tie with the opportunities both teams had," Skipper said. "It was a choppy game. To both teams' credit, they both left nothing on the field."
Summit, the 6A champion in 2021 and a 5A semifinalist last year, has been hindered by lack of outdoor practice time due to wildfire smoke and heat. The Storm also played without their first-year coach, Tom Bunnell, who had a personal commitment.
"I thought they were pretty darn good for only having two practices in," Skipper said of the Storm. "They're gritty, they get after it. I was pretty impressed with Summit. They had all the excuses in the world and didn't use any of them. They just came out and played a good game."
Jesuit is retooling its attack after graduating its front line, including Drew Pedersen, who scored a team-high 26 goals last season before heading off to a college career at Gonzaga. The Crusaders are counting on new scoring threats such as Hoppes, Salazar-Valenzuela, junior Diego Nieves and senior Logan McGuire to emerge.
"It will be a different type of team," Skipper said. "The scoring's going to come from a lot of different places. Drew was a kid to just take it on his shoulders and put one in the back of the net. This year it's going to be a mix of kids. Kind of like small-ball in baseball, we're going to have to earn our goals this year. It's not going to be the home-run ball."
Jesuit is looking for leadership from its returning starters: Parelius, senior center midfielder Nathan Peters and senior defenders Griffin Scott and Kogen Albertini.
The Crusaders typically used 13 or 14 players in matches last season but are likely to go 15-16 deep this year, according to Skipper.
"I kept a young group to build for next year, as well," Skipper said. "Those young kids played really well against Summit and impressed me. The sophomores and juniors showed they're not waiting until next year to help the team, they're going it right now.
Jesuit has a tough nonleague schedule that includes three 6A top 10 teams in No. 2 Lincoln, No. 7 Grant and No. 10 Wells as well as two 5A contenders in No. 3 La Salle Prep and No. 7 Wilsonville.
"We're working on the chemistry. If they come together, we'll have a shot at it," Skipper said.
World Cup adventure
Caldera's girls team, ranked No. 2 in 5A, is still buzzing from an inspirational team trip to New Zealand in late July.
The Wolfpack not only attended two group-stage matches at the Women's World Cup in Auckland, but they played three games against teams from New Zealand and Australia.
"I watched a real tight group become even tighter," Caldera coach Gavin Meyers told the Bend Bulletin. "We got to experience a lot of fun things, got to watch a couple World Cup games, got to play a lot of games, see two new countries and experience the people down there. It was really special."
Senior Ella Jenning took the rare opportunity to study the U.S. players.
"I was just taking mental notes on how they play," Jenning told the Bulletin. "The way they play together and the way that they communicate so quickly with each other. I would love that for our team. We are slowly getting better at it."
Caldera made its varsity debut last season, earning the top seed to the 5A playoffs before falling in the quarterfinals despite not having a senior on its roster. The Wolfpack opened the season Friday with a 6-2 win at No. 6 La Salle Prep. They visit top-ranked and reigning state champion Wilsonville on Tuesday.
Eagles, Pioneers tie
No. 1 Catlin Gabel and No. 2 McLoughlin played to a 1-1 draw Saturday in a 3A/2A/1A boys showdown.
The host Pioneers took the lead in the eighth minute when sophomore Michael Wolden scored off an assist from senior Angel Castillo. Catlin Gabel countered late in the first half when freshman Giancarlo Rendon Benitez stole a pass back to the goalie and converted.
McLoughlin had a chance pull ahead in the second half when senior Almikar Garcia broke loose for a one-on-one, but he was stopped by senior goalkeeper Miles Wolahan.
Last year, McLoughlin ended Catlin Gabel's three-year reign as state champion by beating the Eagles 2-1 in the quarterfinals. The Pioneers fell to Oregon Episcopal 2-1 in the state final.