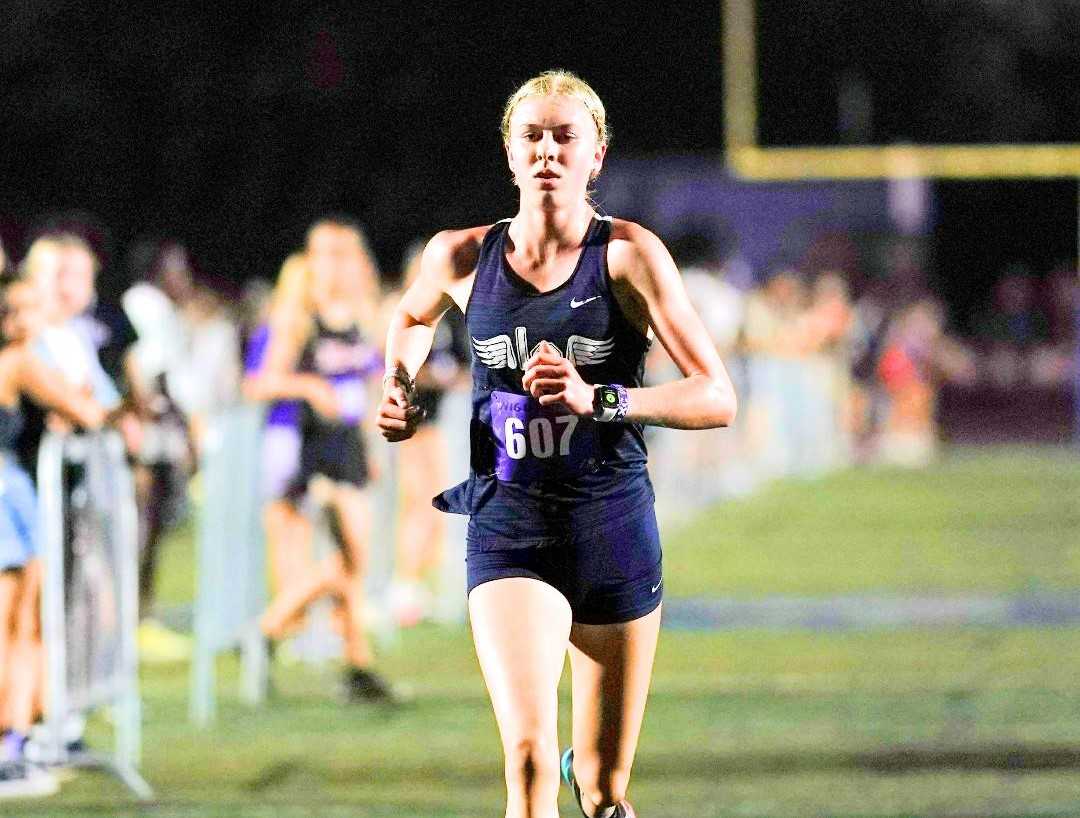 Reigning 6A girls cross country champion Ana Peters opened the new season the same way she started the last one, with a decisive victory in the Wilsonville Night Meet.
The Lake Oswego junior led from start to finish in the junior 3,000-meter race at Wilsonville High School on Friday, clocking 10 minutes, 28.2 seconds to beat teammate Sophie Howard, who was second in 10:50.2.
Peters' time was the fastest at the 51-team meet, which was divided into races by class. Wells senior Josephine Fale (10:35.9) and West Salem sophomore Avery Meier (10:37.5) had the next-best times.
Peters came within two seconds of her time at last year's meet despite having limited training in the period leading up to the race.
"It was nice to see her run a nice, quick 3K without having done any of the workouts in like two weeks," Lake Oswego coach John Parks said. "She got one workout in on Monday and that was all she had in a couple weeks.
"It was a nice opener. She didn't really have anybody to push her. It's about the same time as last year, so that bodes well. It was much hotter this year."
Peters is coming off a track season in which she finished fourth in the 1,500 and eighth in the 3,000 at the 6A meet. An illness in early April hampered her training, keeping her out of the prestigious Arcadia Invitational, and she struggled to find her form.
"She wasn't happy with some of the results at the end of the season," Parks said. "She thought she could call on her strength in the 3,000 and it didn't come as well as she thought. But I think we've got a good plan moving forward. It should show up over the course of the next year, into the spring."
Parks said that Lake Oswego, which finished seventh at state last year, is hopeful of winning a state trophy this season behind Peters, Howard and senior Sydney Lim.
Lim, who missed much of last season with an ankle injury, is the Lakers' No. 2 runner. She missed the Wilsonville meet because of a family trip.
"She's a completely different animal this season," Parks said. "She had a good track season and got better and better. I think our top three can be as good as anybody in the state, maybe better than anybody in the state. We've got a pack of six kids fighting for the No. 4 and 5 spots."
Peters should benefit from the emergence of Lim and Howard.
"She's got a couple teammates that are running close behind her," Parks said. "She didn't have that last fall."
In the boys races at Wilsonville, Wells senior Asher Danielson posted the top time (8:47.0). He edged Southridge senior Collin Penuel (8:47.9) and West Salem senior Jack Meier (8:52.4).
The Opener
Reigning 5A boys champion Crater started the season Friday by winning The Opener, a 12-team race at Western Oregon University.
The Comets finished 7-9-10-11 to outscore Corvallis 58-96 for first place. Junior Grant Headley led Crater, taking seventh in the 3,000-meter course in 9:35.4.
Central sophomore Ty Cirino (8:50.5) was the top finisher, cruising to a comfortable win over Corvallis junior Cole Fiegener (8:58.0).
In the girls meet, Corvallis senior Kate Middleton (10:41.1) pulled away from Philomath junior Adele Beckstead (11:02.6) for first place. Philomath, the 4A runner-up last year, beat Corvallis 41-60 in the team race.
Canby Invitational
Canby senior Jacob Tilden won the Canby Invitational on Thursday with a 5,000-meter time of 17:34.3. Parkrose senior Farhan Ibrahim (17:47.0) and Woodburn senior Karl Price (17:49.3) were next.