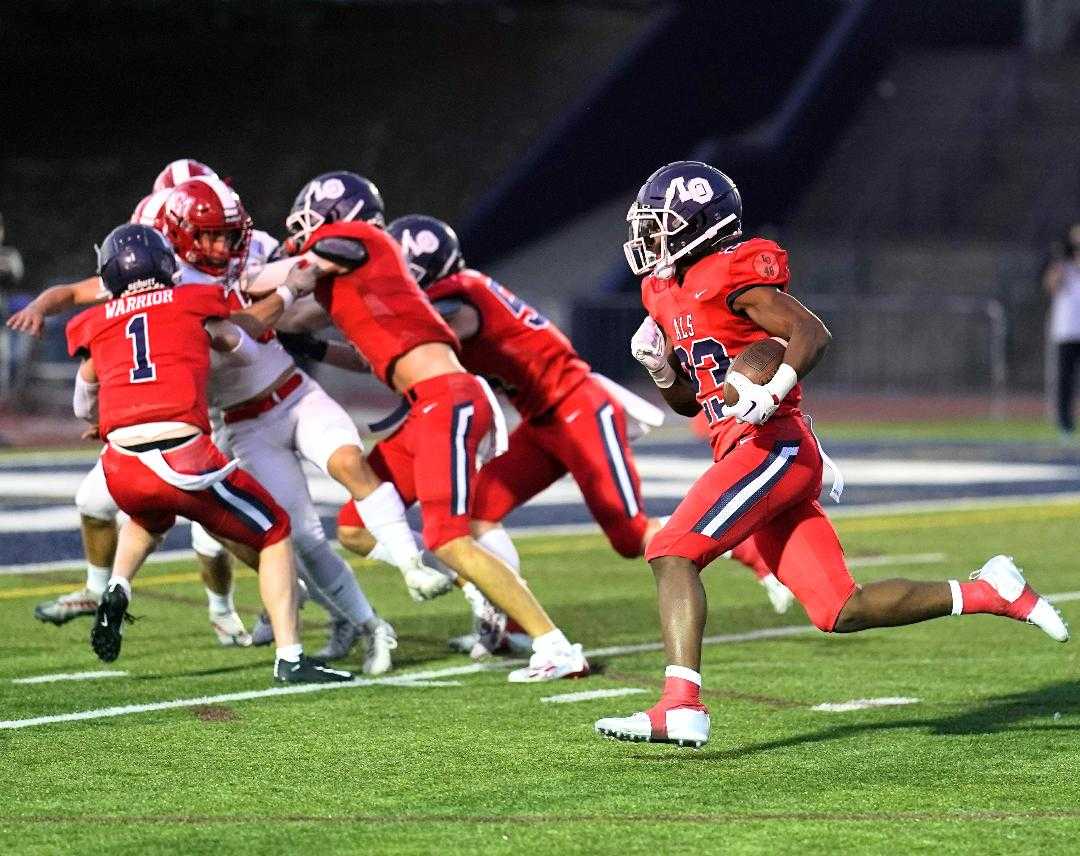 No. 4 Lake Oswego completed the nonleague portion of its schedule Thursday with a 4-0 record, wrapping it up with a businesslike 35-7 home win over previously unbeaten McMinnville.
But longtime Lakers coach Steve Coury is under no illusions about what lies ahead in the rugged 6A Three Rivers League, starting with a home game against top-ranked and reigning state champion West Linn. TRL teams went 24-0 in nonleague play.
"We've played the schedule that's been good for us," Coury said. "It's not that we haven't played decent teams, it's just that our league is ridiculous. You get here, all of the sudden it's a different game."
The Lakers tuned up by jumping all over McMinnville. They scored on their first three possessions to lead 21-0 and coasted past the Grizzlies (3-1).
Once again, Lake Oswego set the tone with its running game, powered by a line led by senior tackles Tobia Tagliabue and Hunter Kavanaugh. Sophomore LaMarcus Bell and senior Zavier Russell each rushed for two touchdowns and junior quarterback Liam Davis ran for a score.
The 5-foot-10, 175-pound Bell is having a breakout season. He has rushed for 522 yards and four touchdowns, averaging 7.7 yards per carry.
"He's not a workhorse, getting 30 carries," Coury said. "He's not there yet, but he's special, the things he can do. He's got some skills. I'm excited about him for the future."
Coury said Bell reminds him of former Lakers star tailback Casey Filkins, now playing at Stanford.
"He's got a little bit of Filkins in him," Coury said. "He's a quick-twitch guy. He's got explosion when he sees the hole. He's got really good vision like Casey had. Hard to compare anyone to Casey, but in the early stages as a young guy, he's got skill levels that are comparable."
At 5-10, 210, Russell provides a different dimension.
"He's a bruiser kid," Coury said. "He's got great vision and explodes through the line of scrimmage."
Davis has taken over at quarterback after sharing time early in the season with senior Mason Silbaugh. Davis has been efficient, completing 45 of 66 passes for 687 yards and seven touchdowns with one interception and running for five scores.
"The second game, he stepped up and got on a little bit of a roll," Coury said. "He's been doing well ever since."
Saxons go to 4-0
No. 9 South Salem picked up an important road win in 6A Special District 1 by cruising past South Medford 45-21 in a battle of unbeaten teams.
The Saxons (4-0, 2-0) avenged last year's 48-35 home loss to the Panthers, their only regular-season setback.
"That might have changed things last year because we wouldn't have been on the road in Week 1 of the playoffs," South Salem coach Scott Dufault said. "I thought it was a nice hurdle to get over. … Our kids saw it as a pretty important game."
South Salem took control in the first quarter when senior quarterback Athan Palmateer threw touchdown passes to seniors Eli Johnson and Esteban Mendez. Senior Jacob Nemecek intercepted a screen pass and ran 48 yards for a touchdown in the second quarter for the Saxons, who led 24-7 at half.
Palmateer threw another touchdown strike to Johnson in the second half and finished 10 of 27 for 195 yards. He was able to escape from pressure and make the Panthers pay, scrambling for 125 yards on eight carries.
Through four games, Palmateer (6-2, 200) has completed 67.3 percent of his passes for 1,159 yards and 14 touchdowns and no interceptions. He also has rushed for 295 yards and four scores.
South Salem's defense held South Medford's rushing attack, which averaged 323 yards in the first three games, to a season-low 250 yards. Dufault credited senior defensive ends Hatimu Letisi and Divine Ibe for setting the edge.
"We tackled in packs," Dufault said of his defense, which got two interceptions from Nemecek.
It was the third consecutive road game for the Saxons, who also made a long trip to Southern Oregon last week to play Grants Pass.
"Doing it two weeks in a row is a really good job by my kids," Dufault said. "That's a hard thing to ask kids at any level. I thought they were focused. They just got on the bus, went down and played hard."
South Salem is tied for first place with North Medford (3-1, 2-0) and Sheldon (2-2, 2-0) in what appears to be a wide open SD1.
Hews leads West Albany
Behind senior quarterback Lukas Hews, No. 4 West Albany is looking like a team to be reckoned with in 5A.
The Bulldogs, the highest-scoring team in 5A at 54.8 points per game, improved to 4-0 on Friday with a 42-15 win at Dallas.
Once again, it was the 6-3, 190-pound Hews leading the way. He completed 11 of 14 passes for 213 yards and two touchdowns and rushed for two scores.
For the season, Hews has completed 69.0 percent of his passes for 1,077 yards and 12 touchdowns with no interceptions and rushed for 160 yards and eight scores.
"He has just completely elevated his play," West Albany coach Brian Mehl said of the second-year starter. "Take his best game last year, and he's doing that every single game and more. He understands that he's got good players to get the ball to. We're going to need him to continue to play at that level."
Hews is working the ball around. Junior receiver Austin Simmons has 19 catches for 363 yards and five touchdowns. Senior slot Jarron Huebner, who showed his versatility Friday by rushing for 116 yards on 16 carries, has 16 catches for 229 yards and two touchdowns. Junior Tyler Hart-McNally leads the team in rushing (214 yards) and has two touchdown catches.
But the strong-armed Hews is making it all go in the team's spread offense.
"He has all that physical ability, runs well," Mehl said. "But it's probably the stuff that to the common eye, people don't see. It's his understanding and knowledge."
Mehl said Hews learned from "taking some lumps" last season, when the Bulldogs finished 5-4 and lost in the first round of the state playoffs.
"He's really, really dialed in," Mehl said. "He has great feel and command of our vision of an offense. He's been really, really effective and efficient."
In Friday's win, the Bulldogs also got a 35-yard interception return for a touchdown from junior Craig Maynard. The win was especially gratifying considering West Albany lost at home to the Dragons 26-21 last year.
"Our offense right away was really efficient," Mehl said. "Defensively, we kind of settled in and played much better ball. Dallas had our full attention, for sure. Last year, they out-executed us."
No. 2 Henley prevails
In a game that featured eight turnovers, No. 2 Henley fought back from a two-touchdown deficit to beat No. 7 Cascade 33-21 as the unbeaten 4A teams collided in a nonleague game Friday in Turner.
Cascade (3-1) took advantage of two fumble recoveries to build a 14-0 lead, but Henley (4-0) capitalized on the Cougars' miscues to pull ahead 26-14.
Senior Logan Whitlock rushed for 145 yards and four touchdowns on 36 carries for the Hornets, who benefited from three fumble recoveries and two interceptions.
"That was huge. They were putting it on us in the first half," Whitlock said. "We came out flat in the first half and they came out excited. It all ties back to the love that we have for each other. When we play together there's nothing that can stop us."
Cascade senior Nolan Abrams scored on the first play of the fourth quarter to cut the lead to 26-21. The Cougars had a chance to take the lead, but a Whitlock interception set up his fourth touchdown run of the night, making it 33-21.
Henley handed Cascade its first loss under new coach Shane Hedrick.
"I'm really proud of my team. I'm really proud of how we stepped up," said Cascade junior Hunter Anundi, who had nine catches for 108 yards. "This will hurt, but it's just motivation to keep going throughout the season."
Abrams said the Cougars have "a lot to learn" from the defeat.
"We'll get after it. We'll fight and fight for this," Abrams said. "We just have to not lose the ball as much."
Henley won its first three games by an average of 31.3 points.
"This was the most physical and hardest team we've played all year," Whitlock said. "So I think it's going to push us to set the bar so that it goes higher. … It sets the bar for what to expect for these later games and what to expect in the playoffs."
– Jeremy McDonald contributed to this report
Six-man surprise
Perhaps the most surprising team so far this season comes from the 1A six-man division.
Harper Charter, which finished 3-5 last season, has won its first four games and stands at No. 2 in the OSAAtoday 1A-6 coaches poll.
The Hornets, powered by a deep sophomore class, made a big statement by knocking off the No. 1 team in their first two games. They went on the road to stun reigning state champion Spray/Mitchell/Wheeler 26-20 in the opener and followed that with a 37-26 win over South Wasco County.
Harper Charter has come a long way since last season, when it lost to Spray/Mitchell/Wheeler 50-6 and South Wasco County 33-0.
"They beat us up last year," said Hornets coach David Marker, whose team stayed unbeaten Friday with a 45-0 home win over Jordan Valley. "But we were a bunch of freshmen on the field. We physically couldn't keep up with them as freshmen."
Harper Charter, located 25 miles southwest of Vale, has 19 boys in its high school, and all but two are on the football team. The Hornets – with eight sophomores and five freshmen on the roster – lack size but make up for it with tenacity.
"We get off the bus and we're not intimidating," Marker said. "We were undersized in those first two games so bad. These guys just look at it like, 'All right, let's go knock off another giant.' They aren't afraid."
Sophomore running back Cope Christensen leads the team with 12 rushing touchdowns, adding two Friday.
"He's causing teams to pull their hair out," Marker said. "He's got an internal motor that you just can not stop. He won't go down."
The Hornets are getting standout play from two freshmen in end Richard Joyce and running back Madoxx Martinez. Joyce is a threat as a receiver and runner and is a lock-down cornerback. Martinez is quick through the holes and likes to lower his shoulder to take on defenders.
"They're going to make this team exceptionally tough in the next couple years," Marker said of the freshmen. "It makes our future look extremely bright."
The Hornets expected to improve this season by returning four two-way starters and the addition of the freshmen. But they didn't know where they stood until knocking off Spray/Mitchell/Wheeler.
"To come out winning that one was definitely huge motivation for our boys," Marker said. "They realized they could be good, but they didn't buy into how good they could be until after that."
Harper Charter also is getting senior leadership from Daniel Ansell-Casiano, a first-year starter at quarterback, and middle linebacker Eli Vergara, who anchors the defense and is "kind of the thumper on our team," according to Marker.
The Hornets had 13 consecutive losing seasons until going 7-1 in 2018. They looked poised for success, but many of the players transferred to bigger schools.
"That was heartbreaking," said Marker, the team's coach since 2015.
Willamina's Hadley explodes
Willamina rode the legs of 5-9, 170-pound junior Jacob Hadley to a wild 69-50 win over Culver in a 2A Tri-River Conference game Thursday. Hadley carried 48 times for 452 yards and nine touchdowns and scored two two-point conversions for the Bulldogs (3-1, 1-1).
Since Oregon introduced the nine-man game for 2A last season, only Lowell's JaMar Thurman (495 yards vs. Toledo in 2022) has rushed for more yards in a game.
Hadley broke his own nine-man record for touchdowns in a game, set last year when he rushed for seven scores against Culver. In that game, he ran for 437 yards, which was No. 2 on the list.
Through four games this season, Hadley has rushed for 990 yards and 20 touchdowns on 108 carries. He is on pace to surpass his season totals from 2022, when he rushed for 1,575 yards and 21 touchdowns.
The offensive line of junior Hondo Arenas (6-1, 230) and seniors Rhyne Nelson (6-3, 245) and Michael Nolen (5-11, 245) paved the way for Hadley against Culver (2-2, 1-1). Freshman linebacker Landon Risseeuw had three sacks, a forced fumble and two fumble recoveries in the win.
Other highlights from Week 4:
6A
West Linn won at Lake Stevens (Wash.) 49-30 in a battle of reigning big-school state champions. Running back Cade Johnson – filling in for Hudson Hardy, who suffered a season-ending knee injury last week – rushed for three touchdowns and Baird Gilroy threw for 325 yards and one score. The Lions forced five turnovers, converting three into touchdowns, to beat the Vikings for the second year in a row. … Tualatin dropped Jesuit to 0-4 with a 42-17 win. Quarterback Nolan Keeney completed 10 of 13 passes for 138 yards and two touchdowns and rushed for 126 yards and two scores on eight carries before leaving late in the first half with a broken collarbone. Jayden Fortier ran for two touchdowns and AJ Noland caught six passes for 105 yards and one score before replacing Keeney at quarterback in the second half. … West Salem routed Grants Pass 49-14 as Kaden Martirano threw four touchdown passes to Evan Wusstig, who had five catches for 152 yards. Martirano went 12 of 18 for 245 yards and Ian Herber rushed for 97 yards and one score on seven carries. …
Roosevelt, down 13-8 at half, rallied to defeat previously unbeaten Franklin 40-27. Dontrell Betts rushed for 133 yards and four touchdowns on 13 carries, Miles Green ran for 105 yards on 11 carries and JaMarrion Causey returned a kickoff for a score for the Roughriders. Franklin's Will Reid completed 23 of 38 passes for 267 yards and four touchdowns, three to Cash Landau. … Wyatt Andler scored two touchdowns for Wells, which dispatched Cleveland 36-13. … Lakeridge, which trailed 20-0 late in the first half, came back to beat Sunset 31-20. Ansu Sanoe's touchdown run put the Pacers ahead 24-20 late in the third quarter. Gabe Motschenbacher threw three touchdown passes, two to Joey Olsen, the last one covering 73 yards. … Tigard downed Liberty 21-14, breaking a tie with 51 seconds left on a six-yard touchdown pass from Jake Feist to Roman Martin. Feist completed 11 of 17 passes for 216 yards and two touchdowns and ran for a score. Owen Wright clinched the win with an interception. …Ben Schneider passed for a touchdown and ran for two scores as Oregon City handled Beaverton 47-6. Thomas Borden scored on a punt return for the third time this season and Clay Martineau scored on a fumble return. The Pioneers' defense gave up its first points of the season on the game's final play. …
Trailing 24-20 at half, Sprague scored three consecutive touchdowns and went on to beat Roseburg 40-36. Kenya Johnson put the Olympians ahead to stay with a 61-yard touchdown run in the third quarter and added another scoring run in the fourth quarter. Dukatti Witherspoon passed for two touchdowns and ran for a score for Sprague. … North Medford turned back North Salem 56-21, getting two touchdown catches from AJ Pugliano (10 catches, 151 yards) and three interceptions on defense. Pugliano also recovered a blocked punt in the end zone for a touchdown 55 seconds into the game. … Sherwood recorded its third consecutive shutout, holding Westview to 205 yards in a 36-0 win. Kasen Covert passed for three touchdowns. …Central Catholic won at Nelson 42-7, getting a 45-yard fumble return for a touchdown from Zach Davis and a 64-yard interception return for a score from Timmy Mitchell. Cru Newman completed 16 of 22 passes for 228 yards and two touchdowns and had two interceptions. Tyson Davis scored touchdowns receiving and rushing. Nelson's Eddy Keomany rushed for 117 yards and one touchdown on 22 carries.
5A
Wilsonville defeated visiting Summit 35-20, avenging a loss in last year's state final. Kallen Gutridge passed for two touchdowns and rushed for 200-plus yards and three scores. The Wildcats led 35-12 late in the third quarter. … Lebanon rushed for 307 yards in blowing past Corvallis 49-8. Sophomore quarterback Brison Edwards had six carries for 122 yards and two touchdowns, including an 84-yard burst, and threw for two scores, one a 78-yard strike to Hayden George. Lebanon led 42-0 at half. … Eagle Point thumped North Eugene 46-14 as Bryton Livingston threw three touchdown passes to Easton Raber, who caught nine passes for 154 yards and ran for 83 yards and one score on four carries. Kaden Huff rushed for 119 yards and three touchdowns on 18 carries. … Connor Dye ran for two touchdowns and Luke Babbitt caught a scoring pass as Springfield routed South Eugene 35-0. The Millers led 28-0 at half. …
Thurston got a standout performance from Noah Blair, who completed 24 of 34 passes for 331 yards and four touchdowns in a 64-21 win over Crater. … Mountain View held Southridge to 10 total yards in a 59-0 win. Angel Valenzuela rushed for 170 yards and two touchdowns on 13 carries and Connor Crum rushed for two scores and passed for another. … Caldera came back from a nine-point deficit in the fourth quarter to beat Crook County 17-16. The Cowboys took a 16-7 lead early in the fourth quarter on an 85-yard interception return by G.W. Neathery. Caldera answered with a 66-yard touchdown pass from Tommy Morris to Ethan Perkey, got the ball back on an interception by Ty Hattenhauer and took the lead inside two minutes on a 35-yard field goal by Alex Byler. Crook County got three field goals from Gabe Love. … Redmond's Colt Horner threw two touchdown passes to help turn away Glencoe 21-18.
4A
Tillamook avenged a loss in last year's state final by downing Estacada 48-22. The Cheesemakers trailed 16-7 before reeling off 34 consecutive points. Quarterback Tanner Hoskins ran for touchdowns of 47 and 93 yards and threw an 83-yard score to Griffyn Boomer. … Marist Catholic's Nick Hudson completed 19 of 24 passes for 292 yards and six touchdowns – three to Brady Bidwell and two to Aaron Bidwell – in a 38-0 thumping of Stayton. …. Parkrose ended a 19-game losing streak by beating Putnam 47-0. Corinthian Littleton had a touchdown catch and returned a punt for a score. … Kristopher Baldwin rushed for 214 yards and three touchdowns on 12 carries for Mazama, which blasted North Bend 67-21. Tyson Van Gastel ran for 177 yards and two scores on 11 carries for the Vikings, who amassed 518 rushing yards. … Enoch Niblett threw six touchdown passes for Marshfield in its 42-20 victory over Klamath Union. The Pirates led 42-6. …Ashland's Caden Negra ran for a touchdown and caught a scoring pass from Jojo Harrower as the Grizzlies defeated Hidden Valley 21-0. Harrower also had an interception on defense. ...
Scappoose bested Baker 54-28 behind Max Nowlin, who completed 25 of 36 passes for 254 yards and two touchdowns with one interception. Leland Boswell rushed for 103 yards and two touchdowns on 11 carries and Cayden Baker had three scoring runs for the Indians. Quinton Olson had seven catches for 136 yards. … Junction City overcame a 17-6 halftime deficit to top Philomath 20-17. The Tigers got the go-ahead score in the fourth quarter on a nine-yard run by Grant Barnes. Tylen Franks rushed for 99 yards and two touchdowns on 11 carries and Cooper Rothenberger ran for 95 yards on 23 carries for Junction City, which ran out the last 6:56 on the clock. … Pendleton held off Ridgeview 28-15. The Buckaroos trailed 15-14 in the third quarter but pulled ahead on an 80-yard touchdown pass from Jace Otteson to Thaiden Cannin and a seven-yard run by Tugg McQuinn. Trey Boston rushed for 107 yards and one score on 23 carries. Pendleton had five interceptions, two each by Cannin and Ben Jennings.
3A
Tauj Flora ran for two scores and threw two touchdown passes to Trent Westrom for Sutherlin, which blanked Brookings-Harbor 42-0. … Dayton plowed through Taft 48-27, rushing for 506 yards. The Pirates got big games from quarterback Boston Hodges (eight carries, 226 yards, two touchdowns), Ayden Hendrickson (15 carries, 138 yards, two touchdowns) and Zach Smith (25 carries, 137 yards, two touchdowns). Defensive end Morgan Gallagher batted down five passes and had a sack. … Valley Catholic broke from a 14-14 tie with 20 points in the third quarter to defeat Rainier 34-14. Noah Holub scored two touchdowns, including a 38-yard fumble return. The Valiants had a 292-275 edge in yards. … Bryson Baird rushed for 180 yards and four touchdowns to propel Douglas past Phoenix 28-24. In the loss for the Pirates, Tobias Akpan had eight catches for 138 yards and two touchdowns and three sacks. ... North Valley dropped South Umpqua 21-13, taking a 14-0 lead by halftime on two touchdown runs by Bryson Teal and holding off the Lancers. ...
Vale dispatched Melba (Idaho) 37-12 as Colten Stepleton completed 12 of 17 passes for 186 yards and two touchdowns and ran for 98 yards and three scores. Brooks Hauter had seven catches for 124 yards and one touchdown. ... Justin DeSmet and Kale Gardner returned interceptions for touchdowns for Sisters in its 40-12 win over La Pine. Hunter Bronson threw two touchdown passes for the Outlaws, who held La Pine to 179 total yards. ... Lakeview topped St. Mary's 33-0. Brandon Markus rushed for 214 yards and three touchdowns on 17 carries. Adrian Stubbs ran for a score and had 14 tackles. ... Kennedy held Warrenton to five first downs and 58 yards in a 42-0 win. Elijah Traeger threw two touchdown passes to Brody Klienschmit and ran for two scores. Jaydon Estrada rushed for 111 yards and one score on 13 carries. ... Peyton Maurer had nine catches for 218 yards and three touchdowns for Cascade Christian, which won at Coquille 56-14. Ashton Moody completed 14 of 16 passes for 226 yards and two touchdowns and ran for two scores, including a 99-yarder in the fourth quarter.
2A
No. 3 Weston-McEwen/Griswold held off No. 2 Lowell 25-23 in a neutral-site game at Sherman County. The TigerScots, who trailed 21-12 after three quarters, took a 25-21 lead with about four minutes left on a 35-yard touchdown pass from Easton Berry to Caleb Sprenger. They took a safety with two seconds left for the final score. The game was a rematch of last year's semifinal, won by Weston-McEwen 27-21. ... Monroe's Nate Young rushed for 224 yards and three touchdowns on 11 carries and caught two passes for 43 yards, both for scores, in a 43-28 win over Oakridge. It was 43-6 at half. … Bandon/Pacific beat Glide 34-14 behind Eli Freitag, who passed for three touchdowns -- two to Colton Siewell -- and ran for scores of 40 and 12 yards in the fourth quarter to seal the win. Freitag had 19 carries for 156 yards. ...
Waylon Browning and James Baimbridge returned interceptions for touchdowns to help lift Oakland over Illinois Valley 62-24. Gabe Williamson rushed for 174 yards and two touchdowns on 14 carries and Brayden Webb ran for two scores and had two interceptions. … Toledo defeated Irrigon 28-20 despite two touchdown passes from Mason Harrison to Brock Locey. …Regis defeated Colton 63-22 behind Kollin Schumacher, who completed 20 of 39 passes for 335 yards and six touchdowns and excelled on defense, collecting three interceptions. Fletcher Gould and Noah Koenig had 107 and 100 receiving yards, respectively.
1A-8
Top-ranked Lost River went on the road to defeat 2A No. 1 Heppner 20-6 in a nine-man game. After Heppner took a 6-0 lead, the Raiders pulled ahead 14-6 at half on two touchdown runs by Chase McAuliffe. Connor Dunlea added a 96-yard touchdown run in the fourth quarter and finished with 196 yards on 15 carries. Lost River held the Mustangs to 216 total yards. … Perrydale improved to 4-0 by defeating Sherman/Condon 54-14. Brandon Lux ran for 224 yards and three touchdowns and Brody Burr passed for 206 yards and two scores, one to Eric Danka (161 receiving yards). Connor Graber returned an interception for a touchdown and had 13 tackles. …Myrtle Point had 11 sacks, three by Matt Sanchez, in beating Chiloquin 74-6. Evan Warner scored on a 62-yard catch and 50-yard punt return. Skyler Zick, Jackson Gomez and Thomas Ferren returned an interception, fumble and blocked punt for scores, respectively. ...
St. Paul blitzed Lyle/Wishram/Klickitat 67-0 as George Pohlschneider threw two touchdown passes to Ralph Pohlschneider and the Buckaroos rushed for 286 yards. Clay Smith had three carries for 109 yards and two touchdowns, one from 97 yards. …Crane rushed for 227 yards in beating Union 60-20. The Mustangs, who outgained Union 343-316, won despite possessing the ball for only 13:59. ... Bonanza held on to beat Camas Valley 30-28 on Saturday in a game moved to Sutherlin due to poor air quality. Camas Valley cut a 30-14 lead to 30-28 in the fourth quarter and was threatening to take the lead, but Isaac Noble intercepted a pass and the Antlers ran out the clock. Colby Medeiros passed for 238 yards and three touchdowns for Bonanza.
1A-6
Maison Teel rushed for 334 yards and five touchdowns on 24 carries to spark Prairie City past Echo 45-26. Tucker Wright added 99 rushing yards and two scores on eight carries for Prairie City, which pulled away after leading 21-20 at half. Cody Reagan had three sacks and forced a fumble. ... Powers brushed aside Days Creek 45-6 as Braden Bushnell passed for three touchdowns, two to Patrick Mahmoud, who also returned a kickoff for a score and threw a touchdown pass. Charlie Shorb had two touchdown catches. … Zander Walker scored touchdowns passing and receiving and had two interceptions on defense to lead Joseph past Wallowa 44-0. Kane Johnson passed for two scores and Payton Hess and Jaxon Grover each had touchdowns rushing and receiving. ...
Tyler Pritchard ran for two touchdowns and caught two scoring passes from Anthony Alimenti in Elkton's 47-12 win over Glendale. … CS Lewis Academy, a first-year program, got its first win by edging Crow 33-25. Jackson Robertson returned the opening kickoff for a touchdown and added a scoring run. Tim Sturdevant had two rushing touchdowns. … Alsea rolled Siletz Valley 46-12 as Gavan Hinchberger rushed for 179 yards and four touchdowns on 13 carries and Parker Crowe ran for 157 yards and two scores on 13 carries. Crowe also passed for a touchdown.