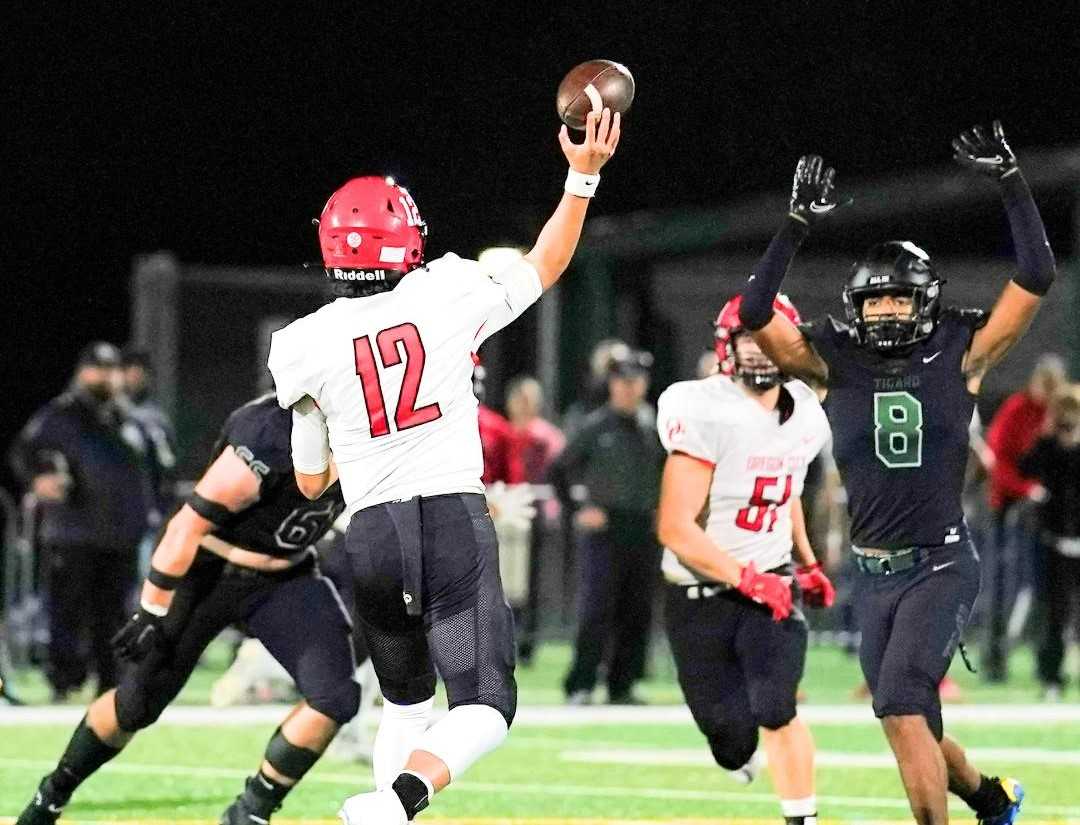 TIGARD – No. 9 Oregon City overcame a sloppy first half with a scintillating second half to post its biggest wins in years Friday night, a 28-24 decision at No. 6 Tigard in the Three Rivers League football opener for both teams.
The Pioneers (5-0) fell behind 17-0 at half as they committed two costly turnovers and gained only 61 yards. But that all changed after intermission, when Oregon City's offense went into high gear, racking up 239 yards.
As a result, the Pioneers ended a five-year losing streak to the Tigers (4-1) and built on their impressive start under first-year coach Aaron Skinner, the former Marist Catholic and West Linn assistant.
"Skinner's done a great job of coming in and just instilling a belief," Oregon City senior receiver and linebacker Clay Martineau said. "The last decade at Oregon City hasn't been great. Once we got into league, it's like, screw that, this is new. We're a new team. Oregon City is here."
Skinner, the team's third coach in four years, relished the comeback win.
"This is a great moment for them because they're starting to believe," Skinner said. "We had to change the belief. And these kids are starting to believe they can win football games."
Oregon City junior quarterback Ben Schneider threw first-half interceptions to senior Nicco Simonetti and junior Trevin Laird, and Tigard converted both into touchdowns. But Schneider rebounded in the second half by throwing touchdown passes of 51 yards to Martineau, 48 yards to junior Keaton Moore and 22 yards to junior Easton Hunt.
The final strike to Hunt – in which he threw a perfect strike to the corner of the end zone while on the run – put Oregon City ahead 28-24 with 9:12 left in the game.
"We understood their defense going into the second half," said Schneider, who finished 10 of 16 for 183 yards. "We got a good picture in the first. We made them pay. We took what they gave us and a little bit more."
Trailing 17-0, Oregon City turned the momentum with an 84-yard touchdown drive to start the second half. The march featured the relentless running of junior Mitchell Johnson, who scored on a seven-yard run to make it 17-7.
"He's a dog. I love that man," Schneider said of Johnson, who rushed for 121 yards on 25 carries. "He puts his head down. He may be 160 pounds wet, but he'll run right at you."
The first touchdown seemed to settle down the Pioneers.
"That was big," Skinner said. "That's what we talked about. We got the ball second half and we needed something big. We had to put together a drive because we hadn't done it. We had to get some points on the board to flip the script."
Oregon City closed within 17-14 in the final minute of the third quarter on Schneider's 51-yard touchdown pass to Martineau, but Tigard quickly answered when senior Christian Warner returned the ensuing kickoff 86 yards for a score to restore the lead to 24-14.
It was a gut punch to the Pioneers, but they didn't buckle.
"We realized that there was a lot of football to play," Schneider said.
Schneider came back to throw the 48-yard touchdown pass to Moore, who was wide open up the left sideline. The Pioneers got the ball back at the Tigard 34 after a blocked punt by senior Benjamin Rose, and Schneider lofted the go-ahead touchdown pass to Hunt.
"That was money in the corner," Martineau said of the pass. "Once he started getting time, he started throwing confident. He was in a groove. He couldn't miss."
Skinner said of Schneider's marksmanship: "He's got that type of potential. He would probably be the first to tell you he wasn't proud of what he did in the first half. But he's a great player. He's accurate. There's not many places he can't put the ball. We've just got to protect him a little bit better and give him more time."
Tigard had a first down on the Oregon City 39 on its final possession, but the Pioneers stopped them on downs with 3:28 left and ran out the clock. Martineau helped lead the charge with a key tackle for loss.
Oregon City allowed 12 points through four games, the fewest in the state for all classifications. The defense did not give up a point until the final drive of last week's win over Beaverton.
"We definitely pride ourselves on our defense," said the 6-3, 210-pound Martineau, who has committed to Boise State as a linebacker. "I think that's our best side of the ball. We have dogs on defense. We're not backing down from anyone on defense. Once we got in that fourth quarter, we were feeling good. We were ready to go."
Tigard built the 17-0 lead on the legs of senior quarterback Jake Feist.
Simonetti scored the first touchdown by diving on a fumble in the end zone after Feist had scrambled 18 yards and coughed up the ball at the one-yard line. Feist ran eight yards for the second touchdown in the final minute of the first half.
But penalties plagued Tigard in the second half. Three consecutive holding calls wiped out a promising drive in the third quarter and two unsportsmanlike conduct penalties proved costly in the fourth quarter.
"It's something that's been going on for almost this whole season," Feist said of the penalties. "We keep getting momentum and then penalties, penalties, they take us back, and then we've got to punt the ball."
Once Oregon City got rolling in the second half, Tigard couldn't stop it.
"They came out to play, and I don't think we did," Simonetti said. "They saw what they could do against us. We got a little bit too big of a head and they came out and gashed us.
"Three Rivers League, it's anyone's game, anyone can win. We thought we had them, and we didn't. They came out in the second half and they were the better team. Penalties, dumb mistakes on our side."
The Pioneers, who finished with a 300-216 edge in total yards, left the field with a spring in their step. They will try to go 6-0 next week when they play host to No. 4 Lake Oswego (4-1).
"I think we're the team to beat right now," Martineau said. "New coaching staff, a lot of young players, but we've got the mindset that we're hungry. We want to play everybody."
Schneider said that Skinner "means everything" to the Pioneers.
"He's like a father to us," he said. "He mentors us through everything. Great coach. I love the guy. It's our time. We're coming."