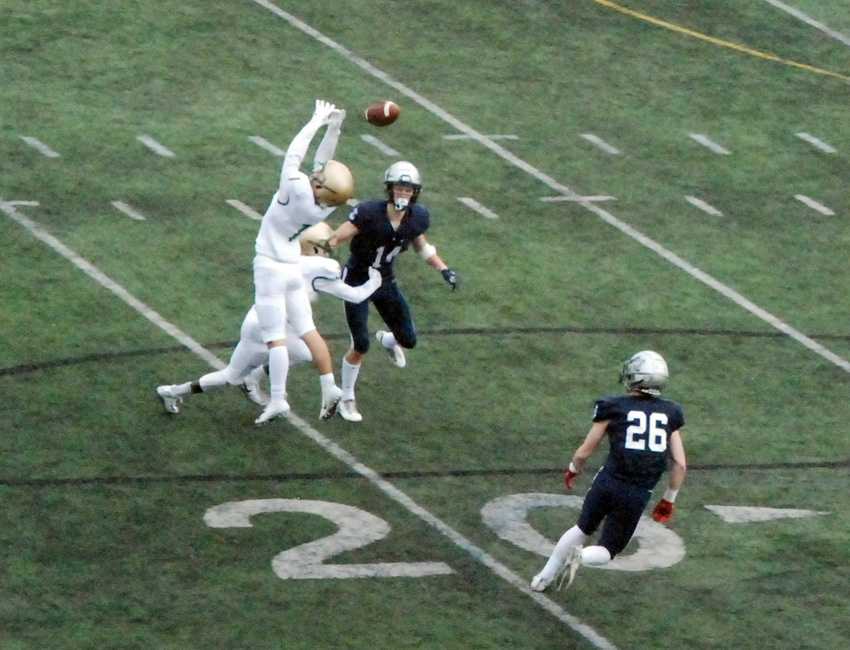 Lake Oswego advanced to its first 6A championship football game since 2012 by defeating Jesuit, 24-14, on an overcast Friday afternoon at Hillsboro Stadium.
Protecting a 21-14 lead as the fourth quarter commenced, the Lakers embarked on a 14-play, 69-yard drive that took more than eight minutes off of the clock, capped by their first field goal of the season, a 31-yard effort by Diyar Deezy that split the uprights. It was the kind of soul-crushing drive Jesuit usually metes out, not takes.
Laker coach Steve Coury said that his original inclination was to go for it facing fourth-and-10 from the Crusader 14-yard line, but that his sons talked him into attempting a field goal for the first time all season.
"I don't kick them much," Coury explained. "I just don't have a lot of faith in kickers. Bad things happen. If they block it and run it back, the game is tied."
Instead, the Laker line protected well, holder Casey Filkins handled a high snap deftly and Deezy's kick was pure, giving the Lakers a two-score lead with just 3:47 to play.
Jesuit (11-2) had the ball twice more but did not threaten. Both Crusader drives ended in sacks, the first by Malcom Williams with the Crusaders facing fourth-and four and the second by the third of three Mike Mercep sacks in four plays as time ran out on Jesuit's season.
"I'm really excited," said Mercep afterwards. "I knew I had to bring a lot of energy. I've been dreaming of this moment since 2011 when we played and won in the semis. I've been waiting for this moment and took advantage of it."
The win gave top-seeded Lake Oswego (12-1) its second win over Jesuit this season and a berth in the championship match for the first time since 2012. The Lakers will be back at Hillsboro Stadium to take on Sheldon, which defeated Clackamas 35-14 in the second semifinal, at 12:30 p.m. on Saturday Dec. 1 for the title.
The Lakers felt like they had the team to make the finals a year ago but lost in the semifinals, as the No. 1 seed, to South Medford, 49-27.
"It was a little bit of a redemption game," said Filkins, who had 153 yards of total offense and scored the go-ahead touchdown on a seven-yard run with 3:40 remaining in the third quarter. "We played scared last year. We knew we couldn't do that going into the game this year."
A persistent, sometimes heavy, rain that had fallen all morning abated shortly before the 12 noon kickoff. That allowed both offenses to open up the playbooks early. The result was an entertaining, wide-open affair for the first 16 minutes that saw four touchdowns scored in the first five drives.
Jesuit received the opening kickoff and got an immediate jolt of momentum when junior Kade Wisher took the kick at the five and bolted for 37 yards out to the Jesuit 42-yard line. It took the Crusaders only 1:44 to move 58 yards over six plays, scoring on Andy Alfieri's three-yard run. The big play came on third and five from the Jesuit 47, when TE Colin McMahon hauled in a beautifully-lofted pass from QB Will Spitznagel in stride, a play that covered 35 yards.
Lake Oswego answered Jesuit's touchdown with one of its own. The drive, which covered 80 yards in eight plays, included an improvised 54-yard pass play from QB Jackson Laurent to Filkins and an eight-yard strike on fourth and six to Thomas Dukart. LO capped the drive with a 10-yard scoring toss from Laurent to Dukart, which tied the game at 7-7 five minutes in.
Terrific running from Wisher, who finished with a game-high 80 yards on the ground, helped Jesuit move quickly into Lake Oswego territory on its next drive. The Crusaders got as far as the Laker eight-yard line but were turned away when Marshall McGuire sacked Spitznagel on third and goal for a loss of 12. Jesuit's fourth-down pass into the end zone was broken up by Dukart and Keenan DeRaeve.
Taking over on its own 20 with 3:14 to go in the quarter, Lake Oswego got 21 yards on two runs from senior Collin Bracken and a Laurent scramble on third down to get the ball to the Jesuit 46-yard line. It then received a heavy dose of good fortune when, on first down, Laurent, who threw for 246 yards on the day, scrambled to avoid a fierce pass rush and heaved a ball deep downfield that should have been intercepted. Instead it went through the hands of a leaping Jesuit defender and deflected into the waiting arms of Laker receiver Jack O'Brien. He took it the rest of the way untouched to give the Lakers a 14-7 lead with just 22 seconds remaining in the first quarter.
Jesuit answered quickly to tie, thanks to two big plays: a trick play pass from receiver Josh Daul to Spitznagel that covered 25 yards and, three plays later on third-and-two, a 34-yard scoring pass from Spitznagel to Daul, who outdueled a Lake Oswego defender in the end zone.
The rest of the half was a defensive struggle between two physical teams. Lake Oswego had a chance to go ahead before the break, but a 27-yard scoring toss from Laurent to Filkins was negated by holding. The scoring threat ended on the next play when LO was called again for holding, forcing a punt, one of four straight drives in the second quarter that ended with either a Lake Oswego or Jesuit punt. When the horn sounded ending the first half, not only were the teams tied at 14-14, they also were separated by just one yard in yards from scrimmage, a testament to how evenly matched the teams were.
Lake Oswego received the second-half kickoff and quickly moved into Jesuit territory, as Laurent connected on swing passes to Dukart for 14 yards and Joe Hutson for 17. But Lake Oswego could get no closer thanks to a nice play on the edge by Jesuit corner Seth Welsh and a strong Crusader pass rush. The ensuing punt pinned Jesuit back at its five-yard line. Jesuit tried to run from the shadow of its goal line but LB Gabe DeVille was having none of it. The senior delivered a punishing tackle, one of his game-high 14 on the afternoon. On second down, Spitznagel threw deep from his end zone only to be intercepted in spectacular fashion by a diving Hutson.
"The quarterback overthrew the receiver and I saw the receiver lay out so I gave all my effort and I laid out for it," said Hutson.
Taking over in Jesuit territory at the 43, Lake Oswego earned two first downs and got to the Crusader 21 but the Jesuit defense again stiffened and forced a turnover on downs.
Lake Oswego got the ball back three plays later on another interception, this time courtesy of senior corner Matthew Sebolsky. It took the Lakers just five plays to move 42 yards for the go-ahead score, courtesy of Filkins. The Lakers would lead the rest of the way.
Jesuit had one last shot to tie the game on its next possession and made it to the Lake Oswego 32-yard line. Facing fourth-and-10 from 37 after a false start penalty, the Crusaders thought they had converted when Spitznagel lofted a rainbow to Joey Gatto good for 34 yards. But Jesuit was called, controversially, for an ineligible man downfield and instead had to punt as the third quarter clock ran out.
"You can't make mistakes in key situations and we made too many," said Jesuit coach Ken Potter.
Lake Oswego took over on its 14-yard line as the fourth quarter got underway and sustained "The Drive" with a couple of clutch third-down catches, one of four yards from Filkins on third-and-three and one of 10 yards from Dukart on third-and-nine. A 25-yard pass to McGuire got the Lakers into field goal range and set the stage for Dezay's clinching kick.
"We happened to make some huge third down plays," said Coury. "They've been doing that kind of thing all year. They come up with the plays when they need it."
"That drive was good for them," Potter agreed. "They had a couple of good plays. They made some plays when they had to."
"It was a great game; we knew it was going to be like this," said Coury. "Jesuit players are battlers and well-coached. They're always better as the year goes on. This didn't surprise me one bit. I tried to prepare our kids for a game like this."
"They're a very physical team," said Filkins. "Their front seven are big and physical and move really well. We knew it was going to be a physical game. We did our best to match it and I think we did."