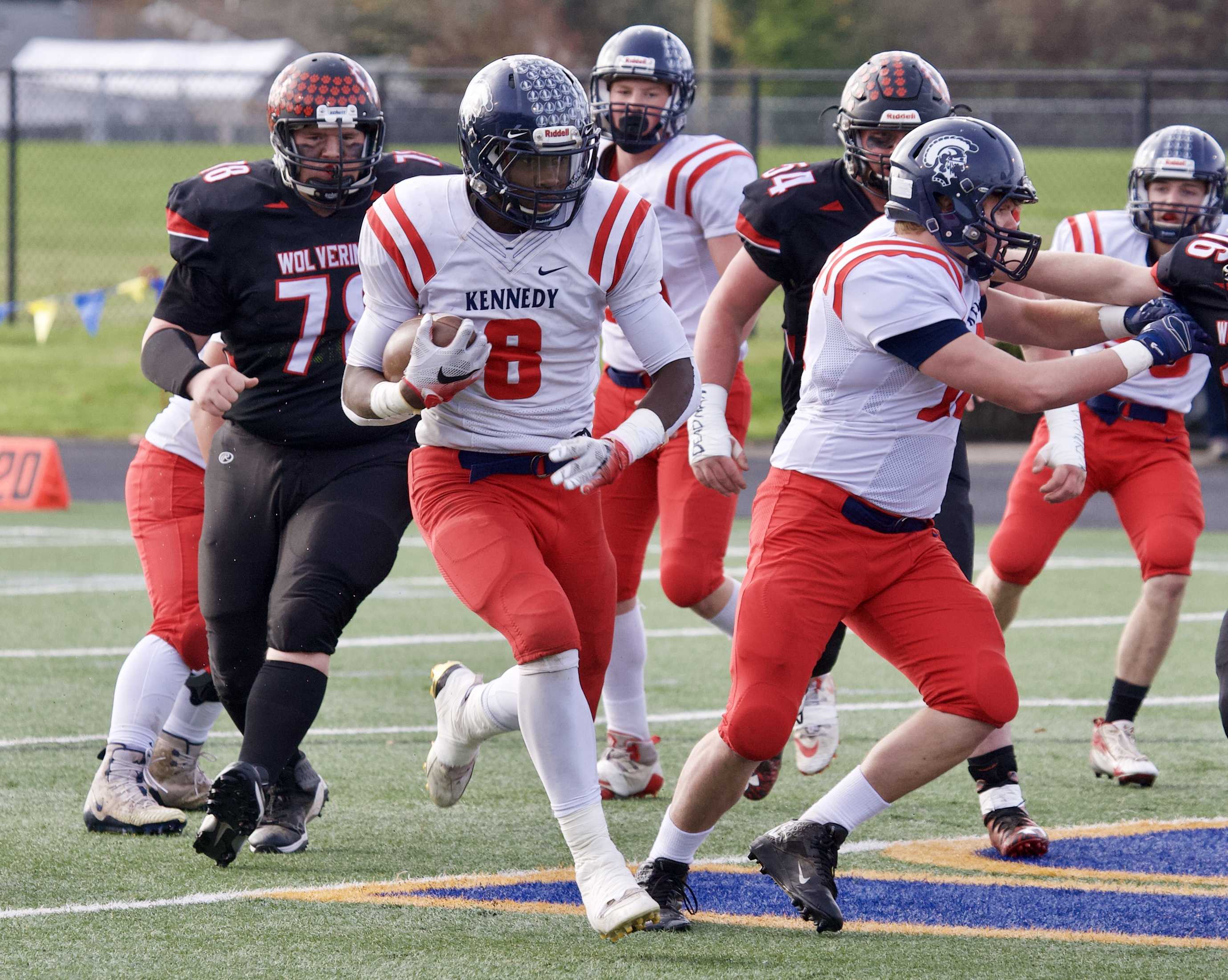 COTTAGE GROVE — There are no more wounds for Kennedy football to heal anymore. There is no more second-guessing and no asterisks. There is nothing left to prove to anyone.
The redemption is complete.
The Trojans completed it Saturday with a 31-20 victory over Santiam in the OSAA/OnPoint Community Credit Union 2A final at Cottage Grove High School.
Kennedy's first state-championship victory was no upset. The Trojans exploded for 28 unanswered points on all four of their first-half possessions and survived the loss of their main offensive threat to hang on for the win.
The outcome most certainly does make it look like at least a surprise. Back on Sept. 14, Santiam came to Mt. Angel and abused the Trojans 44-0 on their own field. A week later the same Kennedy team was skunked at Sheridan 44-7.
Understatement of the century: This Kennedy team was totally different.
"We wanted redemption," Trojan coach Joe Panuke said in the mayhem of the celebration after the game. "And if you want total redemption you have to beat the team that beat you 44-0.
"We're not the September team (really, Sherlock?) anymore. We're the team that went over to Heppner and beat them, then beat the Sheridan team that beat us (27-6 two weeks ago)."
Did the Trojans change schemes or personnel along the way?
"No," Panuke said. "We didn't run anything different. We just kept it simple and did our jobs exceptionally well."
That's a fact, Jack. From the opening kickoff the Trojans, 11-2, were in command. They scored on their opening drive when their splendid junior tailback, 6-3, 215-pound Emorej (ee-MORE-jay) Lynk blew through a perfect hole — the first of many Saturday — and rolled 56 yards untouched down the right sideline.
As if to prove it was no fluke, Kennedy marched 66 yards in eight plays for its second score, a 10-yard sweep by Bryce Vandervort.
Not convinced yet? Then try this: On their third possession, after stopping the Wolverines on fourth down at the Kennedy 44, the Trojans ran three rushing plays, then Lynk pulled up on his pet pitch play and lobbed a 45-yard halfback pass to 6-6 split end Rocco Carley on the first play of the second quarter.
The stunned Wolverines couldn't get anything out of their holster. The Trojan defense, with 265-pound Nick Suing raising mayhem along the defensive line, was ready for anything they ran.
The whole game changed on the last play of the first half, though. Lynk, who is also a linebacker on defense, went 16 yards on a zone stretch pitch. He went down, but he didn't get up. He eventually limped off the field with what he hopes is a sprained right knee.
He patrolled the sidelines thereafter on crutches and never played another down.
It was a turning point. The Wolverines finally pushed the cork out of the bottle and generated some offense, and the Trojans lost their explosiveness. Lynk ran for 143 yards and two scores in that first half.
"We were a little bit nervous," said Bruce Beyer, one of the quartet of running backs who filled Lynk's spot. 'But we wanted to do it for Emorej. He's the reason we're here."
But the Wolverines went 61 yards for their first score on the first drive of the second half. On the second, Trevor Tinney went 91 yards on an option pitch to cut the lead to 28-14 with almost 15 minutes left to play.
The Trojans were in trouble, but they hung on. Beyer kicked a 21-yard field goal for Kennedy's only points of the second half for a 31-14 lead, and it proved to be enough.
They stopped one Wolverine drive with Beyer's interception, then yielded a touchdown pass from Colin Thurston to Trevor Whitmire with 2:23 left, but the Wolverines, 10-2, ran out of clock.