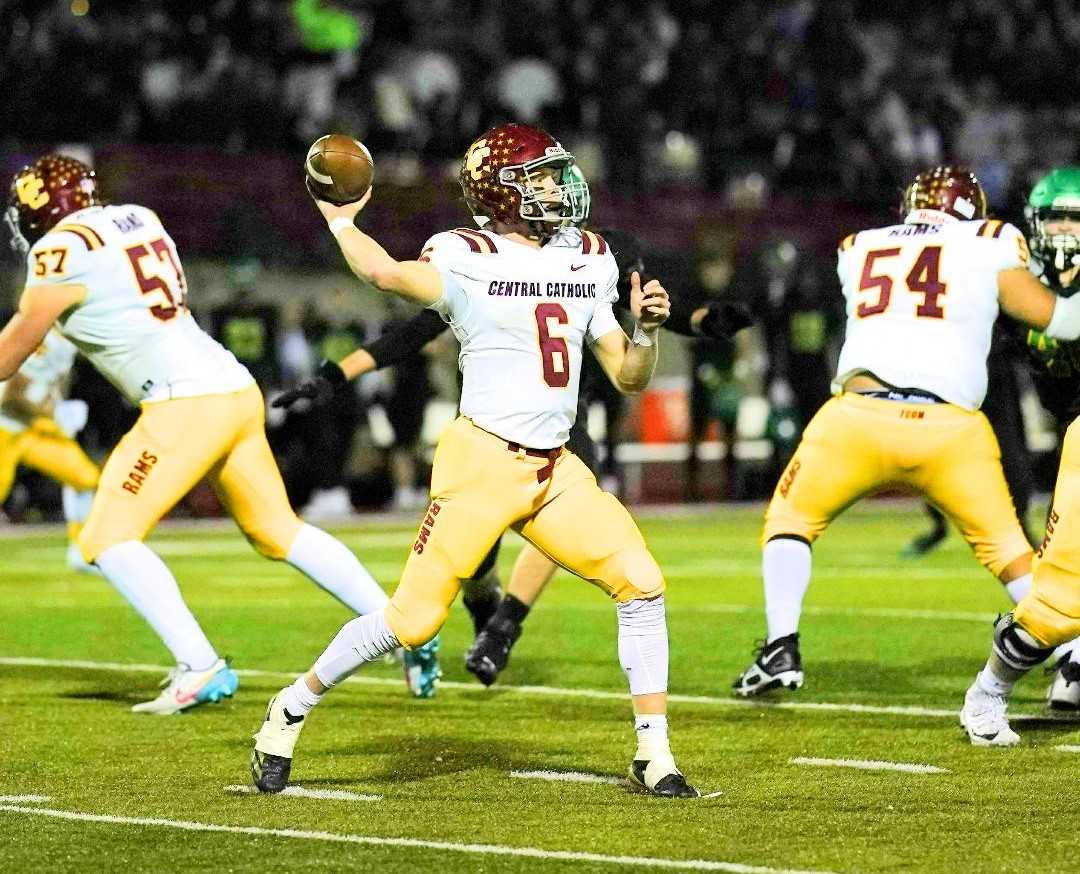 OREGON CITY – Central Catholic waited a year to exact revenge on West Linn for a lopsided defeat in the 6A football semifinals.
Friday night, the Rams finally got their opportunity, and they made it count.
Behind a stellar performance from its defense, No. 4 Central Catholic ousted the reigning champion and top-seeded Lions 12-7 in a semifinal at Pioneer Memorial Stadium. It was the same field where the Rams lost to West Linn 49-17 last season.
"We came out with mean intentions," Central Catholic senior lineman Matix Carpenter said. "We were not going to have it, especially our defense."
The Rams (12-0) made several big defensive plays to keep the explosive Lions (11-1) in check, holding them to 236 total yards, well off their 403.4 average. And the offense did just enough to seal the win, ending West Linn's winning streak at 22 games.
Dual-threat senior quarterback Cru Newman completed 13 of 25 passes for 167 yards and rushed for 101 yards and one touchdown on 25 carries for Central Catholic, which will go for its third title in four postseasons when it plays No. 2 Tualatin in the championship game.
"It's awesome," Newman said. "Last year wasn't the way we wanted it to turn out. We knew they were a great team. We came back better than we were last year. We just made it happen. The defense just balled out."
The Rams came out with fire and never let up. They held West Linn to its lowest point total since a 9-0 loss to Tigard in 2017.
"I grew up playing Wilsonville youth football, and every year we'd play our division championship against West Linn, and we lost," Carpenter said. "It's even deeper than just last year for me. … It brings tears to my eyes. It's just a tremendous honor to get our get-back and show our massive improvement, prove the stats wrong."
With several players from last year's team in attendance, the Rams were determined to make amends.
"They were rooting us on," junior lineman Zac Stascausky said. "It's big, but to be honest, we knew we could do it. I'm happy we won, but I'm not surprised. We saw like eight of 10 analysts picked West Linn. It just feels good."
After a scoreless first half, Central Catholic took a 3-0 lead early in the third quarter on a 34-yard field goal by senior Zeke Van't Hof. The Rams made it 5-0 early in the fourth quarter when senior linebacker Jeremiah Katsuta hit West Linn senior running back Cade Johnson in the end zone for a safety, with an assist from junior lineman Phoenix-Orion DiCosmo.
The play was set up by a 43-yard punt from Rams senior Sam Shuver that rolled out of bounds at the West Linn 1-yard line.
"Sam Shuver, man, for not having to punt all year, man, he turned out to be the big difference tonight," Central Catholic coach Steve Pyne said. "Every time we punted, we flipped the field."
With West Linn pinned deep, the Rams were eager to pounce.
"At that point, we were like, 'Yo, let's be relentless,'" Katsuta said. "We have the saying, 'Let's all jump in the pool.' And we were all in the pool."
Katsuta came clean up the middle.
"It was a great play call by our defensive coordinator," Katsuta said, referring to Matt Jones. "He sent us in down the middle. I tried to call it, too. I told him, 'Yo, let's go down the middle.' He sent me up, and I just got through the gap and made a tackle."
After the safety, Rams junior D'Marieon Gates returned the kickoff 43 yards to the West Linn 41. On third-and-goal, Newman ran for a one-yard touchdown to extend the lead to 12-0 with 5:24 left.
West Linn answered with a 68-yard touchdown pass from junior Baird Gilroy to senior Hunter Haines, who made the catch on a crossing route near midfield and won a race to the end zone, pulling the Lions within 12-7 with 4:51 left.
The Lions tried an onside kick and appeared to gain possession when senior Gus Donnerberg batted the loose ball forward and senior Nick Sakys recovered it inside the Central Catholic 30. But the officials ruled that Donnerberg illegally touched the ball before it traveled 10 yards, giving the Rams the ball at the West Linn 49.
The Lions protested the call, to no avail.
West Linn got the ball back at its own 23-yard line with 3:18 left. The Lions moved to midfield, but on fourth-and-one at the 50, senior running back Ryan Vandenbrink was stopped for a one-yard loss by Stascausky with 1:35 remaining.
"I don't play much defense. I'm more of a left tackle, offensive guy," the 6-foot-7, 265-pound Stascausky said. "But my job, what they tell me to do every week, is goal line. Whoever their guy is, just put him on an island with me, and get past him. That's what I did."
Katsuta said of Stascausky: "He's a big boy."
From there, the Rams ran out the clock. On third-and-6, Newman's pass was tipped in the air by senior linebacker Hudson Reink, but Newman was able to catch it and charge forward for the first down.
"I didn't want it to hit the ground, incomplete pass, so I had to do the most to make a play," Newman said.
Newman accounted for 268 of Central Catholic's 350 total yards.
"That was the whole game plan. We were going to ride No. 6 until he falls apart," Pyne said of Newman. "Tonight he was electric at times. He didn't throw the ball particularly well tonight, but that's OK. He willed us to a victory."
With West Linn and Central Catholic widely considered the top two teams in 6A – they held down the top two spots in the OSAAtoday 6A coaches poll all season – the game had the feel of a state final.
"We should've been having this game in state," Carpenter said. "We're going to go with the same intentions in the next game, and just put it to them as best we can."
It was a crushing loss for West Linn, which won all of its previous games by at least 19 points. Gilroy completed 15 of 30 passes for 210 yards and one touchdown with one interception, by Rams senior Cade Gehlen. Donnerberg caught eight passes for 96 yards.
The Lions were left to lament missed opportunities.
"Our defense played lights-out today," said Haines, who played safety. "I don't think we could've done much more on defense. I think our offense could have (eliminated) the mistakes. We made a couple penalties, couple drops, that we should've had."
"I knew we could stop their offense. We had the best defense in the state, in my opinion."