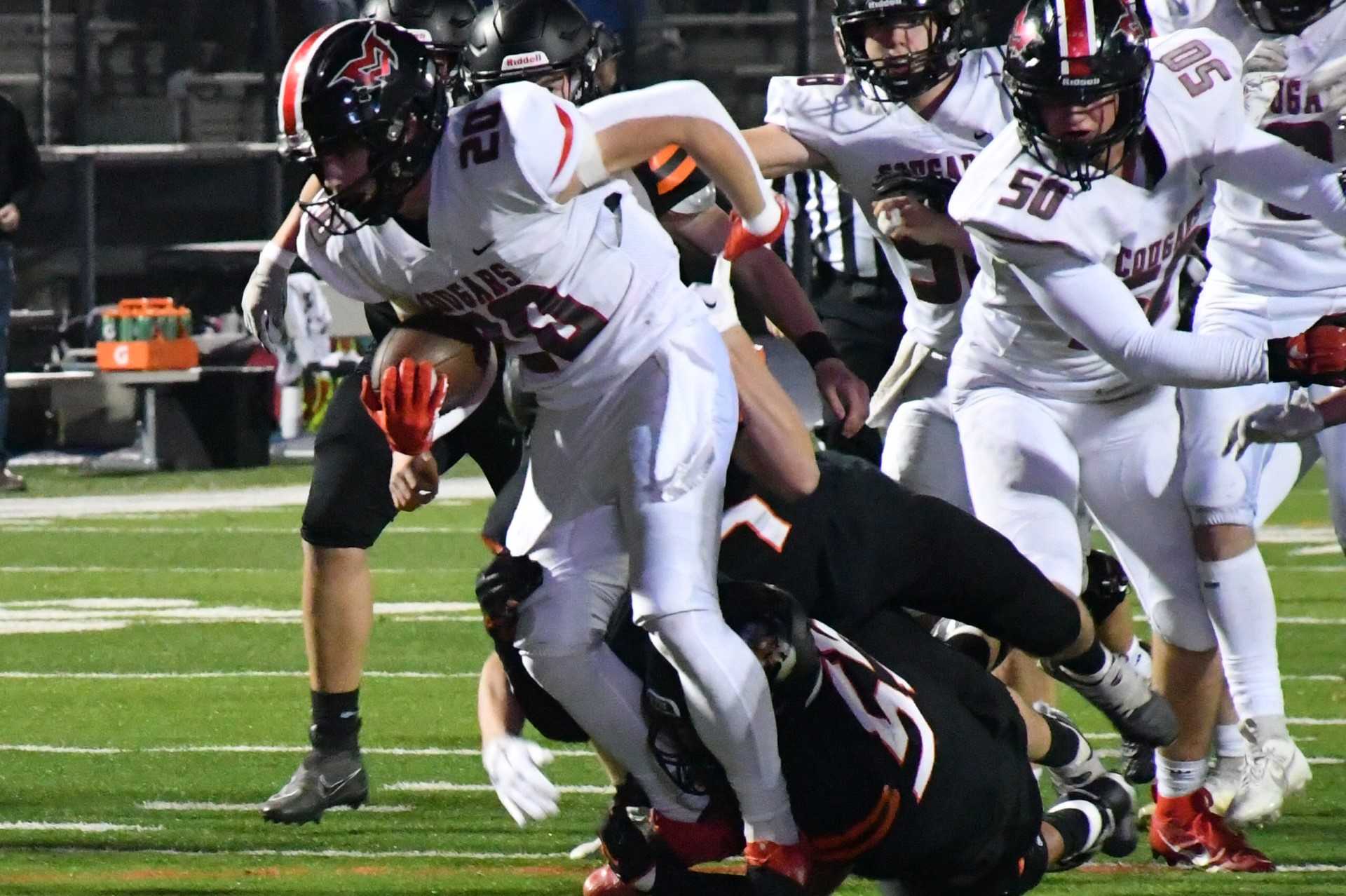 By JESSE SOWA/for OSAAtoday
KEIZER -- Mountain View coach Brian Crum saw his team's two earlier trips across the Cascades this season as preparation for a state semifinal.
Crum's Cougars showed they were more than ready Friday night.
A dominant effort across the board resulted in a 42-19 win against Silverton at McNary High School in a battle of undefeated 5A teams.
The third-seeded Cougars scored on their first three possessions of each half and never relinquished control after taking a 21-0 lead midway through the second quarter. Second-seeded Silverton didn't have enough answers.
"We were ready to play. We got off the bus ready to play," Crum said. "That's the way we practiced all week. We've got 22 seniors, so we've got a lot of maturity that we lean into."
Mountain View (12-0) meets Wilsonville (11-1) in the championship game next Friday.
Connor Crum, a three-year starter at quarterback and the coach's son, was at the top of his game. The senior was 8-of-10 passing for 154 yards and three touchdowns. He also rushed for 118 yards and a score on 18 attempts.
Brian Crum said that was the best game of his son's career.
"I thought he spotted the ball really well. He was just on," the coach said. "Put the ball where it needed to be. He made the right decisions in the run game. He's a great game manager, slowing the clock down, those sort of things."
The first two touchdowns went to Jack Foley, who had five catches in all for 99 yards.
Mountain View opened the season with a 49-20 win at Canby. The squad returned west three weeks later and took a 50-0 win at Southridge.
The Cougars have added more quarterback runs into the offensive game plan in recent weeks to give defenses something more to think about.
Friday, Connor Crum ran three straight times to open the game for a total of 36 yards. He also had a 14-yard carry on the opening drive before connecting with Foley for a 4-yard score.
After teammate Ben Cockrum intercepted Silverton's Sawyer Teeney on the following possession, the Cougars went 70 yards in nine plays, capping it when Foley got behind the defense down the left sideline for a 30-yard touchdown.
The Foxes (11-1) would turn the ball over on downs at their own 46 before Mountain View widened its lead. Connor Crum completed a 39-yard pass to Foley on a fourth-and-19 snap, and two plays later the quarterback hit Gage Wray for a 25-yard score and a 21-0 lead.
"We came out wanting to play hard and we got it done. We came out wanting to punch them in the mouth," Foley said. "Their best team that they faced was us and they're the best team we've faced all year, and we just came out with an attitude to win."
Silverton came right back with a 60-yard touchdown pass from Teeney to Tyler Pooleon. But after forcing a punt, the Foxes couldn't keep the momentum going, failing to score on the final drive of the first half and the initial possession of the second.
Mountain View got its running game going again with Connor Crum and Angel Valenzuela behind an offensive line that continued to create big holes.
Valenzuala touchdown runs of 3 and 2 yards came on opposite sides of a defensive fumble recovery by the Cougars' Easton Herberger. That made it 35-7 late in the third quarter, and Silverton got no closer than 22 points from there.
Valenzuela, a sophomore running back, had 145 yards and the two scores on 26 carries with no attempts going for negative yardage.
For Silverton, Teeney was 13-of-28 passing for 149 yards with two touchdowns and one interception. The junior also rushed for 78 yards on 13 tries.
Brody Sullivan had 56 yards rushing and one score on 10 attempts. Pooleon finished with four catches for 97 yards and a touchdown.
"We had a hard time getting off the field on third-and-long and fourth-and-long," said Foxes coach Dan Lever, whose team saw Mountain View go a combined 7 of 10 on third and fourth downs. "Offensively we were kind of out of rhythm at times and got behind in the game. They're a physical football team and they did a really good job and had a good plan."
Wilsonville 34, Summit 2
Kallen Gutridge threw five touchdown passes and the top-seeded Wildcats doubled up the fifth-seeded Storm in total yardage (403-201) in the semifinal at Willamette University in Salem.
Gutridge was 29-of-41 passing for 309 yards with the five scores and one interception and also ran for 64 yards. Mark Wiepert was on the receiving end of three touchdowns, finishing with 14 catches for 180 yards as Wilsonville returns to its second straight title game.
Summit quarterback Jimmy Hughes was 8-of-17 passing for 59 yards and three interceptions, two by Nick Colyer. He was also sacked three times. Sam Stephens had 68 yards rushing for the Storm (7-5).
Wilsonville scored its first two touchdowns in a span of less than six minutes in the first quarter. The Wildcats were held scoreless in the second quarter but put three touchdowns on the scoreboard in the third. Summit's points came on a safety late in the first half.
Friday's game was the fourth meeting between the teams in the last two seasons.
Last year, Summit defeated Wilsonville 33-21 during the regular season then 35-28 in the state championship game. Wilsonville took a 35-20 home win this past Sept. 22.