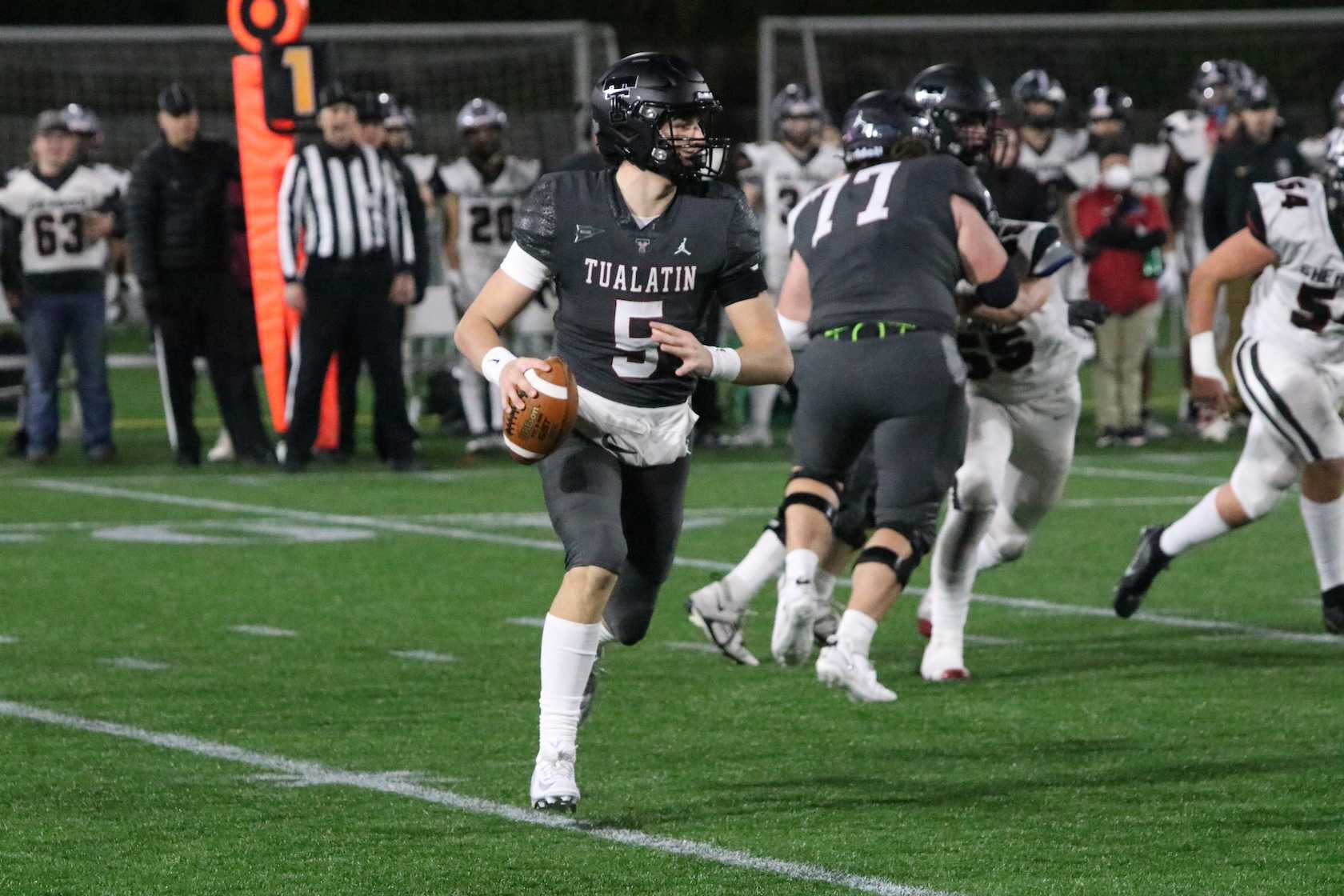 HILLSBORO — Tualatin quarterback Nolan Keeney and wide receiver Jayden Fortier turned Hillsboro Stadium into their own personal playground on Friday night.
Kenney threw for 408 yards and six touchdowns, including scoring strikes of 52, 60, 79, and 88 yards to Fortier, leading the No. 2 Timberwolves to a 42-23 victory over the Sherwood Bowmen in the semifinals of the 6A football playoffs.
Tualatin wideout AJ Noland joined in the aerial assault with touchdown grabs of 58 and 4 yards to help send Tualatin (11-1) into next week's championship final against No. 4 Central Catholic, a 12-7 winner over top-ranked West Linn in Friday's other semifinal.
"This is the most fun I've ever had playing football," Keeney said. "There's no other feeling like this. It's something I never knew I would experience. It was an amazing win.
"We knew it was going to be a tough game. We knew we were going to have to execute every possession and take advantage of every opportunity that we could, and we did. I'm so proud of my guys. We came out and did what we knew we had to do."
The Timberwolves' win also sets up a rematch of the 2021 championship final — a game Central Catholic won 44-14 at Hillsboro Stadium.
"We know next week's going to be a difficult challenge, and we'll be up for it," Tualatin coach Dominic Ferraro said. "These guys have come together as a group and have a strong brotherhood and connection with each other and … it feels great.
"Hey, we get one more week."
Through the first two quarters of Friday's semifinal, it was anyone's ballgame. There were five lead changes in a wide-open first half that ended with Keeney connecting with Noland on a 4-yard TD pass that put Tualatin on top 28-23 at the break.
Sherwood took the second-half kickoff and ran five plays before the Bowmen were forced to punt for only the second time.
Keeney then hooked up with Fortier on a 60-yard touchdown pass to cap a six-play, 84-yard drive that pushed Tualatin's lead to 35-23 with 6:54 remaining in the third quarter.
Sherwood still had time to mount a comeback. The Bowmen used 10 plays and a key defensive pass interference call to move the ball from their own 37-yard line to the Tualatin 19.
Facing fourth a fourth, Sherwood handed the ball Treyson Eddleman, who ran into Tualatin's Calvin Evans one yard short of the line to gain, turning the ball back to the Timberwolves on downs.
Four plays later, the Timberwolves were back in the end zone, this time on an 88-yard, Keeney-to-Fortier pass play that made it 42-23 and helped put the game out of reach with 10:43 to play in the fourth quarter.
"That's my best friend, bro," Keeney said of Fortier. "Over the summer, we were always together. I mean, we spent so much time throwing and building chemistry. That's my dog and tonight we showed out, we came out, and we went crazy.
"There's a reason Jayden is the best player in the state, and he proved it tonight."
One reason Sherwood's vaunted defense struggled to contain the Keeney-to-Fortier connection was an inability to get consistent pressure on Kenney. Another was the Bowmen tried to cover the 6-foot-5, 225-pound Fortier with defensive backs who were listed at 6-2 and 5-11, which proved a glaring mismatch.
"Coming in, we knew Sherwood was a heavy cover-one team, man-to-man across the board," Fortier said. "Coach told us all week, 'We've just got to make more plays than they do.' I feel like we did a great job of that tonight.
"I respect every opponent that I go against, but I don't fear anybody. Obviously, Sherwood is a great team with a great defense. They'd allowed only 36 points all season, but with an offense as explosive as our offense, you've got to beware of everybody."
Fortier also was quick to praise his quarterback — the one who broke his left collarbone (non-throwing shoulder) in Week 4 against Jesuit and then sat out the entire Three Rivers League schedule before returning for the playoffs.
"He's phenomenal," Fortier said of Keeney. "Ever since he's been back, he's been playing on a different level. The throws he's making are absurd. Honestly, that's the only way I can put it.
"He finds everybody. He found me, he found AJ, he found Tyson (Hunt), he found Kenen (Elder) and that's a week-in, week-out thing. It's never going to stop."
Ferraro agreed.
"Offensively, I've got a lot of confidence in our receiver corps and our quarterback," Ferraro said. "We knew Sherwood was going to come out and be aggressive and send a lot of pressure, and try to get up in our face and press us. We talked about it all week and it was something that we were looking forward to that opportunity."
Keeney completed 11 of 15 passes, but he also threw two first-half interceptions — one by Evan Morris on the game's opening drive and the other by Eddleman that set up Wilson Medina's 1-yard touchdown run that gave the Bowmen a 23-14 lead with 8:23 left in the second quarter.
"Nolan threw those two picks, but he bounced back from them," Ferraro said. "He was just trying to do a little too much and that's OK.
"I think the thing that I love about him the most is just how calm he is. He threw those two picks and he was like, 'Yeah, yeah, I know.' And not in a cocky way, but more that he's got a quiet confidence about him and he's been great. He had that span where he was out for a few weeks, but he's been lights out in the playoffs."
And then there's Fortier, who finished with six catches for 324 yards. He also ran the ball twice for eight yards, and in one instance took a direct snap and converted a crucial fourth-and-3 play on the scoring drive just before the half that put the Timberwolves in front to stay.
"I'm biased, but I think Jayden Fortier is the best player in the state, I really do," Ferraro said. "There are some great football players at Central Catholic and some great football players at West Linn and Sherwood, but Jayden is special and he's our guy and we try to get him the ball as much as possible."
Sherwood had the ball four times in the second half. The first drive ended with a punt, the next two ended with a turnover on downs, and the final drive ended at the Sherwood 4 with a pass from quarterback Kasen Covert going in and out of Morris' hands as time expired.
"The first half was a bit of a slugfest," Sherwood coach Mark Gribble said. "Both teams were just going at each other and it was good high school football. In the second half, Tualatin got a couple more big plays and we got behind to where we were a little uncomfortable.
"Tualatin became more aggressive and we tried to open things up to try and neutralize the situation, but we missed on a couple of things and Tualatin played a great game. They made some plays when they needed to."
Sherwood defensive tackle Jake Stevens, one of 16 seniors listed on the Bowmen's roster, said the Pacific Conference champions left everything they had on the field.
"I think our performance was great," Stevens said. "Our effort was there. There were just a couple of big plays that we couldn't stop, but everybody played their butts off. There's nothing we could have done better.
"I think we put our blood, sweat, and tears into it, and I'm thankful that I got to play for this team. It was an awesome ride."
The Bowmen (11-1) had a remarkable string of seven shutouts and then added an eighth shutout with a 43-0 playoff win over Tigard in the quarterfinals.
So what changed in the second half against Tualatin?
"I don't think anything changed," said Stevens, who had a team-high six tackles, including one of the Bowmen's two sacks. "They got a couple of big plays on us and that turned us down, which is not what we wanted. We tried to come back and there just was nothing we could do. But everybody on the team was in great spirits and everybody held their heads high. It was a great fight."
Eddleman led Sherwood's offense with 14 carries for 99 yards. Keaten Fried had six carries for 69 yards and a touchdown, Trevor Nibbe added seven carries for 68 yards, and Medina had nine carries for 36 yards and two touchdowns. Covert completed 7 of 18 passes for 75 yards and had another 55 yards on seven carries.
"Sometimes, stuff comes to an end," said Covert, another senior. "They just beat us. That's all that happened. It was a great season."
Said Gribble: "These kids will remember this ride for their entire lives. They're probably not going to remember the score from Week 3 or what happened his the third quarter of Week 5. But they're going to remember the things that they did tougher, the ride overall, and how they came together and kind of changed the dynamic of what we do at Sherwood a little bit.
"I said to my coaches before the season that we were going to 'coach uncomfortable,' that we were going to get to a spot where we did things that were just not natural in our system, both offensively and defensively. And we did that, and the kids bought into it, and they fed off of it. We just happened to come up short tonight."