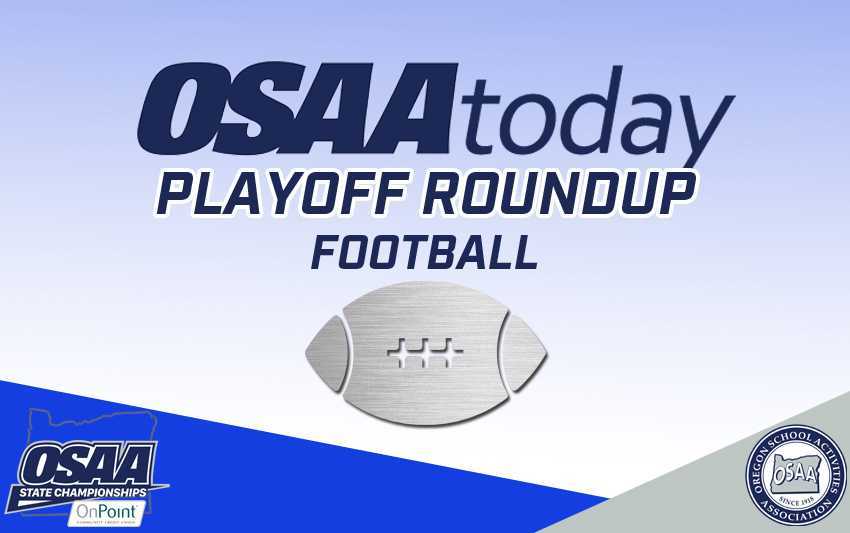 The top-ranked Henley Hornets rode a balanced offense and an opportunistic defense to a berth in next week's 4A football championship final — their first appearance in 41 years.
Henley quarterback Joseph Janney completed 9 of 19 passes for 111 yards and two touchdowns to Chris Janney and had 14 carries for 135 yards and two other scores as the Hornets of Klamath Falls rolled to a 42-13 victory over the Scappoose Indians at Willamette High School in Eugene.
Henley's defense limited Scappoose to 157 yards offense and forced six interceptions by six different players — Chris Janney, Bryson Montag, Mark Carpenter, Conner Shively, Kyle Nichols, and Jeremiah Brunick, in that order — to help the Hornets (12-0) reach the finals for the fifth time in school history and the first since 1982.
"We're really grateful to be in the final," Henley coach Alex Stork said. "My wife's grandfather, Lee Schroeder, was actually the head coach the last time Henley made a state championship, so to get to share in that as a family is a real cool experience.
"I'm thankful to get to do it with this team. All along in the playoffs, the goal each week is to say, 'See you on Monday,' and we get to say that again this week, so we're really just thankful for that."
It helps that the Hornets appear to be peaking at the right time.
"Yeah, I think it's just been a progression," Stork said. "I think each week, we've just continued to get better and we're focusing on the right things. We're staying focused and the guys are excited to keep playing. None of the guys have started thinking about their winter sports. They want to continue to be together and I feel the byproduct of that is a team that goes out and gives it their all, and that's what we saw today."
Scappoose (10-2) saw its season come to an end in the semifinals for the second season in a row.
"The outcome wasn't what we wanted," Scappoose coach Sean McNabb said. "Of course, we would like to be playing next week, but it wasn't our day today. We made a lot of mistakes with turnovers and we just didn't execute.
"And Henley's a good team. You've got to give them a lot of credit. They're fast — probably the fastest team we've played all year long — and they made plays. They were definitely better than us today."
Henley's defense set the tone early when they forced Scappoose to turn the ball over on down at the Hornets' 38-yard line on the game's opening possession.
Joseph Janney then led Henley on a 13-play, 68-yard scoring drive that ended with tailback Logan Whitlock following the left side of the offensive line into the end zone on a 6-yard touchdown run with 4:30 to play in the first quarter.
Scappoose's Rupert Gonzalez-Tapia answered for the Indians when he found running room straight up the middle and returned the ensuing kickoff 96 yards for a touchdown that tied the score at 7-7.
The Indians got the ball back after a Henley punt but ran only two plays before quarterback Max Nowlin had a pass tipped near the line of scrimmage and intercepted by Chris Janney.
From that point on, Henley dominated almost every phase of the game.
The Hornets' next three possessions ended with Joseph Janney scoring the go-ahead touchdown on an 11-yard run, Whitlock scoring on a 1-yard plunge, and Chris Janney grabbing a 33-yard scoring strike that made it 28-7 with 6:38 remaining in the half.
With 1:15 left in the half, Nichols' interception — the fifth of the first half — set up a six-play, 50-yard scoring that ended with Joseph Janney running into the end zone from six yards out to extend the Hornets' lead to 35-7 at the break.
"The biggest key and what helped us be so successful today was getting the takeaways on defense," Stork said. "Our guys really did a good job in preparation for Scappoose's passing game and it showed.
"We haven't faced a passing attack like Scappoose really since we played Ashland (in Week 3). Their style of offense really challenged us in ways that we had to prepare for. I felt like we were able to mix up our coverages enough to keep the quarterback on his toes a little bit, and I thought our three-man and four-man pass rush also gave him enough discomfort back there to help us with some of those interceptions."
McNabb tipped his cap to the Henley defense.
"We struggled to move the chains," McNabb said. "We didn't really run the ball very well. We didn't always make the best decisions as far as distributing the bal to our receivers. But a lot of it, too, goes to Henley.
"Those windows are open and closed in a hurry because of the fact that they are fast and I feel like they're well-coached. They did do some things differently defensively than we're used to seeing, and I feel like we struggled a little bit with that.
"When it was 21-7, I felt like, 'Hey, we can chip away and get back in this.' And then the next thing you know, we're down 35-7 at the half and trying to find that spark, and … it was pretty tough."
Henley played the final four minutes of the first half without Whitlock, their 5-foot-8, 180-pound senior running back, who went down with an ankle injury and had to be helped off the field.
He came back briefly at the start of the third quarter and had two carries for 26 yards, sparking a 12-play, 80-yard scoring drive that ended with a 12-yard Janney-to-Janney TD pass that made it 42-7.
Scappoose backup quarterback Brayden Miller scored on a 8-yard run at the end of a six-play, 62-yard drive in the final minutes of the fourth quarter.
Henley ran a total of 70 plays and finished with 237 yards rushing and 111 yards passing. Joseph Janney led the ground attack with 14 carries for 135 yards, while Whitlock had 21 carries for 106 yards and Jason Kern chipped in 29 yards on eight carries.
"Joseph just continues to improve and impress," Stork said of his sophomore quarterback. "I'm so proud of how he's come along. The guys really rallied around him early on, and he's just continued to get better each week.
"Today, I feel was his best game of the season, especially using his legs."
Scappose (10-2) ran 34 plays and had 49 yards rushing and 108 passing. Nowlin completed 11 of 20 passes for 108 yards, and his top receiver was Quinton Olson, who caught four passes for 50 yards. Miller was the team's lead rusher with five carries for 44 yards in mop-up duty.
"I know we're a lot better team than we showed today and that's disappointing,' McNabb said. "I know our seniors are pretty upset, but for our younger guys, it's a motivator. I know it's going to sting for a while, but what I tell our guys is, 'My No. 1 goal, really, is I want you to be able to look back someday and say you had an absolute blast being a part of the Scappoose football program.'
"As much as it stings right now, it will wear off and those guys will look back and know we had one heck of a season."
2A
No. 3 Lowell 32, No. 2 Oakland 18
Junior running back JaMar Thurman scored five touchdowns — four on the ground and one through the air — leading the Devils over the Oakers at Willamette High School in Eugene and into next week's championship final.
Thurman scored on runs of 52, 9, 13, and 44 yards and caught and caught a 56-yard touchdown pass from Justus Thurman. He also helped nail down the victory with an interception in the end zone with 2:57 remaining.
The Devils (11-1) never trailed in the game but were under almost constant pressure from the Oakers, who stayed within striking distance behind Gabe Williamson's two touchdown runs and a Ryan Fullerton-to-James Baimbridge TD pass.
One of the key turning points in the game came with the Oakers trailing 18-12 and facing a fourth-and-13 at their own 17-yard line with 10:35 remaining in the fourth quarter. They lined up in punt formation but ran a fake that gained only a yard, giving the ball back to Lowell at the 18.
Two plays later, JaMar Thurman was in the end zone at the end of a 13-yard run, pushing the Lowell lead to 24-12 with 9:43 remaining.
Oakland got it back to a one-score game on Williamson's 45-yard touchdown run that capped a three-play, 79-yard drive and made it 24-18 with 8:40 to play.
The Devils answered with a five-play, 65-yard touchdown drive, putting the game out of reach went JaMar Thurman reached the end zone on a 44-yard run with 5:26 left in the game.
Lowell overcame the loss of sophomore quarterback Carter Harris, who left the field in an ambulance after he was injured on a running play with the score tied 6-6 and 7:10 to play in the second quarter.
No. 1 Weston-McEwen/Griswold 55, No. 4 Regis 39
Junior quarterback Easton Berry rushed for 115 yards and four touchdowns and passed for 231 yards and another scoring, leading the TigerScots to a semifinal win over the Rams at Hermiston High School.
Maddox King finished with a team-high 165 yards rushing on 25 carries and scored on touchdown runs of 9 and 1 yards for the TigerScots (12-0), who finished with 550 yards total offense to Regis' 494 yards.
Weston-McEwen's first three possessions ended with touchdowns as the TigerScots raced out to a 21-0 lead in the first quarter. They then held leads of 28-12 at halftime and 41-20 at the end of the third quarter.
Regis (11-2) consistently moved the ball through the air with senior quarterback Kollin Schumacher completing 25 of 51 passes for 437 yards and three touchdowns — two to Charlie Miller and one to Noah Koenig. Miller finished with six catches for a game-high 182 yards and Koenight had nine receptions for 128 yards.
1A-8
No. 1 Lost River 54, No. 5 St. Paul 28
Senior Chase McAuliffe rushed for a game-high 189 yards and four touchdowns as the defending state champion Raiders rallied in the second half to defeat the Buckaroos in Saturday's semifinal at Caldera High School in Bend.
Trailing 28-22 in the third quarter, Lost River took advantage of several St. Paul miscues and scored 32 unanswered points to advance to next week's final against Crane.
McAuliffe scored the go-ahead touchdown on a 15-yard run and then ran in the two-point conversion to give the Raiders a 28-20 lead with 5:45 remaining in the third quarter.
Lost River added three more touchdowns on a Kayden Hartman 2-yard run, a McAuliffe 1-yard run and a Connor Dunlea 73-yard interception return to seal the decision.
"I don't know if 'great' is the right word, but we certainly made some plays that matched St. Paul when we needed to," Lost River coach Dennis Dunlea said. "It was back and forth all day. At the end, we got some turnovers that we capitalized on and then, basically, St. Paul ran out of time. But it was a pretty good game between two teams that know each other very well."
St. Paul went into Saturday's game looking to avenge not only a 43-0 loss to Lost River in last year's championship final, but also a 40-36 loss to the Pirates at Lost River in this year's season opener.
"There were a lot of momentum swings, and the game came down to our ability to play through that. St. Paul is a great team and (coach) Tony Smith always has them ready to play, but we got 'em again."
Connor Dunlea did a little bit of everything for Lost River, finishing with 10 carries for 62 yards on offense, four interceptions on defense, and an 83-yard kickoff return for a touchdown that gave the Raiders a 22-20 lead in the third quarter.
For St. Paul, quarterback George Pohlschneider completed 19 of 37 passes for 324 yards, including touchdown strikes of 12 yards to Ralph Pohlschneider, 25 yards to Diego Medina, and 34 yards to Sullivan Grott.
This will be Lost River's sixth trip to the finals as the Raiders seek a fourth blue trophy to go with the ones they claimed in 1997, 2004, and 2022.
"It's a great opportunity for us against a quality team from a great community with great coaches and great kids," Dennis Dunlea said. "We're certainly excited to be going back there and excited to be practicing on Thanksgiving. That's a special thing."
No. 2 Crane 28, No. 3 Myrtle Point 22
Junior quarterback Josh Zander threw for 129 yards and two first-half touchdowns as the Mustangs held off the Bobcats in Saturday's other semifinal at Caldera.
Keegan Sallee added a 2-yard touchdown run in the second quarter and Trenton Potter scored on a 67-yard fumble return in the third quarter to help lift Crane (10-0) into the finals for the fourth time and the first time since 2016.
Zander opened the scoring with touchdown passes of 1 yard to Potter and 2 yards to Cody Siegner as the Mustangs jumped out to a 12-0 lead.
Myrtle Point cut the deficit to 12-8 when Logan Backman scored on a 12-yard run and then completed a two-point conversion pass to Evin Warner with 5:09 to play in the first half.
Trailing 26-8, Backman connected with Warner on a 20-yard touchdown pass and added another two-point conversion to keep Myrtle Point's hopes alive with 2:56 remaining in the third quarter.
Myrtle Point's Billy Reynolds then scored on a 4-yard run to make it 26-22 with 11:16 to play in the fourth quarter, but that was as close as the Bobcats could get.
Crane's Carter Nichols finished with 39 carries for a game-high 230 yards rushing, while Zander completed 10 of 18 passes for 129 yards. Potter had a team-high four receptions for 39 yards, and Nichols caught three passes for 66 yards.
Myrtle Point's Backman completed 16 of 32 passes for 293 yards with one touchdown and one interception. Thomas Ferran had five catches for 79 yards, Warner also caught five passes for 67 yards, and Skyler Zick added four receptions for 88 yards. Reynolds was the Bobcat's leading ground-gainer with 18 carries for 64 yards.
1A-6
No. 4 Joseph 33, No. 1 Prairie City/Burnt River 19
Senior quarterbacks Kane Johnson and Zander Walker passed for a combined 214 yards and four touchdowns as the Eagles downed the top-ranked Panthers at Hermiston High School's Kennison Field and advanced to the championship final for the first time since 2008.
Johnson threw touchdown passes of 54 and 65 yards to Kellen Crenshaw in the first quarter and then connected with Jaxon Grover on a 58-yard scoring strike at the end of the second quarter to pace Joseph to a 20-12 halftime lead.
Walker then connected with Grover on a 13-yard scoring strike at the end of an eight-play, 52-yard drive that extended the lead to 26-12 with 4:19 to play in the third quarter.
The Eagles (10-1) then put the game out of reach when Jesse Larson scored on a 1-yard run at the end of a 14-play, 66-yard drive that made it 33-12 with 5:25 left in the fourth quarter.
Prairie City quarterback Maison Teel led the Panthers' ground game with 27 carries for 126 yards and completed two passes for 50 yards, but was denied the end zone. Prairie City's touchdowns came on a 1-yard fumble return by Cayden Howard, a 1-yard run by Tucker Wright, and a 7-yard pass from Wes Voigt to Trey Brown.