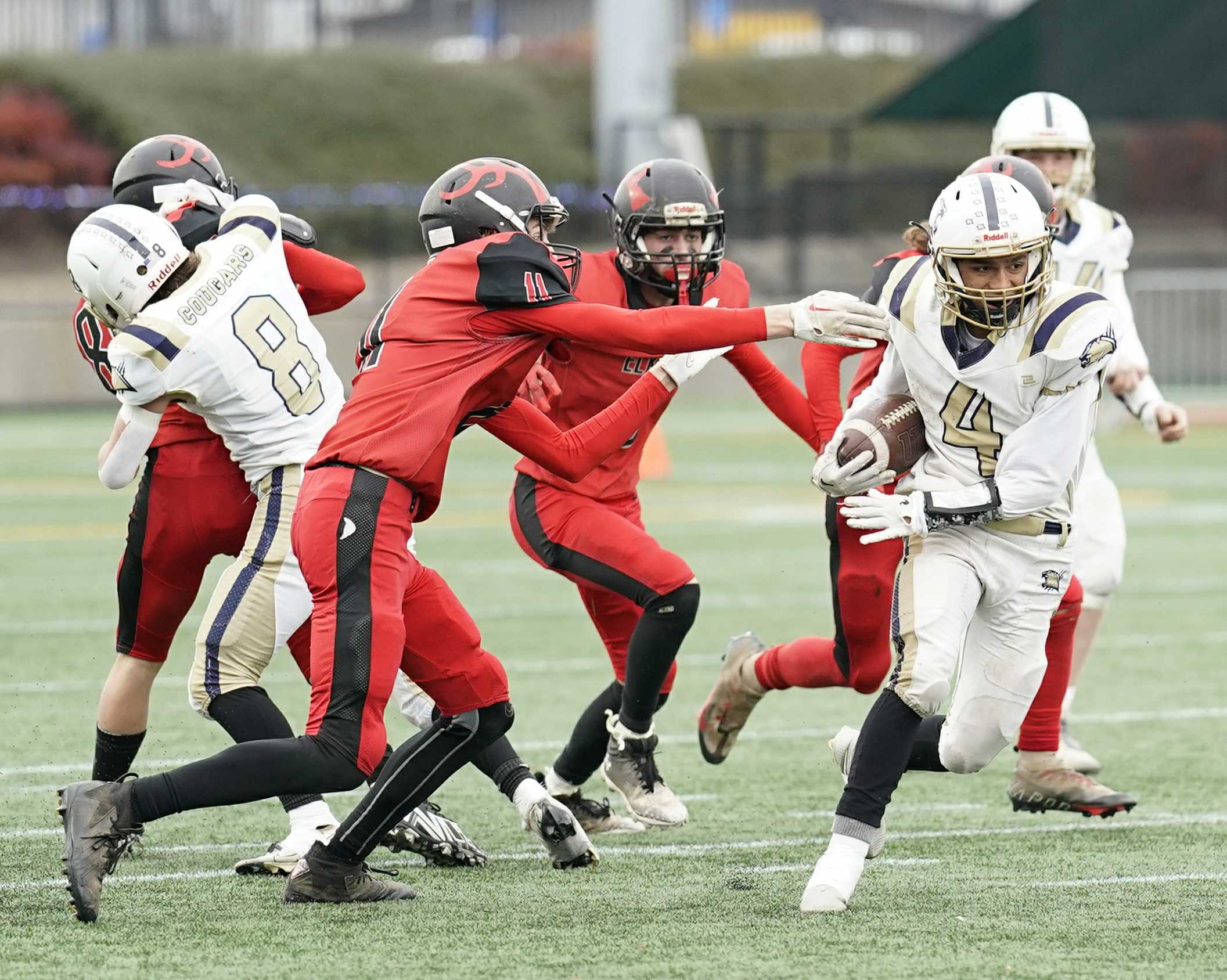 HILLSBORO – The Wyse brothers led the way as No. 10-seeded Echo continued its stunning run through the 1A-6 football playoffs Saturday.
Senior Sam Wyse rushed for 141 yards and two touchdowns on 18 carries and sophomore Kohlvin Wyse completed 8 of 13 passes for 189 yards and one score as the Cougars (8-3) eliminated No. 3 Elkton 34-19 in a semifinal at Hillsboro Stadium.
Echo, which hadn't won a playoff game since reaching the semifinals in 1987, will make its first-ever finals appearance when it meets Joseph.
"I don't know if I would have imagined it, but I hoped that we would get there," Sam Wyse said of making the championship game. "We have the seniors this year, and we have the talent this year."
The Cougars have won seven in a row since opening the season 1-3. In the playoffs, they won road games over No. 7 Alsea and No. 2 Powers.
"We found our style, really," Sam Wyse said. "We just got feeling more comfortable. Once we get going, it's really hard to stop us."
And what is that style?
"Improvisation," he said. "They can't guess our play if we don't know what's next. Just finding open people. We've got fast guys, fill the space, spread it out and make plays."
Echo's surge has coincided with Kohlvin Wyse taking over at quarterback for senior Dom Curiel in Week 4. Curiel, the starter the last two seasons, caught three passes for 107 yards and one touchdown and ran for one score in Saturday's win.
"To get Kohlvin in there and allow Sam and Dom to be outside, and do their thing, that's huge for us," Echo coach Thomas VanNice said. "Kohlvin was nervous last year as a freshman, so he definitely couldn't step up, but he really stepped up this year."
Sam Wyse scored on runs of four and 55 yards in the first half, giving Echo a 14-6 lead. Elkton closed to within 14-13, but the Cougars answered with two touchdowns, a 42-yard pass from Kohlvin Wyse to Curiel and a nine-yard run by Curiel, to go up 27-13.
The Elks (8-2), appearing in the semifinals for the first time since 1981, cut the lead to 27-19 in the final minute of the third quarter on a seven-yard pass from Anthony Alimenti to Jamal Lawton.
But Curiel threw a six-yard touchdown pass to Islic Wade midway through the fourth quarter to restore the lead to 34-19, and the Cougars closed it out.
Echo seemed to thrive on the fast track at Hillsboro Stadium, outgaining Elkton 384-176.
"The last two games, we were playing in absolute mud piles," Sam Wyse said. "Back home, the field's not the best. Getting out here, we flourish, really."
Echo practiced on the artificial turf at Hermiston High School this week to prepare for the game.
"The kids had a blast," VanNice said. "This is a total new experience with turf and everything. It allowed Sam to realize how fast he can be on this field."
The final will be a rematch with Joseph, which beat the Cougars 52-28 in the season opener on the Eagles' field.
"It's going to be a sweet matchup," Sam Wyse said. "It's a mutual respect, but we want to beat Joseph, I can tell you that."
VanNice said of facing Joseph again: "The kids have been asking for it. That's who they wanted."
Alimenti completed 10 of 22 passes for 74 yards and three touchdowns and Jordyn Nederhood rushed for 66 yards on 17 carries for Elkton.