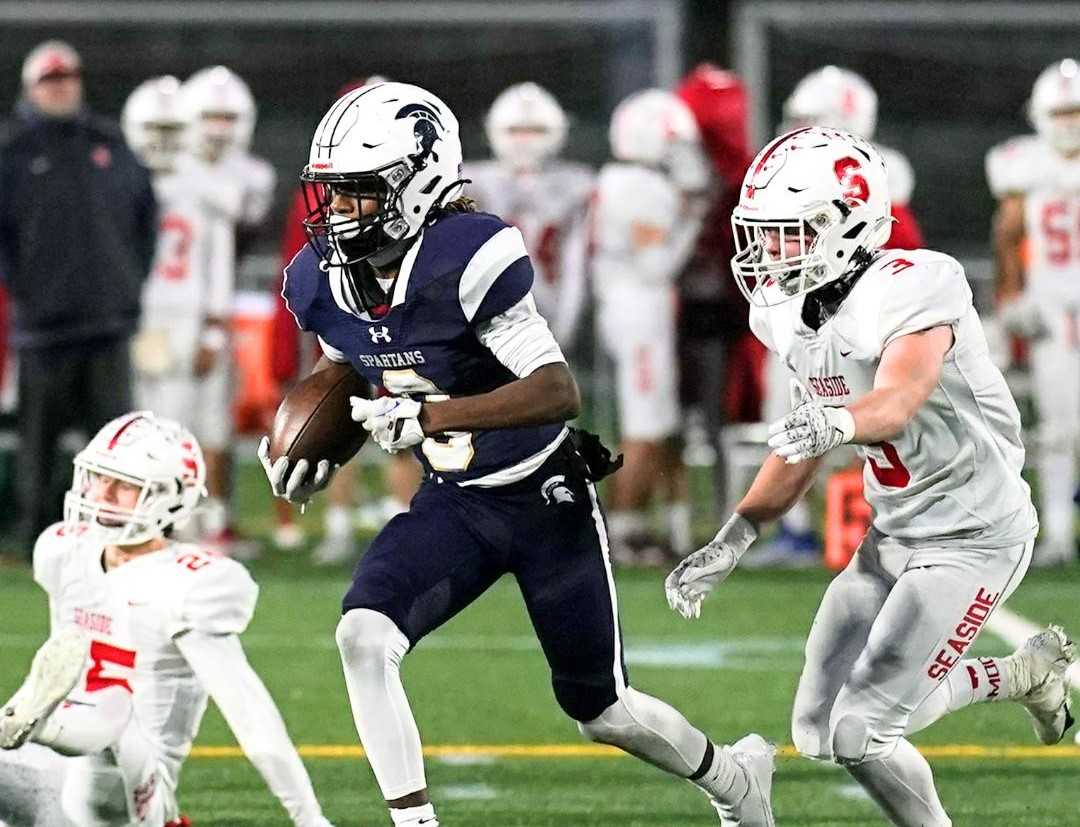 HILLSBORO – Throughout the football season, No. 2 Marist Catholic has dazzled opponents with a precision aerial attack led by junior quarterback Nick Hudson.
Saturday, in a 4A semifinal against No. 3 Seaside at Hillsboro Stadium, the Spartans showed that can find other ways to win, too.
Marist Catholic forced six turnovers and got a season-best offensive performance from senior Dennis Jackson Jr. to turn back the Seagulls 25-14 and advance to its second championship game in three seasons. The Spartans (11-1), playing under first-year coach Charlie Landgraf, will go for their first title since 2009 when they meet unbeaten and top-seeded Henley in the final.
"At halftime, we had a realization that this is like a dogfight," said Marist Catholic senior defensive back Brady Bidwell, who forced a fumble and had a clinching interception. "You've got to be physical, you have to really want it. And the second half, I think something clicked for the whole team where we really, really made a stand on defense, and did the best we could to get the ball back."
The 6-foot-3, 165-pound Hudson, who passed for 3,234 yards and 41 touchdowns through 11 games, completed 19 for 32 passes for 208 yards and one score. After throwing eight touchdown passes in two playoff games, it was a modest performance, but enough to get the job done.
"Every game is not going to be pretty, especially today with the rain and everything," Hudson said. "We just found a way to get through it. Play our game."
Jackson (5-11, 145) came through with a big day, rushing for a team-high 84 yards and one touchdown on 14 carries and catching three passes for 20 yards. He had the highlight of the game, a 65-yard touchdown run that put the Spartans ahead to stay at 14-7 in the second quarter. He also had a fumble recovery on defense with 3:41 remaining.
"He's a speedster," Hudson said of Jackson. "Today I think was his best game. He's played 110 percent so far. He's always high motor. He always runs as hard as he can."
Senior James Harvey and junior Joe Thornton also had interceptions for the Spartans. Junior lineman Dawson Relling forced and recovered a fumble. Freshman Connor Harvey recovered an onside kick.
Marist Catholic extended its lead to 16-7 in the second quarter, recording a safety on a Seaside errant punt snap into the end zone. The Spartans made it 22-7 in the third quarter when Hudson connected with 6-6 senior Kaden Erlenbush for a 26-yard touchdown pass on 4th-and-13.
Erlenbush used his long frame to win a jump ball in the end zone. He finished with seven catches for 87 yards, giving him 64 catches for 962 yards and 14 touchdowns this season.
"We have team chemistry," Erlenbush said of his rapport with Hudson. "We've been playing for a bunch of years. He just knows where to put the ball and I know where to grab it."
Marist Catholic recovered the ensuing onside kick, and junior Christian Guerrero added a 28-yard field goal to make it 25-7 with 4:01 left in the third quarter.
Seaside (8-4) countered with a 65-yard touchdown drive, reaching the end zone on a nine-yard run by junior Jake White, to draw within 25-14 late in the third quarter.
The Seagulls had chances to get closer, but their first two possessions in the fourth quarter ended with turnovers in Marist Catholic territory – a fumble by junior quarterback Zayden Anderson that was recovered by Relling at the 43-yard line, and a fumble by senior Kyler McCleary at the end of a 40-yard catch, recovered by Jackson at the 31-yard line.
Seaside got the ball back with three minutes left, but Bidwell intercepted Anderson at midfield, and the Spartans ran out the clock.
The final numbers were relatively even – Marist Catholic outgained Seaside 294-289 and the Seagulls had a 16-15 edge in first downs – but the Spartans' 6-0 advantage in turnovers was pivotal.
"A lot of mistakes," Seaside coach Aaron Tanabe said. "It happens. You play a good team, you just can't make that many mistakes. The effort was never in doubt."
Anderson completed 9 of 17 passes for 141 yards and rushed for 35 yards on 11 carries. Seaside sophomore Ryder Jackson, who entered with 1,112 rushing yards, finished with 34 yards and one touchdown on eight carries.
The Spartans have won 10 in a row since an overtime loss to Springfield. They are writing a much different ending than last season, when they took the No. 3 seed into the playoffs and suffered a stunning 21-20 first-round loss to No. 14 Gladstone.
"In the summer we realized that all of us had enough talent, we just had to work together as a team," Dennis Jackson Jr. said.
Bidwell – who transferred from Churchill along with his junior brother, Aaron – likes the team's versatility.
"As a defense, you have to pretty much train for everything," Bidwell said. "It's very hard to defend."