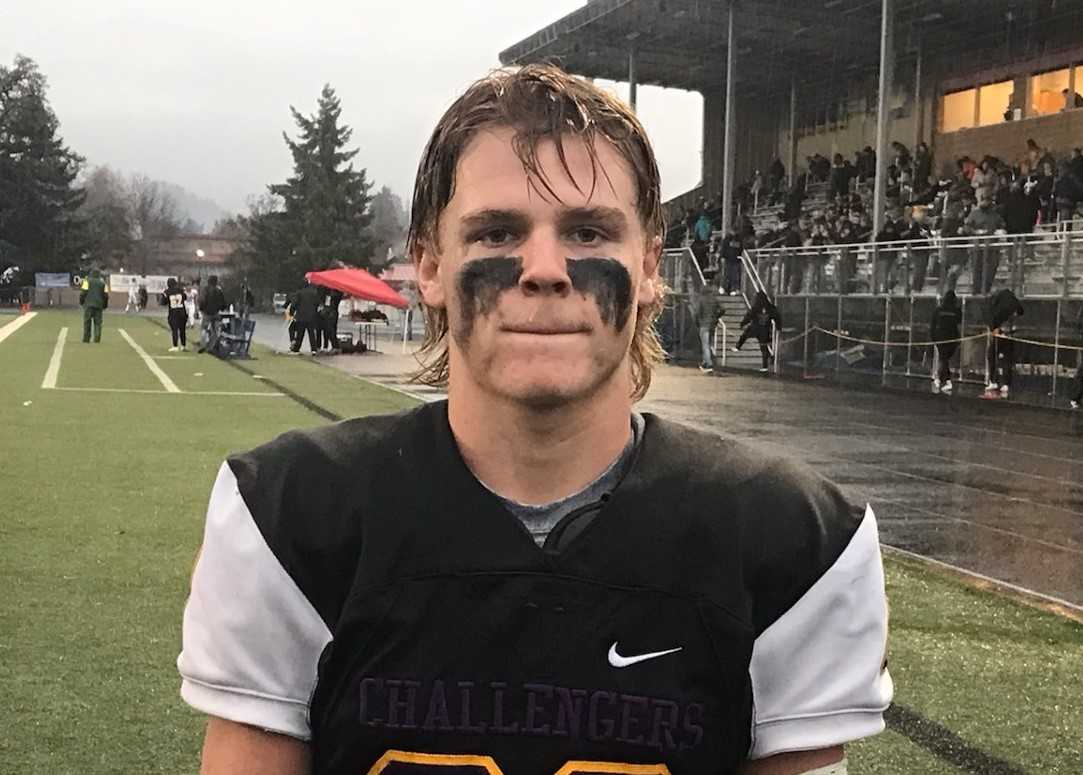 By JESSE SOWA/for OSAAtoday
COTTAGE GROVE -- In a second half filled with offense, Cascade Christian proved to have just a little bit more.
Luke Wilson's 62-yard touchdown run midway through the fourth quarter was the biggest of big plays as second-seeded Cascade Christian held off third-seeded Dayton for a 42-30 win in an 3A football semifinal at Cottage Grove High School.
With his team ahead by six in a back-and-forth contest, Wilson found room around the left side on a fly sweep and sprinted down the sideline in front of his team's sideline to paydirt with 5:28 to play.
"I got the ball and I knew it was a close game so I just had to do what I've got to do. Run hard, shed off one tackle and just kept going," said Wilson, a senior wide receiver and defensive back. "No matter what, trying to go as fast as I possibly could for my team."
The two-point conversion pass fell incomplete, but the Challengers had the game's first two-score lead. From there, Dayton turned over the ball twice on downs.
Cascade Christian (12-0) continued the fireworks that had the defending state champion Challengers averaging better than 45 points a game entering the contest.
Senior quarterback Ashton Moody had 148 yards passing and a touchdown to go along with 136 yards rushing and four more scores for Cascade Christian, which will face the winner of Saturday's later game between top-seeded Banks and 13 seed South Umpqua.
"He just came up with play after play, him and Luke (Wilson) both," Cascade Christian coach Jon Gettman said. "They made plays, blocking on the edge. The offensive line did a great job as well."
Wilson rushed seven times for 115 yards and the score as well as eight catches for 66 yards.
For Dayton (11-1), senior quarterback Boston Hodges ran for 162 yards and two touchdowns and passed for 72 yards. Teammate Zach Smith had 75 yards rushing and a score.
After the teams played to a 14-all halftime tie, the third quarter saw five touchdowns and a total of 38 points on five straight drives.
The teams traded touchdowns to start the second half, on a Moody 27-yard run and an offensive fumble recovery in the end zone by Dayton's Stephen Macias.
Smith carried the ball 9 yards to the CC 3, where it was punched out and ended up in the hands of Macias. The Challengers missed their point-after kick and Smith ran in the two-point conversion for a 22-20 Pirates lead.
The scoring continued with a Moody 4-yard run and Wilson two-point catch, Hodges 1-yard run and Smith two-point run and a Moody 20-yard run followed by Moody's two-point run. All that left Cascade Christian with a 36-30 advantage late in the third.
"You just trust what the kids have put in, the work they've put in and that's really what you go to," Gettman said.
Cascade Christian defeated Dayton 42-20 in a 2022 state semifinal also held at Cottage Grove.
Saturday, Cascade Christian scored first on a Moody 6-yard touchdown run that followed Caleb Scaglione's 57-yard punt return after the initial possession of the game.
Dayton answered with a Smith 5-yard scoring run on the next drive. The two-point run failed, leaving the Challengers with a 7-6 lead.
Cascade Christian then produced four plays of double-digit yards but saw Hodges intercept a Moody pass at the Dayton 7 to end the threat.
Dayton drove 93 yards, with a Hodges 40-yard scamper helping set up his own 2-yard touchdown run.
Cascade Christian turned the ball over on downs after getting as far as the Dayton 13 before putting together a 10-play, 65-yard drive that Peyton Maurer capped with a 34-yard scoring pass from Moody.
The possession was kept alive with a defensive holding penalty on fourth down that negated a dropped pass. One snap later, Maurer was in the end zone with 46 seconds left in the half to tie the game at the break.