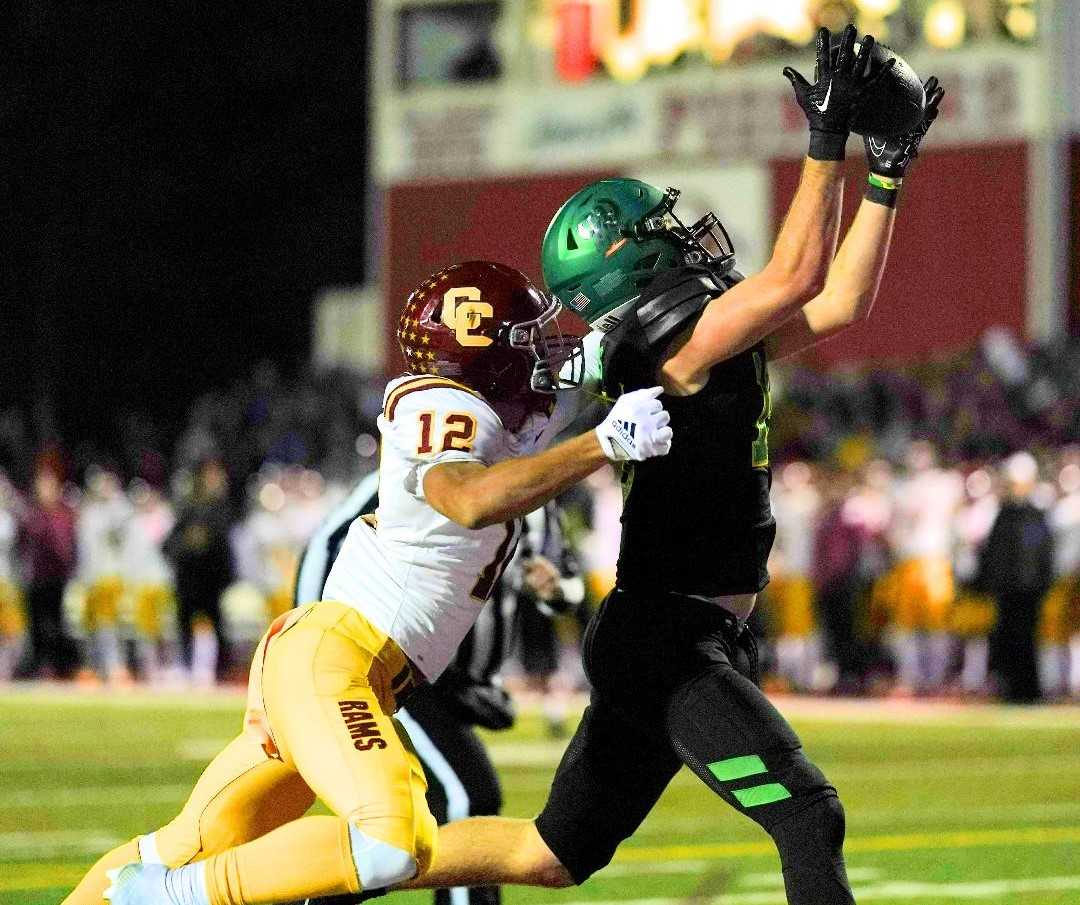 Top-seeded West Linn certainly had no shortage of what-ifs from its heart-wrenching 12-7 defeat to No. 4 Central Catholic in a 6A football semifinal Friday.
Missed scoring opportunities on a deep pass, a 31-yard field-goal attempt and a potential pick-six. Short-yardage failures resulting in a safety and the inability to pick up a key fourth-and-one in the final two minutes. A disputed call on a late onside kick.
The Lions (11-1), who had won all of their previous games by at least 19 points, were left to sort out how their promising season came to a sudden and stunning halt – short of a repeat state championship.
"There are about a half-dozen plays that we'd sure like to get back and try again," coach Jon Eagle said.
All that aside, though, West Linn's inability to establish the run proved to be its undoing. The Lions had 21 rushing yards on 15 attempts, putting a heavy burden on the passing of junior quarterback Baird Gilroy.
"It's hard to win a semifinal game when you have 21 yards rushing," Eagle said. "I thought they did a really nice job of defending our run. They played a very physical brand of ball, and that made it difficult for us. We hadn't had that issue at all during the whole year."
Cade Johnson was tackled for a safety on a play from the 1-yard line in the fourth quarter, giving the Rams a 5-0 lead. And with West Linn trailing 12-7 with under two minutes left in the game, Ryan Vandenbrink was stopped for a one-yard loss on fourth-and-one at midfield.
"We missed something that we would not normally miss," Eagle said of his team's final offensive play. "It was just the way it was. It was not meant to be. We had multiple opportunities."
The Lions could not find a rhythm on offense, finishing with 224 yards. Their time of possession for the game was 13:17, running 43 plays to Central Catholic's 69. Twelve of West Linn's plays came on the game's opening drive, which got to the nine-yard line but ended with a missed field goal.
"In the prior 11 games, we probably had maybe five three-and-outs," Eagle said. "We had three in a row after that first long drive. That first drive, had we scored, I think that would've loosened everybody up. We were moving the ball. Everything that we thought might work was working. We just missed an opportunity there."
West Linn, which made the semifinals for the third year in a row, figures to be a state contender again next season. Among those returning are standout players such as Gilroy, junior tight end/defensive end Baron Naone and freshman cornerback Josiah Molden, who had a brilliant rookie season on defense and will get a chance to play offense in 2024.
The Lions also will get reinforcements from their undefeated JV and freshman teams.
"That's going to be a good team again," Eagle said of next season. "There's a group of kids that just need an opportunity, and they're going to get it next year. It's a good wave of kids coming through right now."
Wildcats back at the brink
With a 34-2 win over Summit in a 5A semifinal Friday, top-seeded Wilsonville has earned a spot in the championship game for the fourth time in seven postseasons.
And the Wildcats (11-1) -- runners-up in 2016, 2018 and 2022 since winning their only title in 2004 – are eager to finish the job this time when they face No. 3 Mountain View (12-0) in the final Friday at Hillsboro Stadium.
"We're starting to turn into the Buffalo Bills of the '90s," said Adam Guenther, the team's coach since 2010. "We're one or two wins away from being a dynasty team. We've got to get that taken care of. Our kids deserve this. They've worked so hard."
Guenther said his players understand the opportunity before them.
"I haven't seen any other team locked in like they've been locked in the last three or four weeks," he said. "They're so far ahead of the game, it's not even funny.
"They're holding each other accountable, like, 'Where's your notebook? Where's your pencil? Dial it in, why are you late?' Kids are patrolling the kids. It's absolutely awesome to watch."
Guenther said that the players are carrying the flag for those teams that fell short. Many of those players have stayed in close contact with the Wildcats, and three of them are coaches in the program: Noah Ochs, Chance Hansen and Draco Bynum.
"We're kind of like the mafia. You don't get to leave the family," Guenther said. "Once you're in, you're always in."
Since losing to 6A finalist Tualatin in Week 3, Wilsonville has put together one of the most dominant stretches in program history. The Wildcats have won nine in a row by an average margin of 34.6 points, outscoring their three playoff foes 125-30.
"Every week we want to prove where we are, and that's where we belong," Guenther said. "And this is the last step."
Hornet 'legacy'
Henley coach Alex Stork is hoping to do something last accomplished by his wife's grandfather -- lead the Hornets to a state championship.
Top-seeded Henley (12-0) beat Scappoose 42-13 in a 4A semifinal Saturday to secure its first finals berth since 1982. That's when Lee Schroder coached a team that featured Olympic decathlete Dan O'Brien to a 21-8 win over Phoenix in the championship game.
Schroder, the grandfather of Stork's wife Makena, went 63-25 as Henley's coach from 1978 to 1986. He compiled a career record of 112-56 in 18 seasons as a head coach in Oregon, including stints at Lost River (1970-73) and Mazama (1987-91).
"He's very well remembered. He has a strong legacy," Stork said.
Stork said he talks with Schroder at least once a week. Schroder is home-bound but has been watching the team's games online.
"He's given me a lot of great wisdom the last few years as we've progressed to get to this point," said Stork, who is 49-19 in seven seasons at Henley. "He's given me a lot of great advice. He was really ahead of his time with a lot of the stuff he did, just the approach to games, how to prepare."
Stork said he has "a lot of good connections" with former Henley players from Schroder's era.
"They come to games and text encouragement," he said. "When I see them, they definitely like to share stories of their teams and the playoff runs."
Stork played at Klamath Union, where he was Skyline Conference defensive player of the year as a linebacker, before helping lead Southern Oregon to the NAIA national title in 2014.
Stork was a college teammate of Gannon Schroder, Makena's brother. He met her for the first time at the national championship game in Daytona Beach, Fla.
"Football really connected us," Stork said.
Makena's father, Rick Schroder, was a standout at Klamath Union and played linebacker at Oregon. Rick passed away Oct. 29 but was following the team "as much as he could," Stork said.
Henley will play No. 2 Marist Catholic (11-1) in the state championship game Saturday at Caldera High School.
Red Devils respond
Despite a health scare for sophomore quarterback Carter Harris that resulted in a 45-minute game delay, third-seeded Lowell was able to refocus and eliminate reigning champion Oakland 32-18 in a 2A semifinal at Willamette High School on Saturday.
With the score 6-6 in the second quarter, Harris scrambled and hit his head on the turf on a tackle. He laid motionless as he was treated by medical personnel, who put him on a backboard and kept him immobilized. He was taken by ambulance to a nearby hospital.
"It kind of scrunched his neck back into his shoulders," Lowell coach Ray Yarbrough said. "There was a lot of fear there. He never got knocked out. He was talking, he was alert.
"They got him in and did some scans, and everything came back normal."
When the game resumed, Lowell took the lead for good on a nine-yard touchdown run by junior JaMar Thurman. It was one of five scores for Thurman, who rushed for 184 yards and four touchdowns on 17 carries and caught three passes for 71 yards, including a 56-yard score from his senior brother, Justus, the backup quarterback.
The 5-9, 170-pound JaMar Thurman, the state's leading rusher with 2,687 yards and 41 touchdowns, elevated his play in the absence of Harris, according to Yarbrough.
"That kind of left it on JaMar's shoulders," Yarbrough said. "I think JaMar stepped it up to a level we hadn't really seen in quite a while. He just went from being a really fast kid out on the edge to, he lowered his shoulder pads and knocked some kids over, broke some tackles, played very physical football."
Freshman guard Tyler Harris, Carter's brother, opted to stay in the game and helped the Red Devils (11-1) defeat the second-seeded Oakers (10-2).
"I can't say enough, just the way they responded," Yarbrough said of his players. "It's hard. When you face adversity like that, you can fold up in a fetal position and give up, or you can keep battling. Our kids chose the latter. I think it was a rallying point for them."
Lowell will play in the championship game for the first time in school history when it meets No. 1 Weston-McEwen/Griswold (11-0) on Saturday at Hillsboro Stadium. The TigerScots handed the Red Devils their only defeat this season, 25-23 in Week 3 at Sherman County High School.
Yarbrough said Carter Harris' status for the game will be evaluated after he is examined this week.