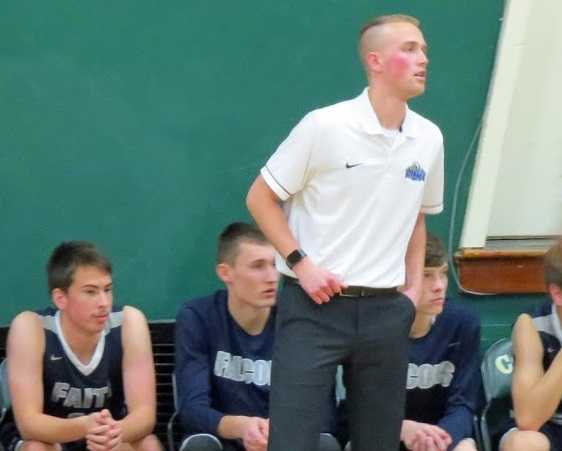 On the surface, Faith Bible's boys basketball game at Colton on Tuesday seemed like an ordinary 2A nonleague matchup.
It was anything but ordinary for the coaches, however.
On one bench was second-year Faith Bible coach Joey Chapman, 21. On the opposite bench was his father, first-year Colton coach Dan Chapman, 39.
"We figured now that we're both in 2A, it would be cool to schedule each other," Joey Chapman said. "It was a pretty awesome experience, for sure."
This time, the son got the better of the father as Faith Bible pulled away late to win 62-54. The Falcons improved to 2-1 and the Vikings slipped to 1-2.
It was a special night for the Chapmans and their family and friends.
"There was a little family rivalry. We were trying to see who could get the most family members to wear their school's colors," Joey said. "It was pretty awesome to see most of our family show out for it and wearing the Faith Bible and Colton gear. In the end, it was all good fun."
Dan called the game a "bittersweet experience."
"I'm so proud of him and everything he's accomplished, and to be able to share that," Dan said. "We were coaching against each other, but it was kind of a cool night for us. Basketball's been something that we've worked together with. I've coached him since he was a little guy. It was pretty awesome."
Dan played high school basketball at McMinnville, where he graduated in 1997 on the day after the birth of Joey, the oldest of his four children. Dan coached Joey and his two other sons in youth basketball and got his first taste of high school coaching as an assistant for the girls team at Yamhill-Carlton the last two seasons.
Joey was an assistant coach for the boys team at Yamhill-Carlton during his freshman year at Linfield, then spent his sophomore year playing for Crown College, an NCAA Division III school in Minnesota. He returned to Oregon and landed the job at Faith Bible last year.
Dan desired to coach boys basketball, and the two discussed joining forces at Faith Bible, but Dan ultimately accepted the head coaching position at Colton.
"Our styles are very similar," Dan said. "The biggest thing we both do, I feel, is we relate to our players. It's more than just basketball, winning or losing.
"Sometimes I give him a bad time because I feel like he should still be playing in college. But he definitely loves the game, and you can tell that with the way he interacts with his guys. He's got a lot of passion and knowledge for basketball."
Joey said it was "kind of weird being on the other side" of his dad Tuesday.
"I didn't look at their bench, didn't acknowledge their coach," Joey said. "There were times when I had to peek over, try to sneak a look at what he was trying to do, but overall, we were just trying to keep it a normal game."
The two don't hold many basketball secrets from each other.
"I knew exactly what he was doing, and he knew what I was doing, for the most part," Dan said. "Of course, we were trying to put a twist on it to throw each other off. I'm in my first year, so I've had four weeks with this group, and he's in his second year. I told him that if we played this game in two or three months, it's going to be a different story."
Joey put Tuesday's result in perspective.
"At the end of the day, if it wasn't for him, I wouldn't have known how to coach," Joey said. "So it's kind of a victory for him, even though his team had the loss."