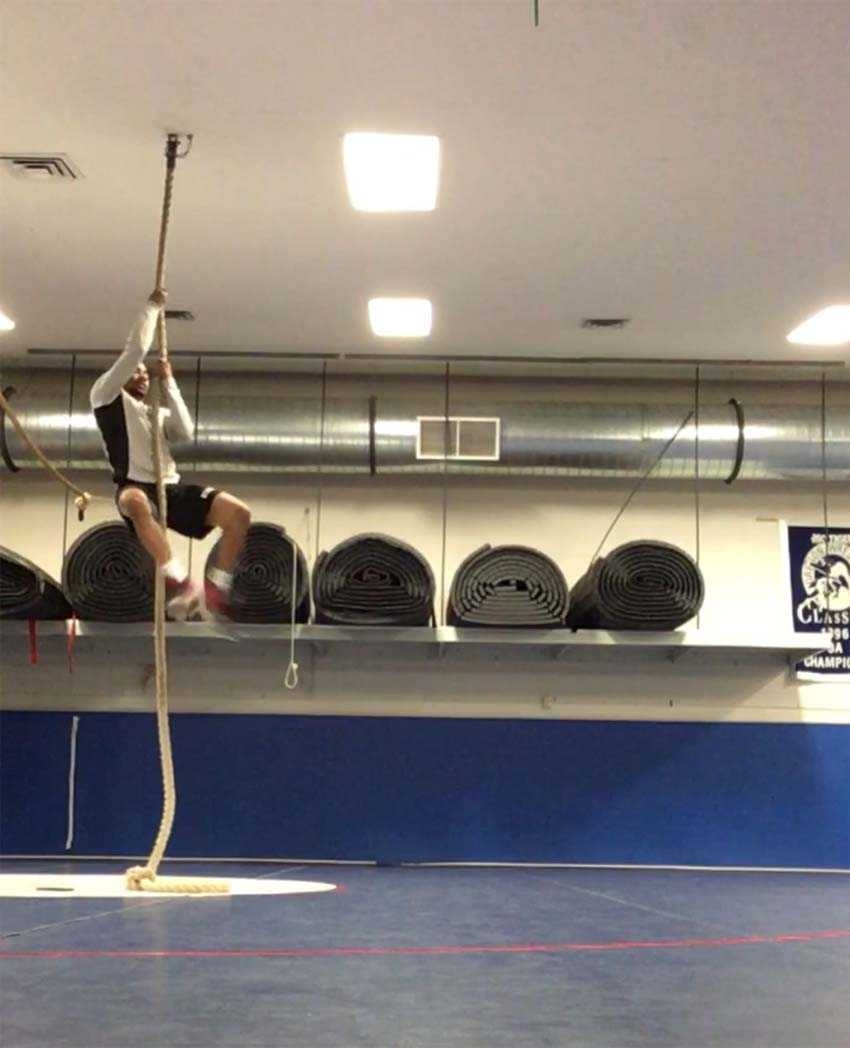 This is "Wrestling Notebook," a periodic look at news and items of interest from across the state in the fabulous sport of wrestling.
***
Elmira HS (4A) is very young, with more than half of its wrestlers in the freshman and sophomore classes.
"We are young and lack experience but work hard on the mat and get better every day," said coach Dusty Birchfield.
Last week, the Falcons competed at the Perry Burlison Wrestling Classic, a 26-team boys field and 14-team girls field at Cascade.
Four girls finished among the top four in their respective divisions: senior Elva Zhao (100 pounds) and freshman Liberty Barklow (105) both won. Senior Destiny Ruppert took second at 155 pounds, while freshman Anna McDougal placed third in the 170-pound class. The best boys finishers were freshman Nat Brown, who took third at 195; and senior Hunter Davis, a fourth-place finisher at 132.
Crook County, the top-ranked 5A team in the state in the OSAAtoday pre-season coaches poll, won the boys event, with Sweet Home (No. 1; 4A) second and Crescent Valley (No. 6; 5A) third. Thurston won the girls event.
Sweet Home started its season two days before with three convincing wins at the Dick Weisbrodt duals in Lebanon. The Huskies have gotten strong early-season efforts from Hayden McDonald at 170, Travis Thorpe at 152 and Jackson Royer at 138.
***
Three years ago, the Wallowa (1A) wrestling program had fallen to one wrestler. A co-op with Joseph HS resulted, which at least gave the young man the opportunity to wrestle someone in practice.
Last year, three Wallowa boys joined the team of seven total, five of which went to State. This year, the team is up to 11: six from Wallowa and five from Joseph. The program is gaining momentum.
"I am looking forward to what next year brings," said head coach Tim Kiesecker.
***
West Linn, No. 7 in the 6A coaches poll, won the David Douglas Tournament last Friday, defeating highly-touted and No. 3 David Douglas in a semifinal before knocking out Centennial in the final. Two-time reigning state champion Sean Harman and senior Kaden Goff both won three times in dominant fashion for the Lions. Phillip Kue, a two-time state champion himself, impressed for second-place Centennial.
***
Last night, Sandy, which moved up to 6A this season and had its very first league dual in the Mt. Hood Conference, also edged David Douglas by a 40-32 score. The 120-pound match, which featured two girls in the varsity lineup, was a highlight, with Sandy's Kendall Martin getting the win by fall over Rania Abdul Wahed.
"We are kind of in a rebuilding mode after graduating deep lineups the last two seasons," said Sandy coach Larry Topliff, whose teams was just outside the top 10 in the pre-season poll. "Our numbers are pretty low, hovering around 30 athletes. Still, our team came together, showed a lot of heart, and came away with a big upset."
***
Phoenix HS (4A) has a staff of four coaches working to climb the height of Mount Everest, 12 feet at a time, as a challenge to the team. The coaches are climbing a rope and will each need 2,419 climbs to reach the summit. The coaches were hoping to complete the task by the state tournament but now realize that spring break is more realistic…
***
Santiam, No. 10 in the 2A/1A poll, competed at the Devon Dawson Tournament at Harrisburg without several of its wrestlers, who were coming off of competing in the 2A state championship football game the weekend before. Tyson Patton shined for Santiam, placing third at 106. Zack Mitchell had three pins and only lost once at 152. Two freshmen, Jimmy Beck (113) and Travis Elsenraat (126), also acquitted themselves well.
***
Senior Pat Shawver, who placed third at state last year for Siletz Valley HS (1A0, is working hard to become the second state champion in school history, following in the footsteps of Isaac Butler, who was the first last year, winning at 182 pounds. Shawver placed second at 182 last weekend at the Devon Dawson Tournament. He may stay at that weight or drop down to 170.
***
Hood River Valley (5A) will have a "Pin Chain" for the second straight year. The Pin Chain goes to the person who pins in a dual and then is handed off when the next person earns a pin. The last in the dual to earn a pin gets the chain until the next event.
***
Mazama HS (4A) wrestled its first tournament of the season on Saturday at the Dan Vidlak Invitational at Hidden Valley HS. The Vikings had a terrific early-season showing from a from a young team missing a few key pieces. Dominic Hankins finishing as the champion at 220, with Kyler Pemberton (113), Jullin Gardner (160) and Chadow Rivera (195) all finishing second as the team took third-place overall.
***
Woodburn HS (4A) has more than 50 wrestlers on the mat each day. The Bulldogs hired a professional female MMA fighter, Amanda Bell, the "Lady Killer," to be their girls coach and she is getting more girls into the wrestling room.
"She has been in 10 professional fights and brings a tough and competitive mindset with her," said head coach Dusty Price. "She also relates well with these athletes and is a great role model. Though most are new to the sport, these girls are gritty and getting better every day."
***
Westview went 3-0 at the Hillsboro Invite last week. Jonah Walker (113), Joey Coste (138), Tyler Zekula (170) and Omar Blas (285) won all their matches for the Warriors, who are No. 10 in the 6A poll.
Tomorrow and Saturday, the Wildcats will host the Rose City Championship, which features 35 teams from Oregon and Washington, including 12 ranked teams from the Beaver State. The finals will take place at approximately 5:30 p.m. on Saturday. For more information, go to http://rosecitychampionship.com.
***
What's up with the Elephant?
Redmond Wrestling has a silver elephant statue they've nicknamed "Funk," which will travel with them as the team mascot both on and off the mat.
***
The other big meet this weekend is the Coast Classic in North Bend, an event in its 33rd year. Thirty-six teams will attend, including Cascade Christian (3A), one of the few smaller schools represented. The Challengers expect strong performances from returning state champion Gabe Vidlak (120), who won his weight class at the Coast Classic a year ago; as well as Cody Havniear, who finished sixth at state in 2018 at 132.
Cascade Christian also has a wrestler on the JV team with a unique story. He is Jorge Garcia Gutierrez, an exchange student from Nicaragua, who two weeks ago never even knew there was a sport of wrestling.
"He loves it!" exclaimed head coach Dan Vidlak. "He is very athletic and we are excited that he is learning such a great sport. Jorge says it's hard work but very fulfilling!"
***
Harrisburg HS (3A), the No. 2 team in the 3A pre-season poll, has five seniors this season, four of whom have together in the school's mat club since elementary school. They are Dax Bennett (Kindergarten), Riley Suttles (Kindergarten), Mason Rouillard (second grade) and Chance Hendrickson (third grade). All four were coached by the mat club coach, Bill Bennett, who ran the club from 2002-2014.
Harrisburg's head coach, Desmond Bennett, said the team is on the right track early in the season with great attendance, attitude and effort from the entire squad.
"Last season [with no seniors], we lacked a leader," he explained. "This season we have multiple leaders who are pushing each other in practice every day, showing up every day and talking about their individual goals and their goals for the team. We only have 11 wrestlers on the team and seven of them have a goal of being a state champion or making it into the state finals, a goal that I believe is very realistic."
Harrisburg also thinks that making a push for its first team title is realistic, though it will be tough with such low turnout numbers. The four wrestlers noted above will lead the way along with sophomores Russell Talmadge (106) and Chandler Strauss (170), juniors Jimmy Holland (120) and Leithan Briggs (195) and senior Brynden Bevins (145).
***
We hope to produce wrestling notebooks on a regular basis. Head coaches with results or other matters of interest to report are encouraged to email John Tawa at [email protected].