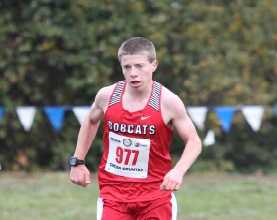 For the past decade, Class 2A Union has been the dominant force in small-school boys cross country, racking up five Class 3A/2A/1A championships in an 11-year span.
But Union coach Steve Sheehy knows that many other small schools have had a difficult time competing for team titles because of the enrollment disparity within the classification.
So Sheehy is behind the OSAA's move to split the small schools into Class 3A and Class 2A/1A divisions this season -- necessitated by 3A meeting the minimum threshold for full teams -- even if it means that his team is likely to see lesser competition at the state meet.
"I'm in favor of it," Sheehy said. "We've been lucky over the last few years that we've been very, very competitive on the boys side. But it's not going to be that way forever for us."
The Class 3A/2A/1A division has averaged 70 full teams in the last three seasons, with runners from about a dozen or more other schools also competing. This season, Class 3A will have 33 teams, with the rest competing in Class 2A/1A.
Sheehy said it was a necessary change.
"You could argue that a runner from a school that has 50 students has just as good of a chance as a runner from a school of 400, but for the team aspect of the sport, I think it's more equitable to have a division with a smaller number of schools," he said.
Union still can compete against top competition at regular-season invitationals.
"It's not like we don't get to compete against those bigger schools during the year," Sheehy said. "We'll get to go to meets every week where we see schools larger than us. So we'll take a shot at beating those schools then. We're happy to, and we'll do our best, for sure."
Union once again appears to have an excellent lineup this season. The Bobcats graduated the reigning state champion in Alex Graffunder, who is headed to Oregon, but bring back the runner-up in senior Tim Stevens as well as other top placers in senior Jack Silveira (15th) and junior Andrew Lackey (25th).
Stevens is primed for a big season.
"He's arguably one of the best runners in any classification," Sheehy said. "It would be really, really nice to see him run against the best competition he can get. He can compete at the 6A level, I really think."