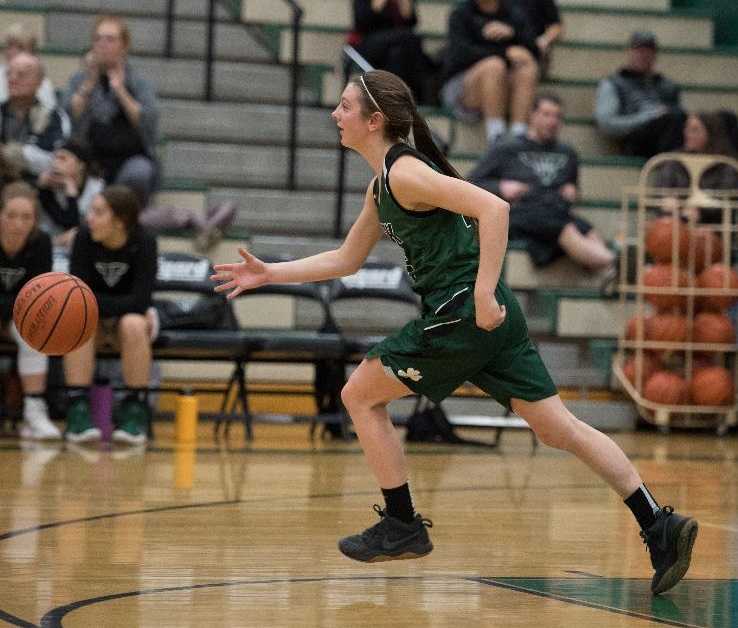 GIRLS
Friday
Sheldon 77, Clackamas 71: Sophomore Olivia Pierzina had 21 points, 11 assists and four steals and Aly Mirabile added 19 points, including 10 in the fourth quarter, as the seventh-ranked Irish (6-1) held off the host Cavaliers. Payton Mongelli and Kalani Hayes scored 20 and 18 points, respectively, for Clackamas.
Blanchet Catholic 55, De La Salle North Catholic 26: Hailey Ostby scored 18 points and Ana Coronado had 15 points for the visiting Cavaliers, who pulled away in the third quarter by holding the Knights to two points. Chevelle Boyd scored nine points for the Knights.
Central Catholic 64, McNary 48: The Rams got their first win of the season after four losses, beating the Celtics at home behind 22 points and eight rebounds from Marianna Payne. Abigail Hayley scored 20 points for McNary.
Portland Christian 51, Knappa 34: The Royals improved to 6-2 by beating the visiting Loggers in a 2A Northwest League game. Carly Brunner scored 15 points for Portland Christian. Sophia Carlson had 22 points for Knappa.
North Marion 50, Banks 49, OT: Mar Verastegui scored 13 points and Mya Hammack and Katie Ensign added 12 points each as the Huskies held on in overtime. Aspen Slifka led Banks with 24 points.
Ridgeview 58, Summit 54: The Ravens rallied from a 12-point deficit in the fourth quarter, getting a game-high 20 points from 6-1 junior Rylee Troutman. Summit's Healy Bledsoe had 16 points, 10 rebounds four blocks and five steals before fouling out in the fourth quarter.
St. Mary's Academy 69, West Salem 61: Abby Graham had 24 points and 12 rebounds and Marley Johnson had 16 points and seven rebounds to lead the Blues to the home win over the Titans. St. Mary's Academy trailed 36-32 at half but pulled ahead for good in the fourth quarter. The Blues also got 13 points from Anna Eddy and 13 rebounds from Mya Brazile.
"This was one of the best overall team performances I have been a part of," St. Mary's Academy coach Dewey Taylor III said. "We got so many contributions from multiple players, and I enjoyed seeing our squad buy in, playing for one another."
Wednesday
Sheldon 63, Hillsboro 34: Aly Mirabile scored 16 points and Lauren Rygg added 14 points and nine rebounds for the Irish, who led 34-8 at halftime. McKenna Porter led the Spartans with 10 points.
BOYS
Saturday
McNary 50, Hillsboro 36: After trailing 18-17 at half, the Celtics outscored the young Spartans 22-8 in the third quarter to take control. Sophomore wing Nate Meithof led McNary with 21 points. Hillsboro's Logan Jackson, a 6-4 freshman, led his team with 14 points, making 4 of 6 from three-point range.
"Hanging with a top notch 6A team is a feather in our cap," Hillsboro coach Mark Ganter said. "I know for a fact that McNary will be in the state tourney. This just gives us something to build on.
Trinity Lutheran 48, Klamath Union JV 41: Matt Eidler had 22 points and eight rebounds and Scooty Gilbert added 11 points for Trinity Lutheran, which led 29-17 at half. Klamath Union's Aaron Franklin made four three-pointers and scored 17 points.
Triad 38, South Medford JV 37: Ethan Moritz scored 12 points and Micah Young and Gabe Smith added eight points apiece as the Timberwolves beat the Panthers in the final of the Triad Holiday Tournament. Triad led 24-13 at half before South Medford rallied. Brayden Wente scored 10 points for the Panthers.
Friday
Wilsonville 66, West Linn 62: The Wildcats, ranked No. 1 in 5A, rallied from an 11-point halftime deficit to beat the Lions, ranked No. 6 in 6A, to improve to 4-0. Junior Keegan Shivers, coming off a knee injury, led the Wilsonville with 17 points and senior Jack Roche had 15 points and nine assists. Micah Garrett had 20 points and Oreon Courtney 17 points for West Linn (1-1).
Wilsonville holds a 4-2 edge over West Linn in the intradistrict series.
"West Linn is very, very good, so to hold our own with them was an achievement for us," Wilsonville coach Chris Roche said. "Hopefully we are excited but hungry to get better, because there are a ton of things we can do better.
"It was a fun environment for sure. West Linn is going to win a bunch of games, they are very hard to guard. I'm proud of our kids. Now the goal is to stay hungry to get better every day."
Mountainside 65, Centennial 56: The visiting Mavericks went on a 23-6 run to end the game, overcoming an eight-point deficit. Nzube Mekkam had 12 points and six steals, Alex Roman had 12 points and Mitch Rose added 10 points and eight assists for Mountainside. Jimmie Barton and Tommy Anderson scored 14 and 13 points, respectively, for the Eagles.
Silverton 54, Central 46: The Foxes improved to 2-0 in the 5A Mid-Willamette Conference as David Gonzales had 18 points, Josiah Roth had 15 points and 12 rebounds and Levi Nielsen added 14 points and 11 rebounds. Central got 16 points from Brendan Lesmeister.
Triad 41, Henley JV 35: Ethan Roe and Ethan Moritz scored 14 and 13 points, respectively, to lead the Timberwolves in the opening game of the Triad Holiday Tournament. Triad led 21-11 at half and Henley cut the margin to 29-26 after three quarters.
Trinity Lutheran 65, Pacific 41: Scooty Gilbert scored 19 points, making all nine of his free throws, and Matt Eidler added 16 points, seven rebounds, five assists and five steals for Trinity Lutheran, which took control with a 29-point third quarter, getting 15 points from Gilbert. Sean White led reigning 1A champion Pacific with 12 points.
North Douglas 56, Lowell 33: Cal Parks had 17 points and 10 rebounds and Jake Gerrard added 12 points and 10 rebounds for North Douglas, which bolted to a 15-0 lead and never looked back. Gino Martini had 12 points for Lowell.