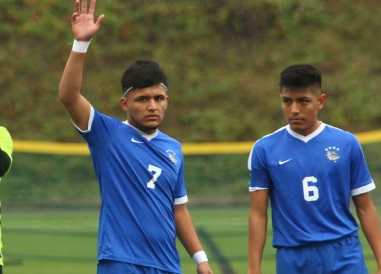 Woodburn's boys soccer team has owned Class 5A in the last decade, winning five state championships since 2010, including the last two.
If the Bulldogs had their way, they probably would take their chances in Class 6A. Instead, they are ticketed for Class 4A, where they will be overwhelming favorites this season.
"It's not necessarily a move I wanted, but it's something I can't control," coach Leroy Sanchez said.
The Bulldogs have been dominant, but other Woodburn teams have struggled in Class 5A, enough for the school to meet the OSAA's criteria to play down one classification. Woodburn opted to make the move and join the Class 4A Oregon West Conference.
"It's more of a school move for the programs to be successful as a whole, and kind of get Woodburn going in other areas," Sanchez said.
The Bulldogs, who return all but two starters from a team that finished 15-2-2, will be a force. But they should face some resistance in the Oregon West, which includes reigning Class 4A champion Newport and runner-up Stayton. Sanchez mentioned Seaside of the Cowapa League and Marist of the Sky-Em League as other threats.
"I look at it like, if Woodburn can compete with the top teams in 6A, I think there are probably a few top 4A teams that could come up to 5A," he said. "You've got some teams that are going to be coming at us. So I don't want my boys to think that this is going to be a walk in the park. This is something they're going to have to work for."
Sanchez knows his team will wear a giant target.
"Every team we play, it's going to be, 'We're playing the 5A state champs,'" he said. "Our boys have to be ready for that pressure. It's win a state championship or it's not a good season for us. That's kind of how we're seeing it."
Woodburn brings back its top two scorers in seniors Jesus Rodriguez and Salvador Perez. The team's backline of seniors Jairo Aguirre, Pedro Hernandez and Jose Ortiz and junior Riley Menezes returns, as does junior goalkeeper Isaac Pureco.
"We should be pretty strong. We're coming in hungry and ready to go," Sanchez said. "The pressure is on, no matter how you look at it."