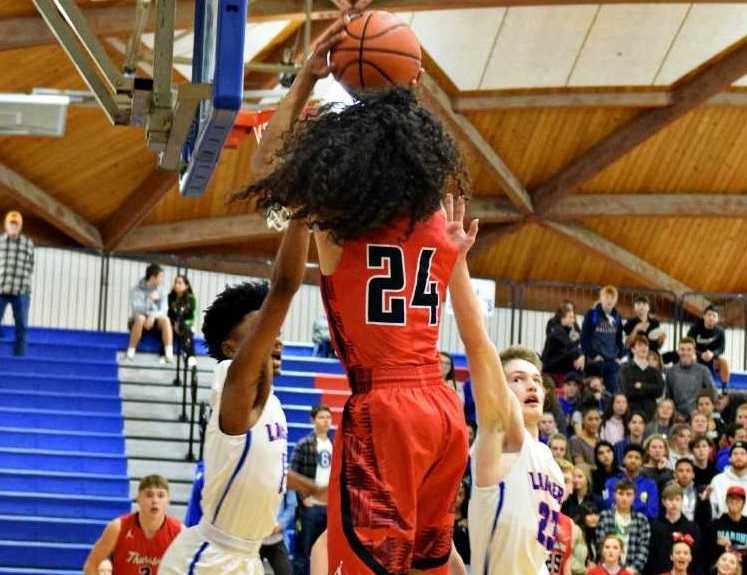 EUGENE -- Second-ranked Churchill used constant defensive pressure and early up-tempo offense to take down top-ranked and reigning 5A champion Thurston 62-55 in a Midwestern League boys basketball game Tuesday night.
Host Churchill (6-0, 2-0) capitalized on a balanced scoring attack from juniors Brian Goracke (24 points) and Silas Bennion (23 points). Junior Isaiah Wallace chipped in 10 points for the Lancers.
The game started with Thurston senior Mason Miller blocking a driving Churchill layup attempt into the first row of the bleachers. That play would go on to foreshadow not only the back-and-forth nature of the game but also the relentless pressure the Lancers would put on the Colts (6-1, 1-1) throughout the game.
Miller would go on to score a hard-earned 18 points as he faced constant double- and sometimes triple-teams from a myriad of Churchill big men.
Upon coach Kelly Bokn's constant urging, Churchill kept attacking, taking an 18-12 lead at the end of the first quarter. The pressure on both ends of the court was spearheaded by Bennion, who held Thurston senior guard Isaac Lange, a first-team all-state selection last season, to 21 points. Like Miller, though, many of Lange's points were scored while facing double-teams.
Down 35-26 at half, Thurston came out in the second half looking to match Churchill's energy and closed the gap to 46-44 on a Miller bucket with 35 seconds left in the quarter. Less than 10 seconds later, though, Bennion would stretch the lead back to five on a driving three-point play to make it 49-44 heading into the final eight minutes.
The Colts, who shortened their rotation to only six players for this game, would make one more push in the fourth quarter, pulling within 58-55 on a Miller-to-Lange alley-oop with 2:10 left in the game.
From there, Churchill was content to run as much clock as possible and win the game at the free throw line. When 6-4 junior Kaelan O'Neil sent Thurston forward Cade Crist's shot into the first row of the bleachers with 0.2 seconds left in the game, it was a seemingly appropriate finish to a contest that will resume for Part 2 when the teams meet again on Jan. 29.