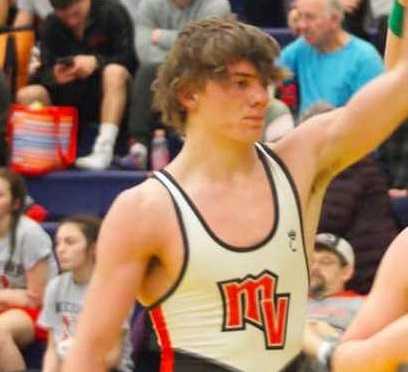 The Ohlson brothers helped lead the way as Mountain View won the 19-team Adrian Irwin Memorial Wrestling Tournament last weekend at Ridgeview High School in Redmond.
Junior Beau Ohlson, a two-time 5A champion, took the title at 147 pounds in his first action this season after recovering from a broken thumb. Junior Blake Ohlson improved to 15-0 with four wins at 197.
The Cougars also got titles from sophomore Tyson Oliver (122 pounds), junior Carson Fassett (162) and senior Colton Burkhardt (172) to amass 307 points, outscoring Redmond (291.5), Grants Pass (235), Burns (228) and Culver (214.5) for first place in the two-day event.
It was a positive early result for Mountain View, which is moving up to 6A after finishing fourth in the 5A tournament last season, the team's first trophy. The Cougars prevailed despite missing key depth due to illness and injuries.
"To be honest, because we weren't at full strength, I was pleasantly surprised," Mountain View coach Les Combs said. "Redmond is a quality team. They've got some great wrestlers. They were a little deeper than us. We did so well on the front end with all the kids in the finals that it kind of carried the day for us."
Beau Ohlson had an impressive summer in which he placed seventh in freestyle at Junior Nationals but suffered a broken thumb in September while boxing with his brother. Finally cleared to practice last week, he competed for the first time in four months and pinned all five of his opponents, including Burns junior Dawson Williams in the final.
"I really thought it was going to set him back, but he looked so good this weekend, I think he's going to be fine," Combs said. "He wrestled great. He didn't miss a beat. He had a lot of wrestling under his belt, all the way through August."
Combs said the "real test" for Beau Ohlson will be this week when Mountain View competes in the Sierra Nevada Classic in Reno.
"If he isn't in the top three or four in this tournament, I would say it probably set him back a little bit," Combs said. "When you go to a big tournament on the West Coast and there are 80 schools, there are going to be a lot of good kids."
Blake Ohlson, who placed at 132 and 145 his first two seasons, has pinned 13 of his 15 foes this season despite moving up about 50 pounds. He was challenged in his last two matches Saturday, beating Harrisburg junior Leithan Briggs 9-6 in the semifinals and Culver senior Cylus Hoke 6-3 in the final.
"He had to go through two pretty tough kids," Combs said. "He didn't pin them, but they were real quality opponents."
Blake Ohlson -- a fraternal triplet with Beau and sister Taylor, a member of Mountain View's girls wrestling team -- had a major growth spurt this year after being hospitalized with a respiratory illness in the spring, when mold infested his home.
"The moment he got into a new house and got off the medication, his body just said, 'OK, I'm going to grow,'" Combs said. "He just exploded. He's a big, huge, thick kid. He went to 190 almost instantly and probably grew a couple inches."
Oliver picked up the first tournament win of his career by beating freshman teammate Nate Jones 6-3 in the 122 final. Fassett improved his record to 14-0 by defeating Madras senior Victor Torres 15-8 for the 162 title. And Burkhardt, a transfer from Crook County, went to 16-0 with an 8-0 decision over Redmond senior Clayton Elrod at 172.
Reeses lead Jaguars
Century senior Loudyn Reese (195), sophomore Broderick Reese (285) and junior Uriel Rodriguez (138) had pins in championship matches as the Jaguars won five weight classes to finish first in the 12-team Larry Owings Invitational in Canby on Saturday.
Century also got titles from juniors Sean Cabanban (113) and Ernesto Alvarez (152) to score 266.5 points and beat Canby (236.5) and Silverton (216.5).
Broderick Reese, coming off a win in the North Bend Coast Classic, pinned all three of his opponents, including Lakeridge sophomore Spencer Lenius in the final. For the season, he is 15-0 with 12 pins.
Loudyn Reese pinned Silverton sophomore Owen Magill to improve to 15-1. Rodriguez won by fall over Woodburn senior William Sandoval in his title match.
Silverton junior Kaden Kuenzi raised his record to 19-0 by winning at 120.
Scappoose prevails
Yamhill-Carlton had four champions, but it wasn't enough to overtake Scappoose in the 14-team Gladstone Invitational on Friday.
The Tigers' winners were sophomore Reily Liesegang (106) and juniors Jakob Jarvis (120), Ethan Tindall (126) and Jaime Garcia (138). Liesegang improved to 12-1 with his technical-fall victory over Jefferson sophomore Anthony Branch in the title match.
Scappoose had only two champions in junior Jakobi Kessi (195) and sophomore Cutter Sandstrom (285), but had seven runners-up. The Indians (167.5) outscored Yamhill-Carlton (149.5) and Molalla (103.5).
Putnam's Jonny Hernandez stayed unbeaten at 8-0 by pinning Jefferson's Tariq Armstrachan in the 152 final.