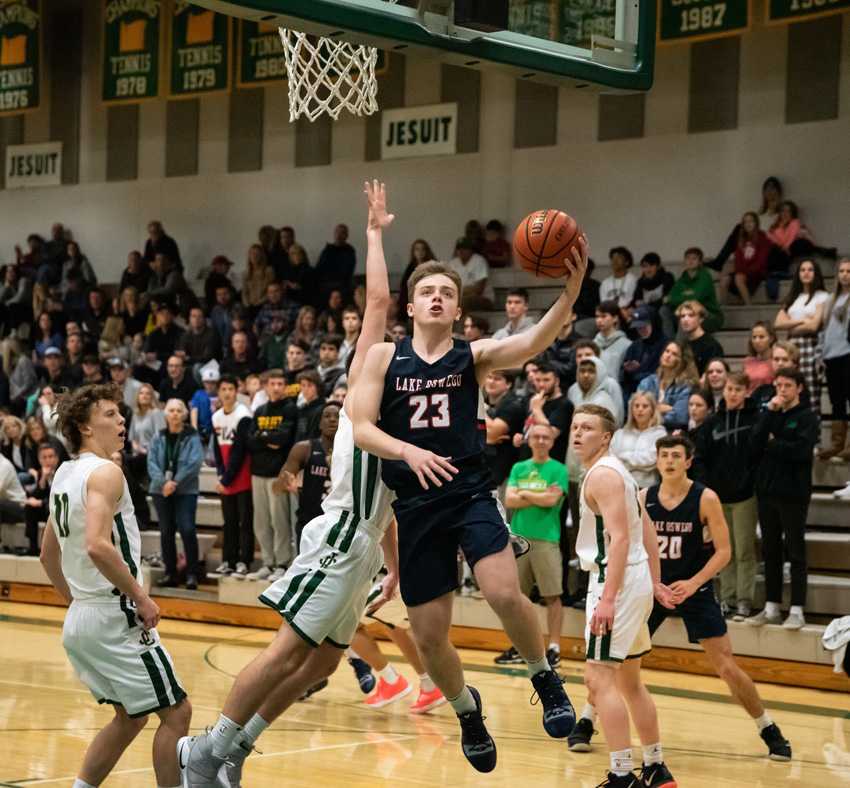 [Editor's note: OSAAtoday debuts "Take Five," a recurring feature designed to offer a quick look at some of Oregon's most prominent high school sports standouts. We asked them to review more than 20 random questions, then pick five and answer them. Today's "Take Five" is with Lake Oswego 6-3 senior shooting star Josh Angle, who scored 19 points yesterday to lead the 6-1 Lakers to a first-round win at the Les Schwab Invitational]
OSAAtoday: You'll be given a four-year scholarship to a Power 5 school but only if you shave off your hair and go out bald in public for a year. Are you game?
Angle: Absolutely. When I was younger I would always have a buzz cut, so it is a look I wouldn't mind resurfacing. The memories would be totally worth the one year of wearing a hood or beanie at all times.
OSAAtoday: You have to cook dinner for yourself and any three people in the world currently living. With whom do you dine and what are you serving?
Angle: My company would be J. Cole, because he's my favorite music artist; CJ McCollum, because he's my favorite player; and Mark Cuban, because he seems like a cool guy to kick it with. I have panini maker at home so I'd be serving up paninis because that's about as far as my cooking expertise goes.
OSAAtoday: Describe your scariest moment while learning to drive.
Angle: I pulled up to a red light and went to make a right turn, but didn't realize the light for the cars going across had just turned green. I turned and the car coming across slammed on the brakes and the driver blasted the horn for a solid five seconds. I pulled into the Costco parking lot, got out of the car, and told my mom I didn't want to drive anymore that day.
OSAAtoday: What adorns the walls of your room?
Angle: I have a bunch of posters of NBA players whom I admire: Kawhi, Tim Duncan, Steph, Dame Lillard.
OSAAtoday: If you HAD to go on a reality show, which would it be and why?
Angle: I would go on American Ninja Warrior. My friends and I would religiously watch it every week in middle school and agreed that if we ever had the opportunity to encounter the course, we would seize it.