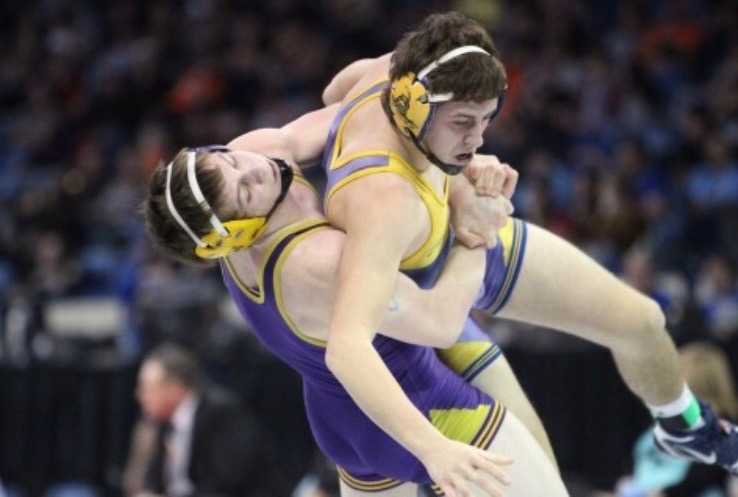 One week after a disappointing performance at a wrestling tournament in Reno, Harrisburg's Dax Bennett returned to Reno and made amends.
The senior and three-time 3A champion rolled to the 182-pound title in the 87-team Sierra Nevada Classic, pinning Mountain View junior Blake Ohlson in the final Friday.
Bennett came up short the previous week at the Reno Tournament of Champions, getting pinned in the third round and losing a one-point decision in consolation, his first losses since his sophomore season. But the win over the previously unbeaten Ohlson, a two-time freestyle state champion, helped him get back on track.
"I watched him wrestle in the semis against the two-seed that he ended up pinning, and I noticed that he tried to use his strength and tried to catch guys," Bennett said of Ohlson. "And I just went in there, just stayed on my offense and just kept the pressure up. Just caught him in a scramble and ended up pinning him."
It was an emotional week for Bennett, whose thoughts were with his friend and former teammate, Jimmy Holland. The Harrisburg junior is recovering in a Springfield hospital from injuries he suffered in an auto accident Wednesday.
"I was wrestling not for me, but for Jimmy, and his friends and family," Bennett said. "To win it, it was a really good feeling, just to let them know I was wrestling for him."
Bennett, a first-team all-league quarterback and safety for Harrisburg's football team, got an early start on wrestling season when the Eagles – 2016 state champions – exited the state playoffs in the first round.
He won the Culver Invitational at 195 in early December and was eager to make a run at the 182 title in the Reno Tournament of Champions. But he got pinned in the third round of a quarterfinal match by Caden Gerlach of Glennallen (Alaska) and lost to Merrell Morley of Salem Hills (Utah) in consolation less than an hour later.
"It was a shock. He went there to win it," said Harrisburg coach Desmond Bennett, his father. "We had scouted a kid from Oklahoma that was a three-time state champion and seeded No. 1. We weren't overlooking anybody, so it was kind of a shock."
Bennett was leading with about a minute left and working on a leg lift when one of his hands came off Gerlach's leg to his waist, and Gerlach threw him.
"I wasn't cocky, but I was pretty confident of winning that match, and looking forward to wrestling the next match after that," Bennett said. "Unfortunately, that didn't happen. It was a good experience for me, though. I definitely learned a lot. I think I grew and got better from it, so that's all that matters."
The top-seeded Bennett dominated at the Sierra Nevada Classic. In six matches, he had three pins and two major decisions. He led the third-seeded Ohlson by 12 points when he pinned him in the second round.
"He bounced back from the previous week," Desmond Bennett said. "The finals was probably the best match, from beginning to end, that he's wrestled."
Dax Bennett has won 3A titles are 132, 152 and 182. With another title this year, he would become Harrisburg's first four-time champion.
He has yet to settle on a weight. It's possible he could drop to 170 as the Eagles, No. 1 in the OSAAtoday 3A coaches poll, adjust their lineup to better match up with No. 2 Nyssa.
"I think there are five teams in 3A that can win a state championship this year, depending on how good of a weekend they have, honestly," Desmond Bennett said. "We know where some Nyssa guys probably are going to land, so if we can try to get to those weights, we can give ourselves the best chance."
Becoming a four-time champion is plenty of motivation for Dax Bennett. But helping lead the Eagles to their first team title also pushes him.
"If we could do that, it would be pretty cool," said Bennett, who has signed to wrestle for Clackamas Community College next year. "We've just got to get everybody on board with it."