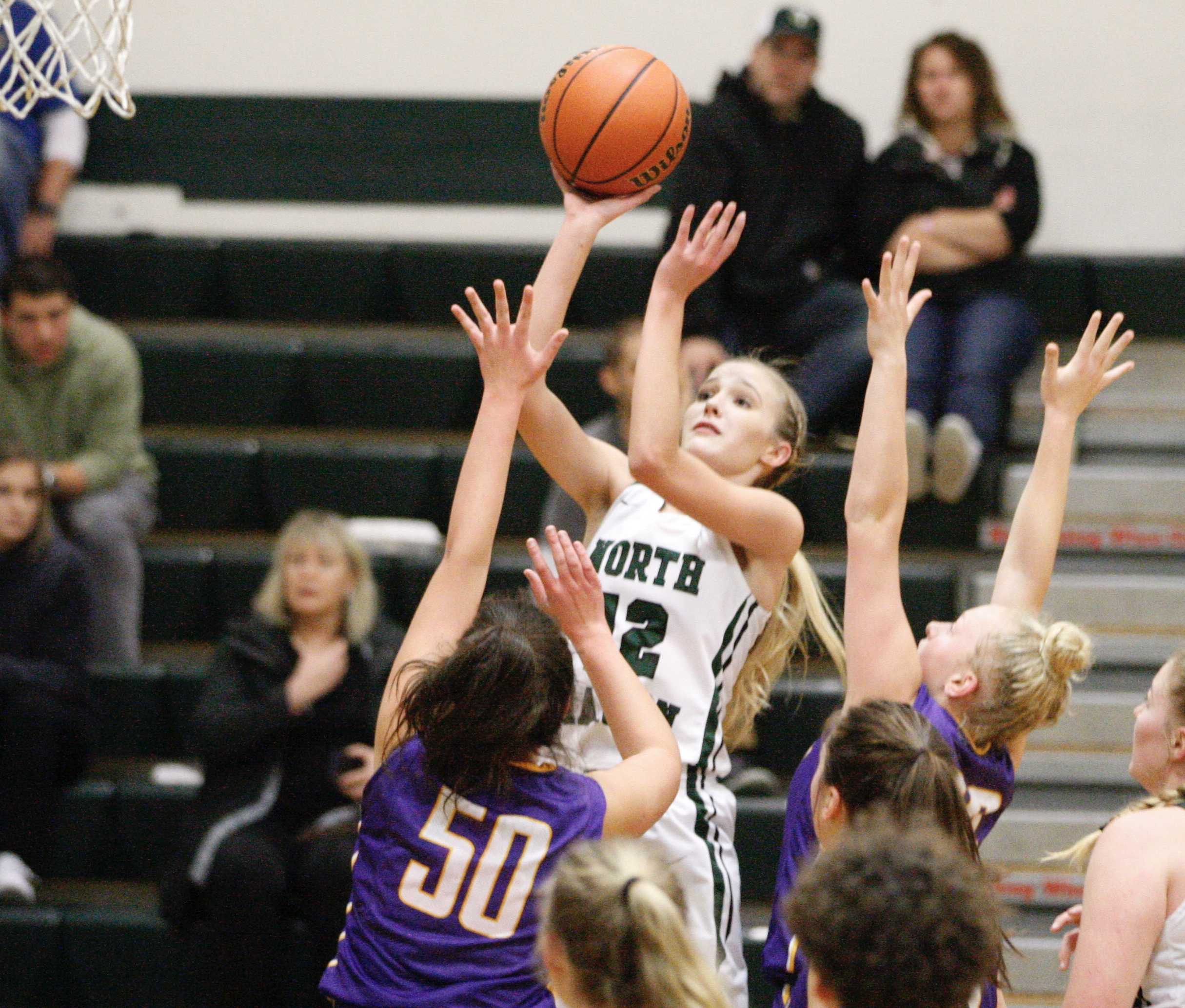 AURORA — Unbeaten almost never, ever means unbeatable.
Third-ranked North Marion proved the old axiom once again Wednesday night, carving up unbeaten No. 1 reigning state champion Marshfield 44-31 in a non-league girls basketball game.
It was not an upset. The host Huskies overcame an early seven-point deficit to blow past the talented veteran Pirates in the third quarter, then withstood a Marshfield burst early in the fourth quarter that could have wasted the whole effort.
The Huskies did a lot of things right against the Pirates — no kidding, Sherlock — but two things made all the difference. They weren't the least bit intimidated by what is generally acknowledged as the best team at the 4A level, for one.
But the big one was the way they defended the Pirates. Marshfield's average victory against seven Oregon opponents entering this game was 23 points. As if to prove they could win close ones, they went down to Arizona after Christmas and won two squeakers.
The Huskies were well aware of all that.
"We worked hard for a week on that," said North Marion coach Trevor Bodine, whose team was 1-2 in Palo Alto last week in its own tournament. "We didn't get a lot of practices in down in California, but back here we put a scout team together and ran their offense.
"We had three defenses planned tonight, but we only ran man-to-man. We were doing a great job at it, and I wasn't going to fix what wasn't broken."
The Huskies had three Marshfield players on their radar screen: point guard Tess Garrett, 6-1 wing Hailey Browning and notorious gunslinger McKayle Myrand.
"They key was to get out on their shooters," said junior wing Katie Ensign, who led all scoring with 18 points, "because we knew what they could do. We had to stay low and make sure they couldn't shoot and they couldn't drive."
That's a tall order, the way the three Pirate gunslingers have carved up all comers this year. But it all worked: Garrett, who has the ball in her hands every time down the court, got loose for 16 points, but the Huskies held Browning to a single basket and Myrand to five points.
The game started as most other Marshfield games have started this year: The Pirates roared out to a 9-2 lead in the first six minutes and all the usual suspects were about to fall into place.
Then sophomore Mya Hammack dropped a three-pointer, finished her own miss and drove for a layup in the last 1:33 of the period and the 7-1 run turned the situation back into a game.
"I knew when that went in," Ensign said of Hammack's three-pointer, "that, hey, we could do this."
They looked like they had it all finished off when an improbable 12-point run in the last two minutes of the second quarter and the first four minutes of the third.
That gave North Marion a 28-17 lead and nothing seemed like an upset anymore. After Ensign's flip from the key in the first 24 seconds of the last period, the Huskies were up 32-21, and with two sure ball-handlers in guards in Hammack and veteran senior Mar Verastegui, it looked like there was no way the Pirates were going to be able to get back in it.
If the Huskies really thought that, the Pirates blew the dream away with an eight-point run of their own. Garrett got it started with a legitimate NBA three-pointer from the left side and added a layup and a free throw, and with 5:32 left, they were within three and clearly had the momentum.
Bodine called time out.
"I just wanted to gather the troops," he said. "We wanted to remind ourselves why we're here, that we can be here with this kind of team and not mentally fade away."
The Huskies responded perfectly. They ran a perfect play against Marshfield pressure to get an uncontested layup from Raymee Boesse, then ran a perfect inbounds play to get a layup for Ensign 36 seconds later.
The Pirates (10-1) got a layup from Garrett with 3:45 to go, but that turned out to be their last points of the game. The Huskies (8-4) hit 8 of 13 free throws down the stretch and closed it strong.
"Things just kind of clicked for us," said Hammack, who finished with 13 points. "We had kind of a rough time down in California and didn't play very well.
"But when we click as a team, hit our shots and reduce our turnovers, we do well."
Even against No. 1.