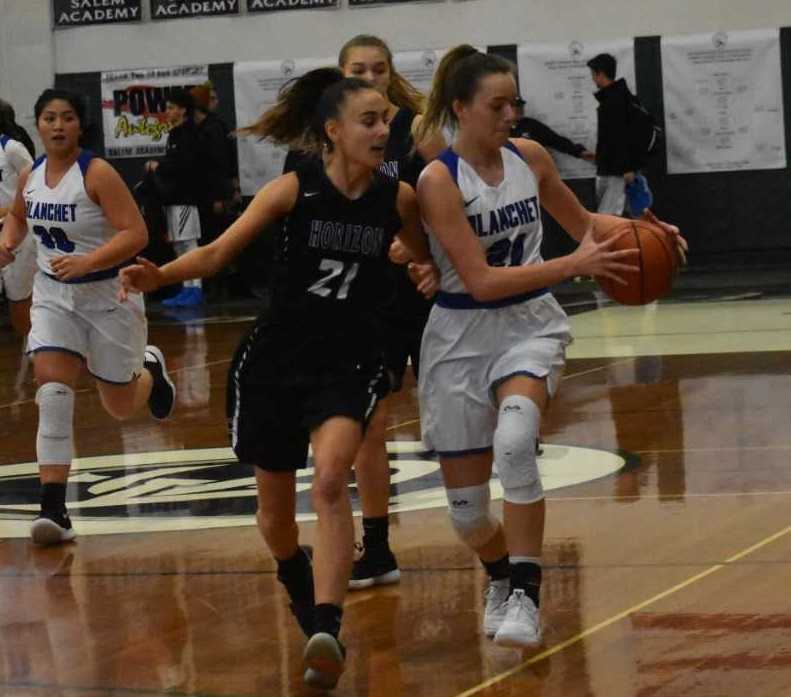 SALEM -- It was strange to think at the final horn of Blanchet Catholic's dominant 64-23 girls basketball win over Horizon Christian on Thursday that it was a one-point game late in the first quarter.
But thanks to strong defense -- set up by steals from Ana Coronado and pressure from Bailey Hittner and Trinity Phipps -- the 3A top-ranked Cavaliers (10-1) were able to dominate the rest of the way in an opening-round game of the Crusader Classic New Year's Invitational at Salem Academy.
"Just staying calm and playing our game and not getting stressed when they make their shots, because that happens in a game," said Blanchet Catholic senior forward Hailey Ostby, who hurt the Hawks inside with 19 points, including 15 in the first half. "They'll get theirs and we'll get ours."
Leading 37-17 at half, the Cavaliers outscored the Hawks of Tualatin 19-0 in the third quarter to make it 56-17.
"Usually when our defense is pretty good, offensively we're doing the same thing. Sometimes defense is key for us," said Coronado, who finished with 14 points. "We got into our own heads a little bit at the beginning and came out slow and gave them a lot of confidence, but eventually we shut them down."
The runaway win comes on the heels of Blanchet Catholic's first loss Saturday. The Cavaliers fell 37-30 at Stayton, ranked seventh in 4A.
"Every game we try to focus 1-0. This game is obviously behind us now," said Coronado, who played through a hand injury that she suffered in the Stayton game. "We're just going to continue to push and do what we do and focus on Portland Christian tomorrow."
The Cavaliers face the Royals (8-3) at 9 a.m. Friday. Portland Christian, ranked 10th in 2A, beat Western Christian 40-39 on Thursday morning.
"We saw what they are like earlier," Coronado said. "They're athletic and very aggressive, so we've just got to go in there with the same confidence into that game."
Alyssa Rose scored 12 points for Horizon Christian (5-3).