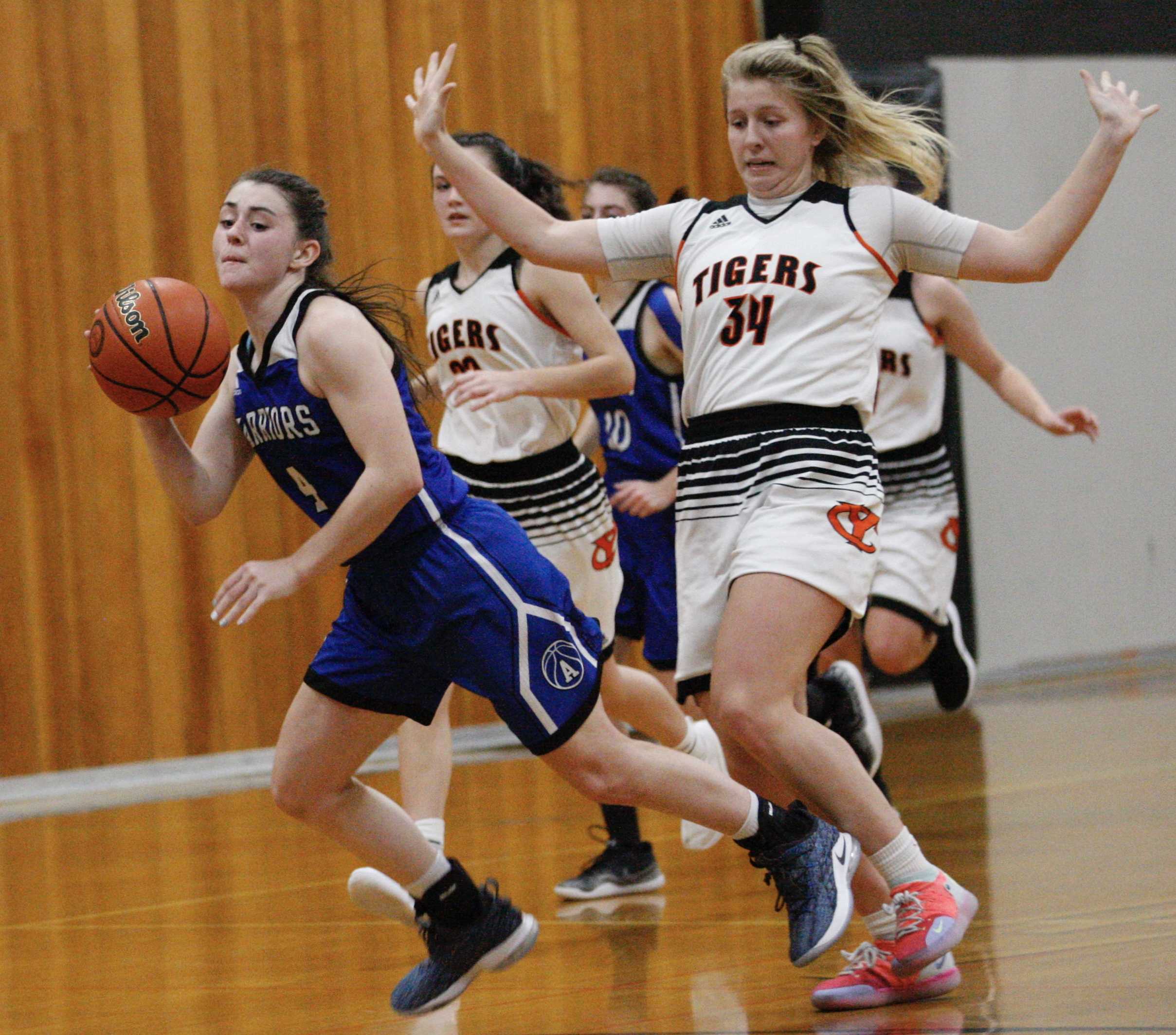 YAMHILL — Amity's tiny little girls team got a couple of things it badly needed in one sweet evening of A-game basketball Tuesday.
The Warriors, who entered the game ranked seventh in the OSAAtoday 3A coaches poll, thumped — a better word is outran — No. 6 Yamhill-Carlton 63-48 on the Tigers' court, and in so doing healed the scars left over from 31-point facial they got from Salem Academy in a tournament game on Saturday.
But more important even than that was a road victory in their PacWest Conference opener.
"I didn't sleep much last night," Warrior coach Reg McShane said, by way of a huge post-game exhale. "This is a tough league, and a road win helps so much. And we got it against a really good team we're competing with."
Indeed. The six-team PacWest is a big bear trap this year. Going into Tuesday's league openers, the conference included the No. 1 team in the state (Blanchet Catholic), No. 3 (Salem Academy), the Warriors and the Tigers. There will be few days off for the rest of the year.
The Warriors didn't take one against Y-C, either. Junior Maylin Williams buried three all-cotton three-pointers in the first period to ignite a 20-12 quarter, and the Warriors were never in serious trouble again.
That's hard to do against the Tigers, who have one of the league's best centers in Sadie Horne and an excellent forward in Aliya Seibel.
Against this — against everybody, actually — Amity starts five guards. Junior Jenna Lopez is the Bol Bol of the bunch at 5-6; Williams is 5-5. Seniors Keeley Graham and Hannah Hatch are 5-4 and Allyssa Plummer is 5-3.
You need more than size against a lineup like that. You also need insect repellent. They do anything they can to avoid getting into a static game with anybody.
"I told them at the start of the year that we're going to have to be the team that wins every loose ball," McShane said, "and we're going to have to be disruptive. Sometimes it works, sometimes it doesn't."
"It" is the way the Warriors (12-3) have to play. They press, they harass the ball trying for steals, they block out for rebounds as if the ball was solid gold, and they run teams — including themselves now and then — into the ground.
"(McShane) wants us to push the ball up the court all the time," Graham said, "so that we don't have to get into a set."
And when the do wind up in a half-court offense, "that," McShane said, "is where we get exposed a little."
That much was evident against Yamhill-Carlton. The Tigers' failsafe is to get the ball inside to where Horne could merely go through the Warriors, and when they did, she pretty much was unstoppable.
So the Warriors went after the Tiger guards with fast hands, yoga-suit tight guarding and the occasional double team.
That worked, too. McShane's Fearless Flies exploded early in the second quarter for nine straight points to open up a 32-17 lead midway through the period.
A lot of that was on fast breaks, but a lot of it was on ball movement in the half-court, too. The same larcenous hands that worked so well on defense also moved the ball around on offense for some wide-open shots — especially by Williams, who hit five three-pointers and led both teams with 20 points.
The Warriors entered the fourth quarter with a 54-39 lead — helped by the fact that Horne was on the bench with four fouls — then faced their only crucible of the night. Horne came back in with six minutes to go and promptly drained a three-pointer, followed by two free throws, another free throw from Olivia Southard and a three-pointer from the corner off a steal by Seibel.
That brought the Tigers to within 54-48 with more than four minutes left.
"That's the only time I thought, 'Hey, let's get settled down here,'" said Graham, the point guard and helmsman of the Good Ship Amity in crises like this. "I wouldn't use the word worried."
Neither did McShane. "That's when I was most proud of them tonight," he said. "They started missing shots, and they (Y-C) got close, but our girls just hung in there and gutted it out."
That meant making free throws against Y-C. The Warriors made their last field goal on a layup by Hatch with fully 6:50 left in the game, but after a three-and-a-half-minute dry spell started going to the line.
There, they made 9 of 10 free throws and held the Tigers scoreless the rest of the way. QED.
Hatch added 15 points to Williams' big night, while Plummer hit nine of 11 free throws and finished with 13.
Horne led the Tigers (10-4) with 19. Seibel contributed 12.