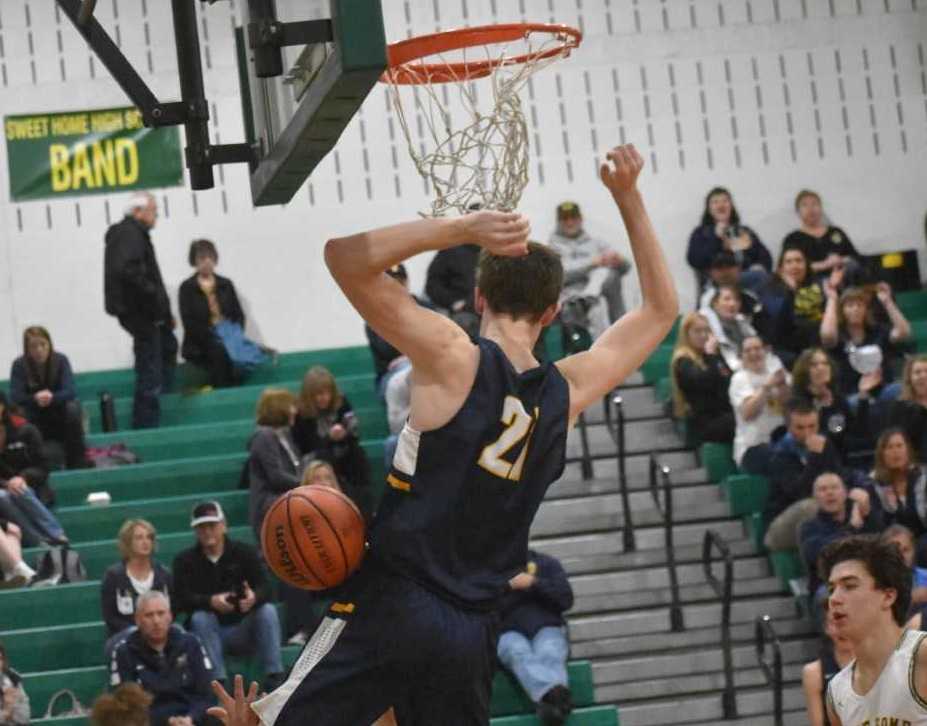 SWEET HOME – No. 5 Stayton used suffocating defense to throttle host Sweet Home 62-25 in a 4A Oregon West Conference boys basketball game Friday night.
The Eagles shut down the Huskies, who entered averaging 58.9 points per game and had not been held under 45 this season.
"We knew they had players and they had shooters on the outside, so we were really working out on the shooters, and if they get inside, matching up and make sure that they don't get any shots off," Stayton senior guard Jordan Butler said.
Butler, senior Micah Jenkins and junior Logan Classen took care of the perimeter. But the twin towers of 6-8 senior Kaleb Anundi and 6-7 senior Riley Nichol made sure the shooters didn't have a clear path to the hoop.
"Our defensive intensity was a lot better that second quarter," Anundi said. "We really brought it. We were talking more, and then the shots were just falling."
Sweet Home (11-4, 0-3) pulled within 10-7 of Stayton (10-3, 3-0) with 2:15 left in the quarter, but that's when the Eagles cranked up the defense.
Stayton led 19-9 after one quarter and 27-13 at half. The Eagles held the Huskies to without a point until sophomore Hunter Coulter's two free throws with 1:47 left in the second quarter made it 23-11.
Anundi, who had a dunk in each half, finished with 21 points.
"It feels good," Anundi said. "It's a good way to start league. I can't complain about that."
Jenkins and Butler had seven and six points, respectively, for Stayton. Junior Zach Luttmer scored eight points and Coulter added seven points for Sweet Home, which lost its third consecutive game.
-- Jeremy McDonald
West Salem 58, McNary 56: Justin Scoggin converted a steal into a layup as time expired to give the Titans the win over the Celtics in the Mountain Valley Conference game.
Scoggin and Kieran Pruett each had two three-pointers and 16 points for West Salem. Boston Smith scored 19 points and Griffin Oliveira had 13 points for McNary.
Southridge 64, Westview 60: The Skyhawks made 4 of 6 free throws down the stretch to hold off the Wildcats for the Metro League win. Ben Pak had 19 points and Brock Henry 13 points for Southridge. London Smalley and Noah Bautista had 14 and 12 points, respectively, for Westview.
Wilsonville 65, Hillsboro 18: The Wildcats led 22-5 at half and 45-13 after three quarters in beating the Spartans. Jack Roche scored 18 points and Dakota Reber had 14 points for Wilsonville.
Jesuit 84, Mountainside 45: Matt Levis scored 16 points and Aiden Williams added 14 points to lead the Crusaders past the Mavericks. Dezman Baler and Andrew Ingalls had 10 points each for Mountainside.
Triad 54, Central Christian 45: Micah Young and Ethan Moritz scored 18 points apiece to lead the TimberWolves to the win. Moritz scored seven points in a 20-point third quarter as Triad broke away from a three-point halftime lead. Central Christian got 16 points from Josh Bruce and 12 points from Jace Mills.
Trinity Lutheran 78, Prospect 19: The Saints led 48-4 at half in the rout of the Cougars. Nico Uto had 16 points and eight rebounds and Matt Eidler added 13 points for Trinity Lutheran. Jordan Royce and Jadon Taylor had six points each for Prospect.
GIRLS
Blanchet Catholic 42, Dayton 31: Hailey Ostby scored 15 points and Ana Coronado added 14 points for the Cavaliers, who led 23-9 at half. Chloe Cisneros had 10 points for Dayton.
Lakeridge 41, Canby 37: The Pacers led 24-17 at half and withstood a late run to hold off the Cougars. Lakeridge was led by Brooke Clinton with 15 points and Abbi Fedrizzi with 14 points.
Wilsonville 77, Hillsboro 53: Emilia Bishop had 16 points and 12 rebounds to lead the Wildcats, who opened a 20-point halftime lead. Reese Timm scored 15 points and Teagan McNamee had 14 points, including four three-pointers, for Wilsonville, which also got 12 points and six assists from Sydney Burns.
Oregon City 47, Lake Oswego 36: Brooke Bullock scored 17 points and Katie Kathan added 13 points as the Pioneers beat the Lakers. The Pioneers struggled with their shooting but opened a lead early in the fourth quarter on three-pointers by Emily Fortin and Bullock.