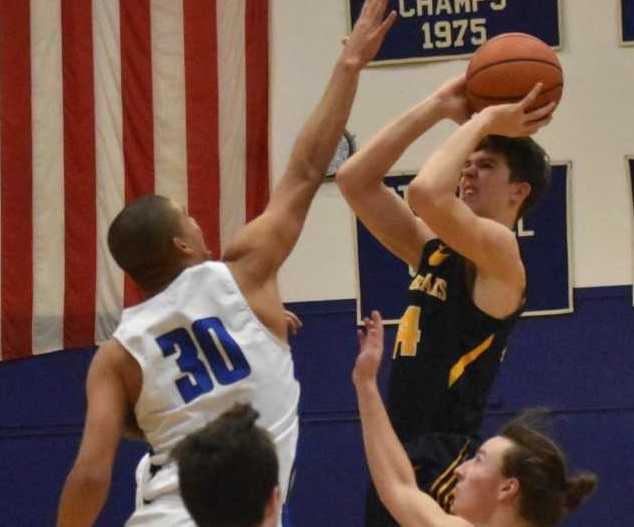 KEIZER – McNary overcame a 17-point, first-half deficit to beat visiting Bend 70-59 in a 6A Mountain Valley Conference game Tuesday night.
Bend came out hot in the first quarter to take a 25-8 lead, but the Celtics shut down the Lava Bears' shooters in the second quarter to pull within 25-24 at half.
"We switched up our intensity," McNary senior wing Griffin Oliveira said. "We became the aggressor instead of passive and letting them dictate the tempo. We ran in transition and we got buckets. That helped us boost our spirits, for sure."
Senior post Boston Smith said the Celtics "brought it" on defense.
"I mean, they didn't score a single point in that second quarter. That was huge," Smith said. "We kept eating away at that lead until we got back in it."
Smith and sophomore wing Nate Meithof led McNary's offense in the second half, when Meithof scored 20 of his 26 points and Smith had 15 of his 22. The Celtics pulled ahead 44-38 after three quarters and pushed the lead to 12 points in the fourth quarter.
The game got heated as Bend was called for three technical fouls in the fourth quarter.
"We try not to let anything bother us. People get upset. It's a high-emotion game," Oliveira said.
After giving up 25 points in the first quarter, McNary held Bend to 34 points the rest of the way.
"Probably the first minute of the third quarter, we definitely came out a little flat," Smith said. "Then we realized, 'Hey, if we let off at all, they're going to win this game. So we've got to bring it.' Our defense won us that game.
"It was pretty difficult. I think we did a good job. Towards the end we started trading points, but I think we locked them up on defense pretty well."
McNary (9-4, 2-1) and Bend (8-5, 2-1) are tied for third place, behind South Salem and West Salem, who are 3-0 in conference play.
Bend senior wing Justin Kerr hit three three-pointers in the first quarter and finished with a team-high 16 points.
-- Jeremy McDonald
Century 58, Glencoe 45: Sophomore Edy Essien made four three-pointers and scored 21 points to lead the Jaguars, who also got 12 points and eight rebounds from Chance Sparks and nine points and six assists from Ikin Chan. Essien scored 11 of his points in the fourth quarter, making three three-pointers, as Century held off the Crimson Tide. Glencoe's Michael Janeway had nine points.
"We struggled offensively most of the game but grinded out a win," Century coach Scott Kellar said.
Silverton 77, North Salem 44: Levi Nielsen had 15 points, 15 rebounds, five steals and two blocked shots to lead five Foxes in double figures in the win over the Vikings. David Gonzales and Grant Dunn added 13 points apiece for Silverton, which also got 12 points from Josiah Roth and 10 points and eight assists from Jonah Downey.
Wilsonville 77, La Salle Prep 44: Dakota Reber had 15 points and five rebounds, Jack Roche had 12 points and seven assists and Keegan Shivers had 12 points, four rebounds and four assists as the Wildcats cruised past the Falcons. Jace Norton led La Salle Prep with 11 points.
Barlow 72, Clackamas 59: Jesse White made four three-pointers and scored 24 points and Evan Inglesby added 13 points for the Bruins, who pulled away down the stretch with a 19-8 closing run. Clackamas, which got five three-pointers and 21 points from Jailen Hammer, shot 52.2 percent (24 for 46).
GIRLS
Oregon City 57, Canby 47: The Pioneers came back from trailing 29-20 at halftime to beat the visiting Cougars behind 17 points from Tyra Bradford and 14 points from Emily Fortin, who scored eight consecutive points in the fourth quarter. Emmaly Welch and Katie Kathan sparked Oregon City's rally with big defensive plays.
Hidden Valley 63, Klamath Union 46: Jenelle Hurley scored 21 points and Hallee Jessee added 13 points, including three three-pointers, as the Mustangs won on the road. Kaiah Fisher had 12 points and nine rebounds and Clara Scott added four assists and four steals for Hidden Valley.
Salem Academy 66, Amity 35: Grace Brown had 23 points, 11 rebounds and four assists and Kirsten Koehnke had 20 points, five rebounds and five steals to lead the Crusaders to the home win. Hannah Hatch and Keeley Graham had 13 and 11 points, respectively, for Amity.
Blanchet Catholic 44, Yamhill-Carlton 42: Ana Coronado scored 18 points for the Cavaliers, who came back from an 11-point, third-quarter deficit for the road win. Aliya Seibel had 17 points for Yamhill-Carlton.
Monday
Nestucca 47, Faith Bible 46 (2 OT): Olivia Leslie made six three-pointers and scored 24 points – including the go-ahead free throw with 0.2 seconds left in the second overtime -- to lead Nestucca to its third consecutive win. Faith Bible's Izzy Steerman stole an inbound pass and hit a three-pointer at the buzzer to force the second overtime.